This post may contain affiliate links which won't change your price but will share some commission.
Every now and then I come across a company that absolutely thrills me. Not just because of the great products they create, but also their mission and goals.
Aunt Fannie's is one such company.
Why would I get so excited about a company that makes cleaning products?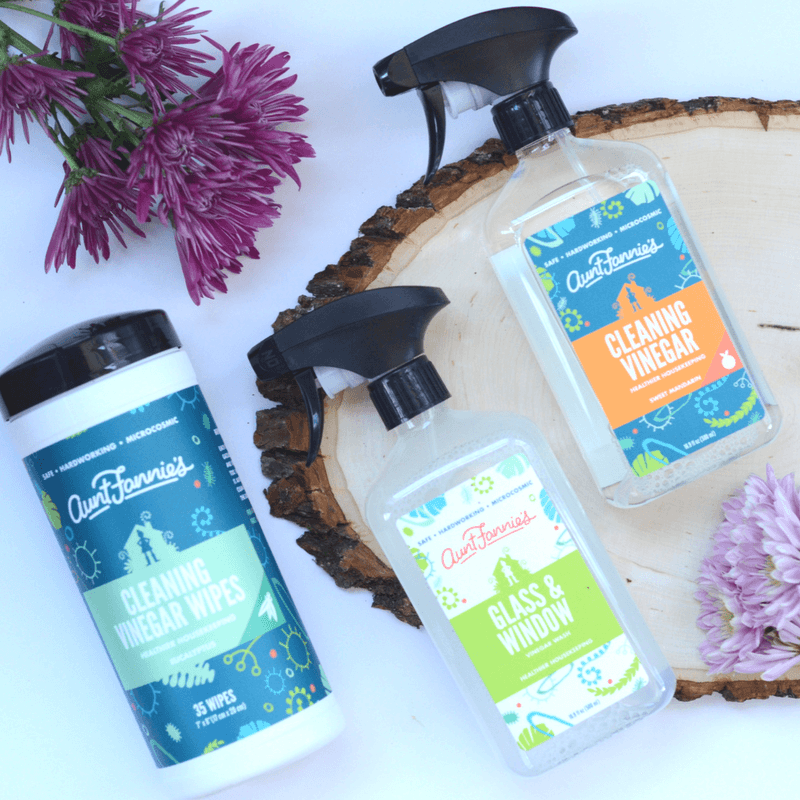 Well, let me tell you.
First of all, I am always excited to find non-toxic cleaning alternatives. Why? Because they are safer and healthier for us and the environment.
Natural cleaning products mean I can let my kids help me clean and not worry about what they are using.
Less work for mom is always a win!
I do like to make my own cleaning products, but I also love the option of buying them when I want to. Especially when I'm going through an autoimmune flare-up or am just super busy.
The ingredients in Aunt Fannie's are totally safe and natural. They are made from garden grown herbs and fruits and include essential oils and pure vinegar. All ingredients are Gras certified and FDA approved.
Aunt Fannie's cleaning and pest solutions are safe to use on or around our food, pets, and children!
Here's what Makes Aunt Fannie's Truly Unique
Aunt Fannie's products are designed to protect your microbiome. So, they get things clean, but also let nature work as it should.
As an autoimmune warrior, I truly appreciate this. We need to keep our microbiome's strong!
Wondering what Our microbiome is?
From Aunt Fannie's website:
"Each of us is a collection of microbiomes that connect into one big super-system. There's a microbiome alive in our bodies and on them, in our living spaces, just about everywhere. Each of us has a distinct microbiome but it's always in flux based on environmental, behavioral & lifestyle factors. Sit on a chair, open the window, give a hug, pet a dog – you've influenced your micros."
Our microbiome's need to be protected and nurtured. A healthy and strong microbiome will ensure we feel our best, physically and mentally.
Many conventional cleaning products contain toxic chemicals that damage our microbiomes, and not just that, they clean a little too well. Over-sanitizing means we are not exposed to the types of things that enhance and strengthen our microbiomes.
Aunt Fannie's has taken care of that.
Which Aunt Fannie's Products do I use?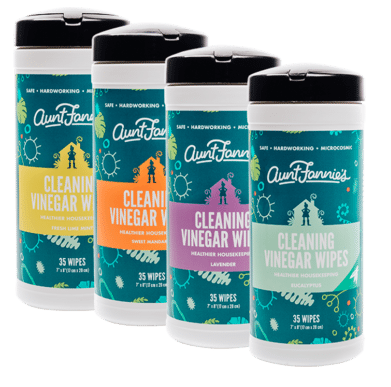 Cleaning Wipes
Aunt Fannie's Cleaning Wipes are handy for so many cleaning tasks!
My favorite is the Lavender Cleaning Wipes, but they also come in Eucalyptus, Fresh Lime Mint, and Sweet Mandarin. I love the lavender because it smells great!
It's pretty difficult to find a non-toxic wipe.
Having the option of using cleaning wipes is amazingly helpful when I'm in a hurry or have a particularly yucky mess to clean. I also like to use it for wiping up sticky spills (like maple syrup after Sunday breakfast) or anything super crumbly (the wipes are great for scooping those crumbs up).
Check out the ingredients of the Lavender Cleaning Wipes:
White Distilled Vinegar, Sugar Surfactant (myristyl glucoside), Rosemary Oil, Lavandin Grosso Oil, Eucalyptus Globulus
Pretty great, right?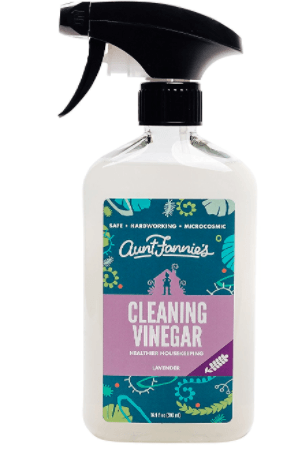 Cleaning Vinegar
Aunt Fannie's Cleaning Vinegar is perfect for all-purpose cleaning. Its non-toxic ingredients are safe for use on food contact surfaces, which makes it great for use in the kitchen. I love it for the countertop, but it would also work beautifully on high chairs and other surfaces your kids will be using.
This also comes in Eucalyptus, Fresh Lime Mint, Aromatic Lavender, and Sweet Mandarin.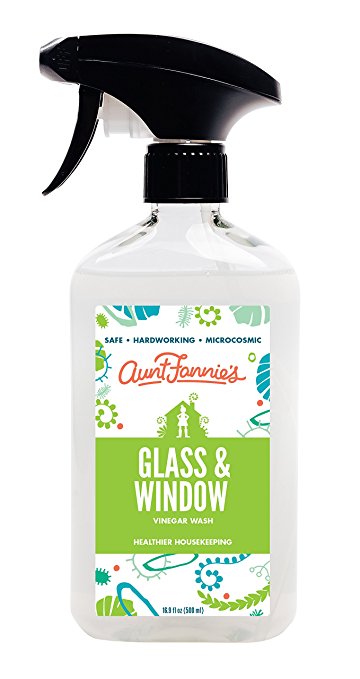 Glass & Window Cleaner
Aunt Fannie's glass and window cleaner is great for streak-free cleaning of mirrors and windows. I'm especially thankful to have a non-toxic window cleaner since this is one job I love to have the kids help with!
These are my current go-tos, but Aunt Fannie's has a wonderful looking floor cleaner that I'll try soon. I'm also interested in the pest-control products since those are pretty hard to find without toxic chemicals.
For the sake of your health and the health of the environment, it's important to use non-toxic cleaning products. If you've yet to make the switch or just want to change things up, I highly recommend trying Aunt Fannie's.