This post may contain affiliate links which won't change your price but will share some commission.
Food has been a struggle for me.
There are many reasons why (which I'll explain below) but I want to start by saying that admitting and sharing this with you is really scary!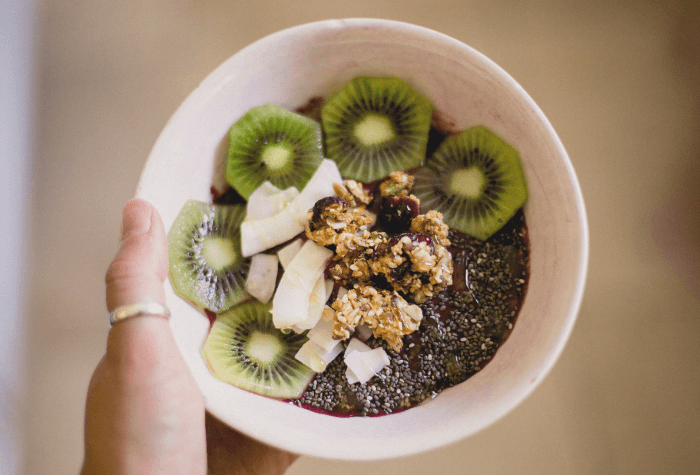 However, even though it terrifies me to let others know my struggle, it's important that I do. Not just for myself but for you. If you are struggling with food issues of any kind, you may feel ashamed, defeated and stressed. I want you to know that you are not alone and there is hope.
So, let's start at the beginning. Well, as close to it as I can remember.
As a young teen, I was deeply entrenched in the dance world. I loved dance (and still do), but the pressure to stay thin was heavy.
For a few years, my main goal was to try not to eat anything "fattening" and to exercise as much as I could. But when I transferred to a performing arts high school, things turned up a notch. This was in the days before iPhones and apps, so I would carry a little Calorie Counter book in my school bag and check to see how many calories were in everything I ate.
Before long I was trying to stay under 500 calories a day all while continuing to exercise and attend multiple dance classes a week.
I was bolstered by the fact that many other girls in my school were doing the same thing. We had peer support, which was a pretty scary thing.
It didn't help that some adults feed into our fears.
I still remember the day that my ballet teacher told me to suck my stomach in because I looked like I was "about to have a pup"!
That was probably 25 years ago! And I still remember the words and the sinking feeling that came as soon as they were said.
Thankfully, I did give up the 500-calories-a-day program I had myself on, but my thoughts were so consumed by food, it was insane.
This incredible restriction led to binges as well. A cycle of indulgence and deprivation began.
Somehow I managed to stay reasonably trim for many years, but that was lost once my thyroid went caput.
I could eat nothing and still gain weight.
This was completely demoralizing.
I often wonder if it was made worse because of the many years of body and food focus that preceded it. I think it probably was.
Before this, I had experienced a short time of food freedom. I let go of the restrictions and allowed myself to eat many wonderful things that I considered "bad" before.
However, now all the doctors and health professionals were recommending extremely restrictive "healing diets" and food was a primary focus again.
Healing diets do have their place (and can be amazingly helpful), but they aren't without struggle. Especially if you have a history of disordered eating.
I found it mentally exhausting to once again think about food all. the. time. I developed food anxiety and became extremely frustrated and sad about the whole thing.
There's more to life than food!!!
I don't want to be consumed by thoughts of food, spend hours shopping for food, or devote my entire weekend to preparing food.
Deprivation, guilt, shame, punishment, and dread should not be connected to food.
Food shouldn't control us.
We have better things to do, right?
This past May, I was so fed up with the restrictive cycle, that I began to look for some help.
I discovered Sara McGlothlin and her Count Colors, Not Calories program.
It made such a big impact on me that I want to share it with you.
Before I do that, I want you to know that there is HOPE. You don't have to be stuck in this painful cycle with food. You don't have to be controlled by food. You can live in peace and joy with food.
It's definitely possible.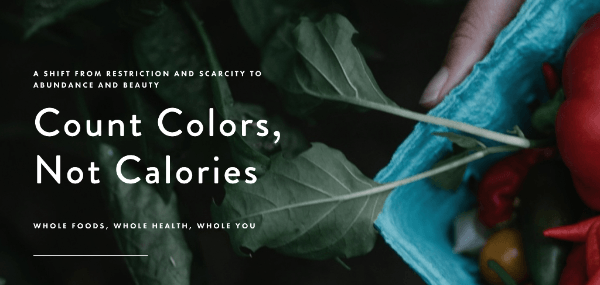 Count Colors, Not Calories was created by holistic health coach, Sara McGlothlin.
The goal of the program is not simply to eating healthfully or even to let go of calorie counting, but to embrace a holistically healthier way of being.
Throughout the program, I was able to take a real, honest look at my history with food, thoughts about food, and patterns of eating.
It was eye-opening.
Sara teaches about nutrition (and hormone reactions that occur when you eat) but more importantly, helps you shift your mindset.
The program includes 4 webinars, an e-book workbook (this is GOLD!) and a cookbook ebook (with over 50 recipes), and a Facebook support group.
I found the webinars to be extremely informative, which surprised me, actually, As someone who has studied nutrition for many years, I was still learned a lot of new things.
My favorite part was having the ability to ask questions at the end of each webinar. How often do you have a holistic health coach ready to answer your inquires?!
Sara was able to shed light on how my history with food was impacting my food choices and feelings today, and that was a launching pad to change for me.
Of course, I am not "cured" or completely healed of my food issues, but feel that Count Colors, Not Calories kickstarted a new mindset for me. I am on the way to being where I want to be and much more confident in the direction I'm going.
If you want to feel peace in regard to food, I can't recommend this program enough.
What's included in the Counting Colors, Not Calories program:
4 hour-long webinars
Counting Colors e-book (over 60 pages of material)
Real food recipe packet including over 50 recipes!
Sense

of community and access to the Counting Colors Facebook group

Access to a holistic health coach + daily support and information
Book and other resource suggestions
Freedom from dieting and food anxiety coupled with an increased sense of health, wellness, and joy!
Counting Colors, Not Calories Discount Code
Sign up for Counting Colors, Not Calories here.
Use code NOFUSSNATURAL to get 10% off.
I'm honestly considering doing it again just for the opportunity to be with like-minded people and to have the chance to ask Sara some more questions!
You can also see me chat about the program in my Food Issues Instragam Story Highlight.
I chose this program over other programs to help with food issues because I want FREEDOM! I'm sharing with you because I want you to have freedom too.
If you have any questions, please don't hesitate to reach out (leave a comment or email me via my contact form).