Natural Body Care Ingredients: Cocoa Butter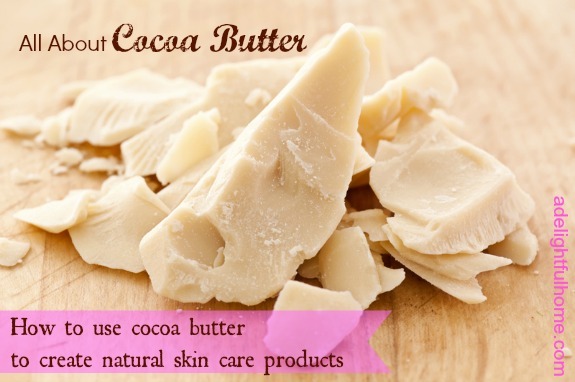 This is the second installment in the natural body care ingredient series. This series is designed to educate you on the different products you might wish to have on hand in order to create natural body care at home. Last time we discussed beeswax.
Today I'd like to share a little about cocoa butter.
Cocoa butter is one of my favorite ingredients (mostly because it smells wonderful!). Cocoa butter has a chocolate scent (but it's not overpowering). It can, however, be purchased with the odor removed, if desired.
Cocoa Butter is derived from the oils of the cocoa bean which comes from the cacao tree. It's a slightly aromatic oil that smells similar to chocolate. It is an edible oil, but also used in many natural body care products.
Cocoa butter is one of the hardest butters available and is often used to give lotions, butters, balms, and salves a thicker consistency.
While cocoa butter is very hard, it's melting point is low, which means it melts with the warmth of the skin.
Cocoa butter is an excellent moisturizer and is suitable for many people with sensitive skin. It works especially well for those with dry skin because of it's emollient nature.
Cocoa butter has a long shelf life of about 3 or 4 years.
Uses for Cocoa Butter
Prevents Skin Dryness and Peeling
Lip Balm
Anti-Aging lotions & Serums
Skin Soother for burns, sunburns, rashes, and infections.
As a moisturizer for mouth or gum sores
Makes a good natural shaving cream
As an anti-inflammatory for achy muscles
I personally use cocoa butter frequently to make lotion bars and lip balm.
I also add a few shavings to sugar scrubs from time to time.
Cocoa butter pairs well with vanilla or peppermint scents. It truly is delightful!
I generally purchase cocoa butter from Mountain Rose Herbs, but have also bought some from Amazon in an emergency.
It should be noted that someone with chocolate/cocoa allergies should avoid products that contain cocoa butter because it is derived from the same plant as chocolate and therefore may cause an allergic reaction.
Do you use cocoa butter? If so, tell us how!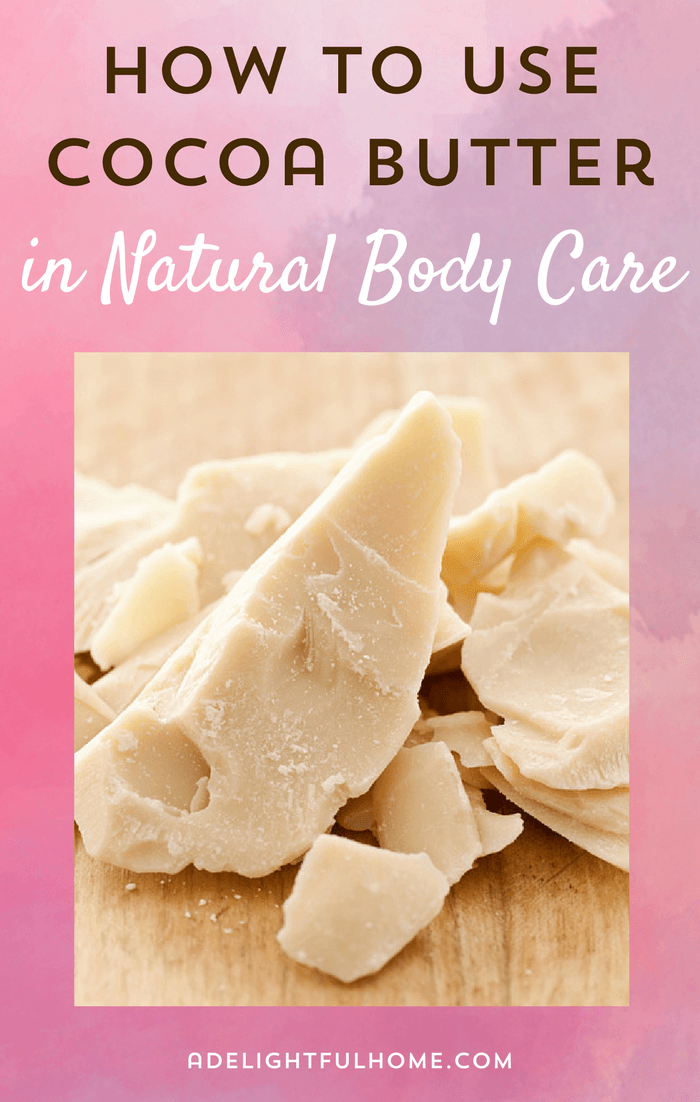 Stacy is a DIY obsessed, healthy living advocate. A preacher's wife and mom of three, she loves to encourage others to live a natural lifestyle.
Latest posts by Stacy Karen (see all)