This post may contain affiliate links which won't change your price but will share some commission.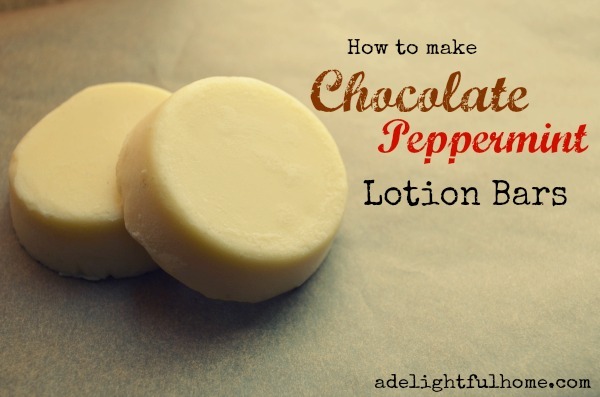 These lotion bars are one of my favorite things to make. They smell delicious and moisturize very well.
My goal here at A Delightful Home is to only share tutorials for homemade products that are simple and easy. These chocolate peppermint lotion bars fit the bill perfectly.
I'm not exaggerating about them being simple and easy. In fact, once, about an hour before a group of people started showing up at my house, I decided it would be nice to have a gift for everyone. I busted out the butters and made some lotion bars. It took me just a few minutes to melt the ingredients and they were ready before my guests arrived!
This recipe comes from one of the My Buttered Life ebooks (there are four). These are excellent books for those wanting to make natural body care products without doing anything complicated. The great thing about these books is that you can jump in right away. There is very little to learn, just follow the directions (as you would a basic recipe) and you'll end up with a natural body care product to use or give.
Chocolate Peppermint Lotion Bars
The following video shows you exactly how to make lotion bars. The ingredients and method are also listed below. The video and recipe are shared with permission from Renee, of MadeOn Hard Lotion, author of My Butter Life eBooks.
Ingredients
Method
Melt beeswax, butter, and oil in a heavy pot on very low or over a double boiler.
Once melted, remove from heat and leave to cool for a few minutes.
Add peppermint essential oil and stir with a wooden skewer to distribute.
Pour into molds (I use a muffin pan or these fun molds – silicone molds work very well for lotion bars)
Allow to cool.
These lotion bars can cool on the counter, but I usually put my muffin tray in the freezer for about 30 minutes. They are ready very quickly that way and it's also easier to pop them out of the tray.
Because I make these in a muffin tray, the lotion bars don't easily fit into a container (although I did find some perfectly sized ones at the craft store). To give as a gift I usually place the lotion bar in a small dish (like a ramekin) and tie with cellophane and some raffia.
I keep one of these bars in a small dish in a drawer of my nightstand so I can apply lotion to my hands before bed. A dish close to the kitchen sink also works well.
If you have rectangular shaped molds, it will be easier to find containers that fit the bars.
Isn't that easy?
As always, I buy most of my ingredients from Mountain Rose Herbs. The beeswax, cocoa butter and coconut oil are all reasonably priced there.
Some ingredients are also available on Amazon.com. I buy there in an emergency. Their prices on beeswax and cocoa butter are reasonable.
If you are looking for cute lotion bar molds, I recently purchased these and love the way lotion bars turn out in them: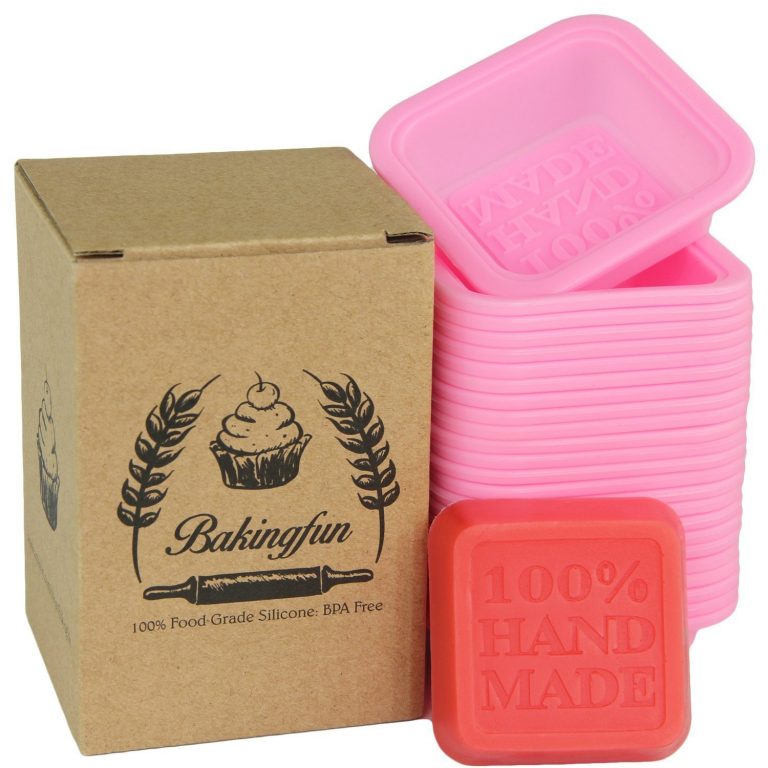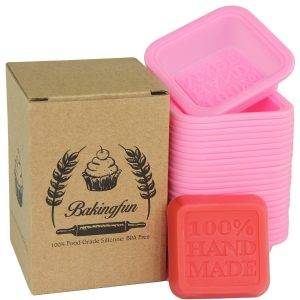 This recipe is from the My Buttered Life Gift edition.

All four of the My Buttered Life books are excellent!

Renee, from MadeOn also sells Lotion Bar and Lip Balm Kits which make the whole process super easy.
Have you ever tried lotion bars?
This post contains affiliate links.