This post may contain affiliate links which won't change your price but will share some commission.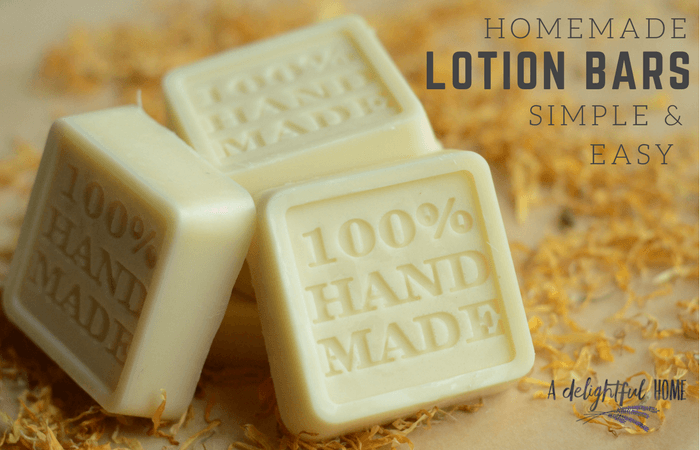 I've given lotion bars as gifts for a few years now. They are usually a big hit!
One reason I love to give lotion bars is that they are unique. Most people have not used a lotion bar before. It's a treat to introduce them to something I enjoy using so much.
Lotion bars are excellent moisturizers and are very simple to make.
Once I had the idea to give lotion bars as gifts less than an hour before a large group of people showed up at my house. I was able to whip them up and have a batch of lotion bars ready to go before they arrived! That's how easy it is to prepare them!
The ease of preparing these bars is one reason I included them in my 100 Gifts in an Hour tutorial.
---
PSSST! Pardon the interruption…
But I think you'll want to check this out.
I'm excited to announce that the popular Herbs & Essential Oils Super Bundle is back for the 4th year in a row!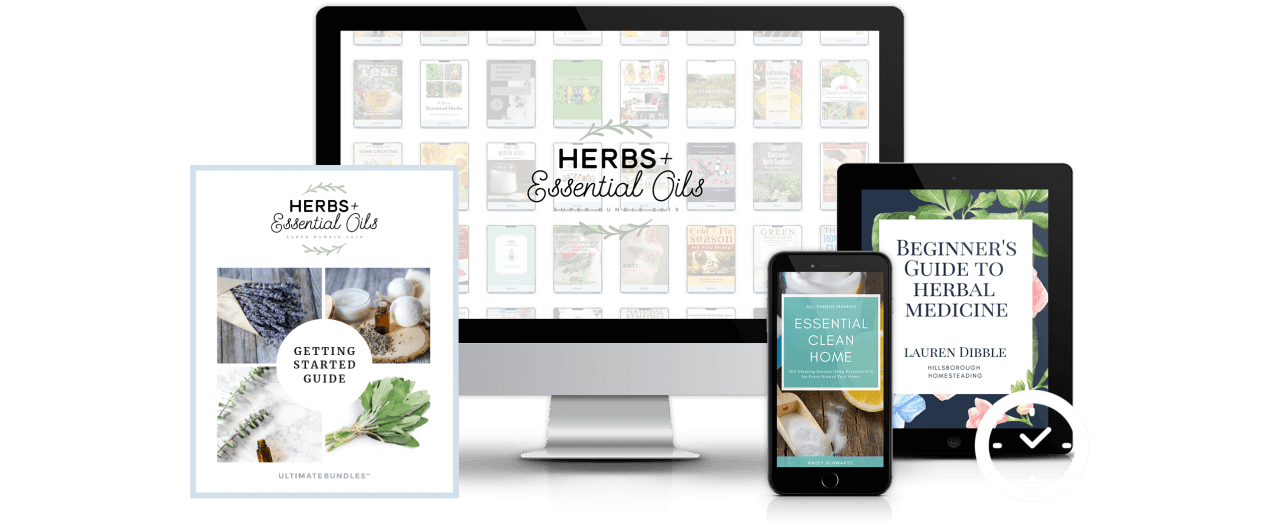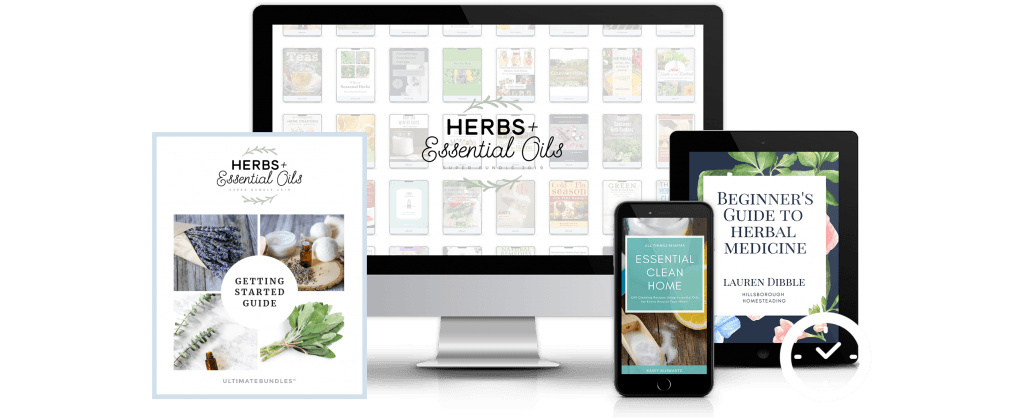 Inside the Herbs & Essential Oils Super Bundle, you'll find:
29 eBooks on cold and flu remedies, an evidence-based approach to CBD oil, cleaning your home with natural products, and more!
7 eCourses on creating botanical drinks, herbs for ADHD and focus, the healing power of tea, plus more!
4 printables to keep you organized, help you have essential oil safety at your fingertips, and more.
---
A basic lotion bar recipe requires three ingredients:
1 part coconut oil
1 part beeswax
1 part shea or cocoa butter
The "1 part" can be whatever you like. 1/2 cup of each, 2 ounces of each, or 1 lb of each (if you are making TONS and TONS of them!). Just use equal parts of each ingredient and you should achieve the right consistency.
I prefer cocoa butter because I love the scent and also like the feel of it on my skin more than Shea. But shea butter is frequently used and well loved by many.
Once these three ingredients have been melted over a double boiler, essential oils can be added (if desired). The mixture is then poured into molds and left to harden.
Place molds into the freezer for 30 minutes (but they can also be left on the counter to cool. They just take a lot longer that way).
What Molds are best for lotion bars?
When it comes to molds for lotion bars, there are quite a few options. I generally use muffin pans to create disc-shaped lotion bars (as pictured), but many soap molds are suitable, especially the silicone soap molds available nowadays.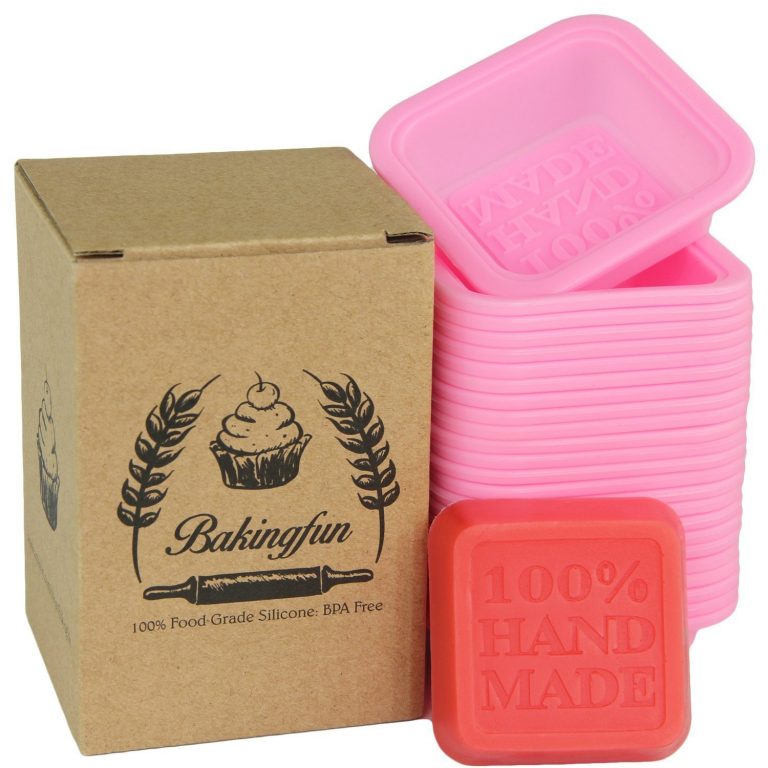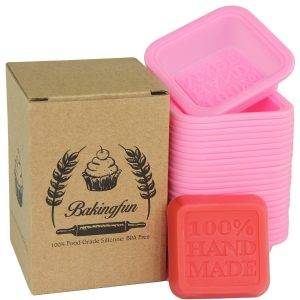 I recently purchased these and love the way lotion bars turn out in them.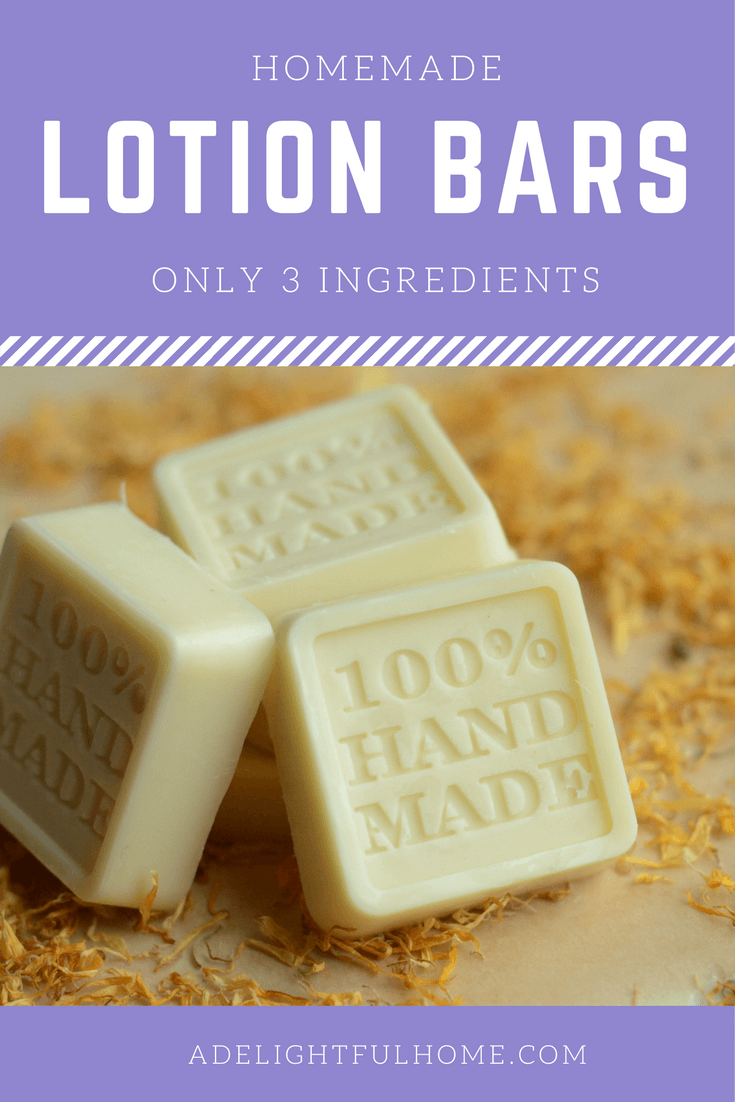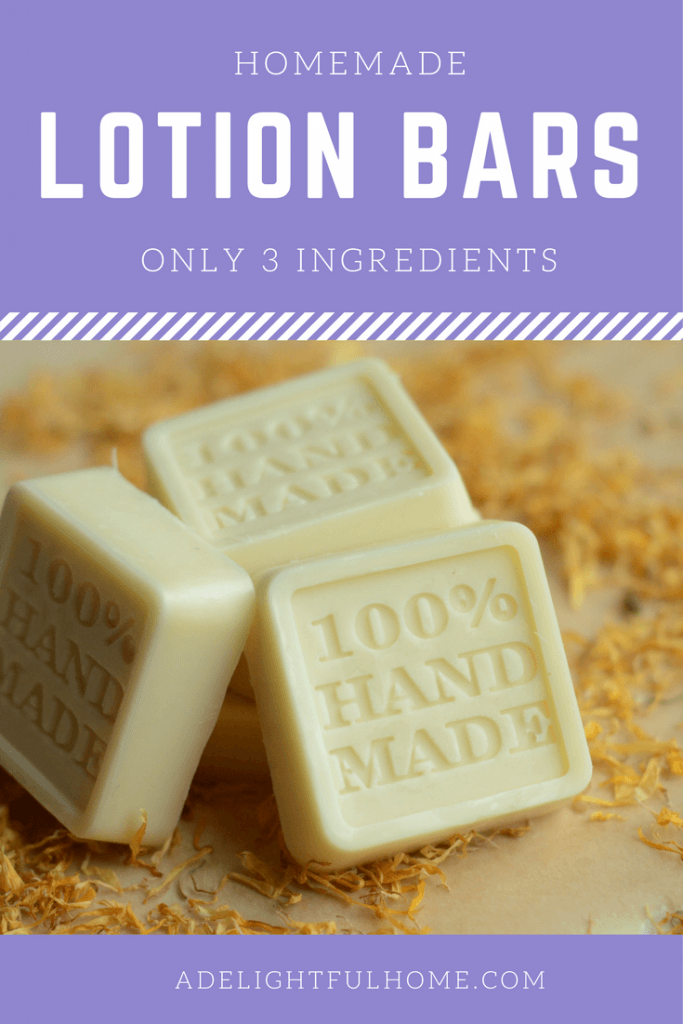 An example of the lotion bar recipe:
Ingredients
(Note: You can buy all of these ingredients in a Do-it-Yourself Lotion and Lip Balm kit from MadeOn.)
Method
Place all ingredients in a double boiler and warm until melted. While melting, lay out the molds and prepare freezer space for the molds.
Once melted, remove from heat and let to cool for a few minutes.
Add any essential oils and stir with a wooden skewer to distribute evenly.
Pour into molds and place in the freezer to cool. Set the timer for 30 minutes.
Once the timer goes off, remove molds from freezer and pop lotion bars out of the molds.
To package
Because I make lotion bars in a muffin tray, they don't fit easily into a container (although I did find some perfectly sized ones at the craft store and there are some round containers in the food storage section of some grocery stores). To give as a gift I usually place the lotion bar in a small dish (like a ramekin) and tie with cellophane and some raffia.
I will also give them in a cellophane bag. However, when I do so, I must also give instructions for storage.
Instructions for storage:
Keep out of extreme heat (it could melt). Keep lotion bar in a container or ziplock bag as it may stain clothing or other items that it comes into contact with.
Shelf stable for at least 6 months.
Here is a video of Renee (of MadeOn) demonstrating how to make lotion bars in about 30 minutes:
This is one of my favorite homemade skin care recipes. It's a perfect for beginners and make a wonderful gift.
I first learned to make lotion bars from the awesome My Buttered Life eBooks from the wonderful Renee of MadeOn Hard Lotion.
All four of the My Buttered Life books are excellent!

I buy most of my ingredients from Mountain Rose Herbs. The beeswax, cocoa butter and coconut oil are all reasonably priced there.
Some ingredients are also available on Amazon.com. Their prices on beeswax and cocoa butter are reasonable.
You can also get everything in one convenient kit from MadeOn.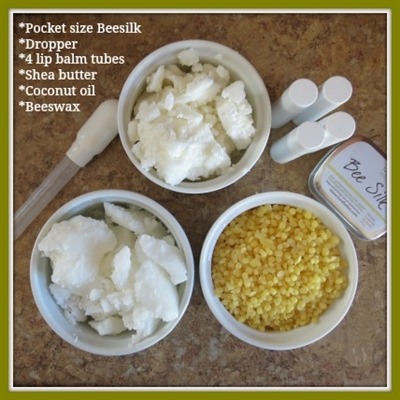 Don't want to make your own?
Click here to buy some made with the same recipe from MadeOn.
This post may contain affiliate links which won't change your price but will share some commission.