Violet and Sea Salt Bath Soak
My youngest daughter and I had the best time gathering violets from the backyard a few weeks ago. We turned them into a lovely purple bath soak and wanted to share the results with you.
Violets only bloom for a short time, so if you see them, be sure to act fast.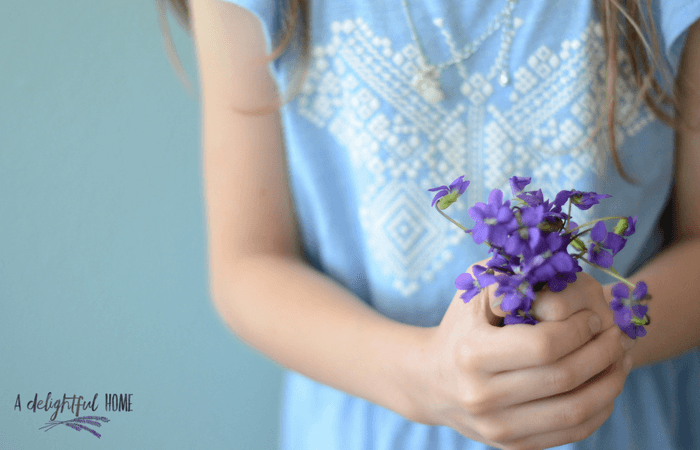 ---
PSSST! Pardon the interruption….
But I think you'll want to check this out.
The Herbs and Essential Oils Super Bundle is available for just a few days.
This carefully curated collection of 34 resources would cost you $560 on a regular day, but this week you can get it all for just $29.97.
That's 95% off!
The Herbs and Essential Oils Super Bundle includes:
22 eBooks
4 eCourses
6 printables
and 2 membership sites
You'll learn to rebuild your medicine cabinet with natural remedies, create beauty and skincare products without harmful ingredients, and confidently prepare herbal extracts, salves, and balms.
Besides that, you'll discover how to liven up your meals and get major health benefits by using the right herbs and how to treat your digestive complaints, pain, colds, and flus with everything in your medicine cabinet.
And more!
The Herbs and Essential OIls Bundle is only available until June 4th. So don't delay!
OK, back to the violets…
---
It's also important to note that violets should be free of pesticides. If you are unsure if they have been sprayed with chemicals, forgo using them.
Violets don't have a lot of scent, so you'll want to add a few drops of essential oil to this blend to create a fragrant bath soak.
However, what they lack in fragrance, violets make up for in color.
The beautiful purple hue you see in the bath soak pictured above is all from violets. No colored was added!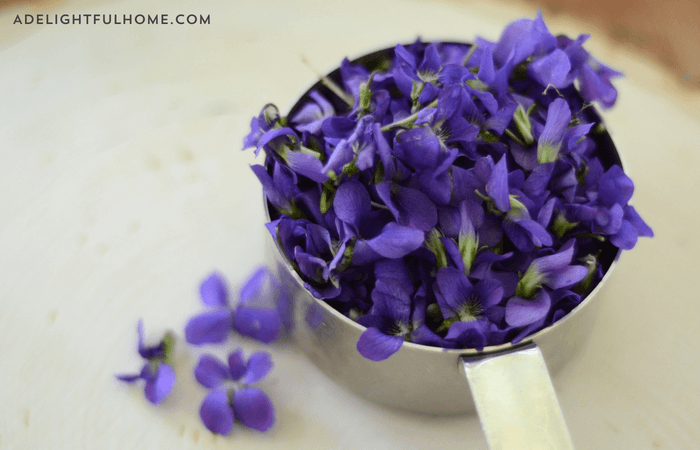 How to Make Violet and Sea Salt Bath Soak
Be sure to plan ahead if you need this for a particular occasion. the violet salt mixture needs to dry out before adding to a jar.
Ingredients
Instructions
Want to see a mini video tutorial of the process?
My daughter and I shared step-by-step instructions on Instagram stories (which allow 15-second video clips, hence the choppiness). I've compiled them into one video below so you can get a good look at the method.
You can also hear my littlest one's cute voice as she does some of the instructing 🙂 Adorable!
Gather at least 3/4 cup of violets (stem removed). If you leave a little stem on the violet, it won't matter too much. We were not overly particular about it.
Rinse violets and pat dry with a paper towel or cloth.
Place violets, Himalayan salt, and coarse sea salt to a food processor.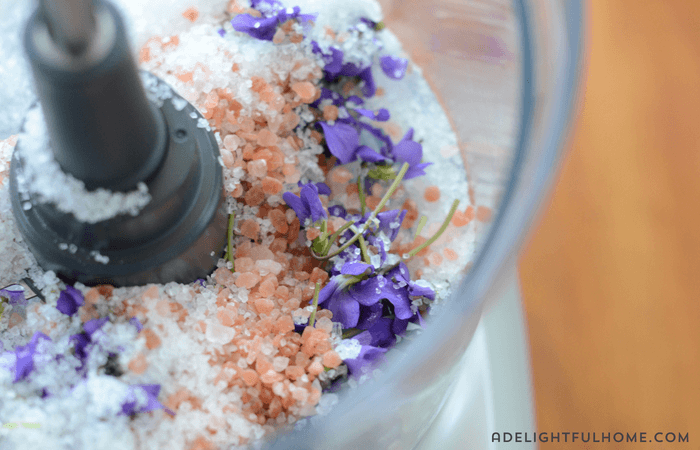 Pulse until sea salt and violets are a fine texture. Pink salt will not get much smaller (but it adds some visual interest which is pretty).
The mixture should be light purple in color.
Spread mixture on a parchment-lined cookie sheet and leave to dry overnight.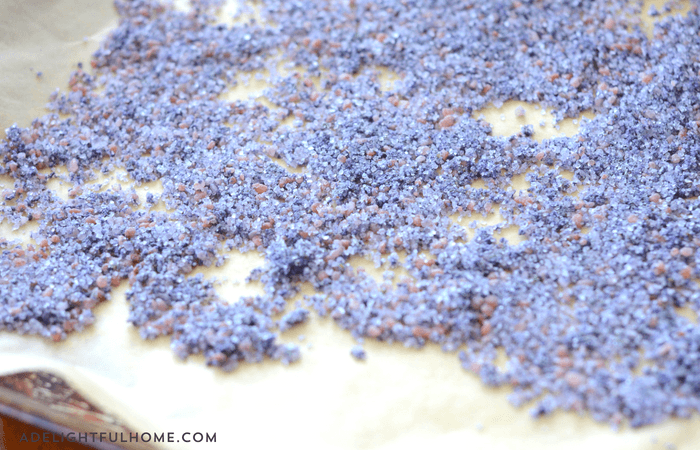 Once dry, place in a jar.
This mixture has a light scent, if you want a stronger fragrance, mix 6-8 drops of essential oil with 1 teaspoon coconut oil and stir to distribute throughout the bath soak.
To use, pour 1/2 cup in the bath as it fills with water. Soak for 10-20 mins. (You can also add the bath soak to a large glass measuring cup or bowl and dissolve in hot water before pouring into the tub.)
Soak and enjoy!
Want to Learn More about Foraging?
I mentioned above that the Herbs and Essential Oil Super Bundle is available right now and thought I'd highlight the fact that there is a fun section all about foraging!
I'm fairly new to foraging and am really enjoying learning more about identifying and using plants out in the wild (or my backyard)!
Even though I've used herbs for many, many years. There are only a few select herbs I've grown or bought fresh, the rest have all been dried. So foraging is a new endeavor that is quite enjoyable.
Even if foraging is not your thing, the Herbs and Essential Oils Super Bundle still includes 31 other resources (there are 34 in total). There's a great section devoted to creating natural body products as well as health-focused sections and lots more.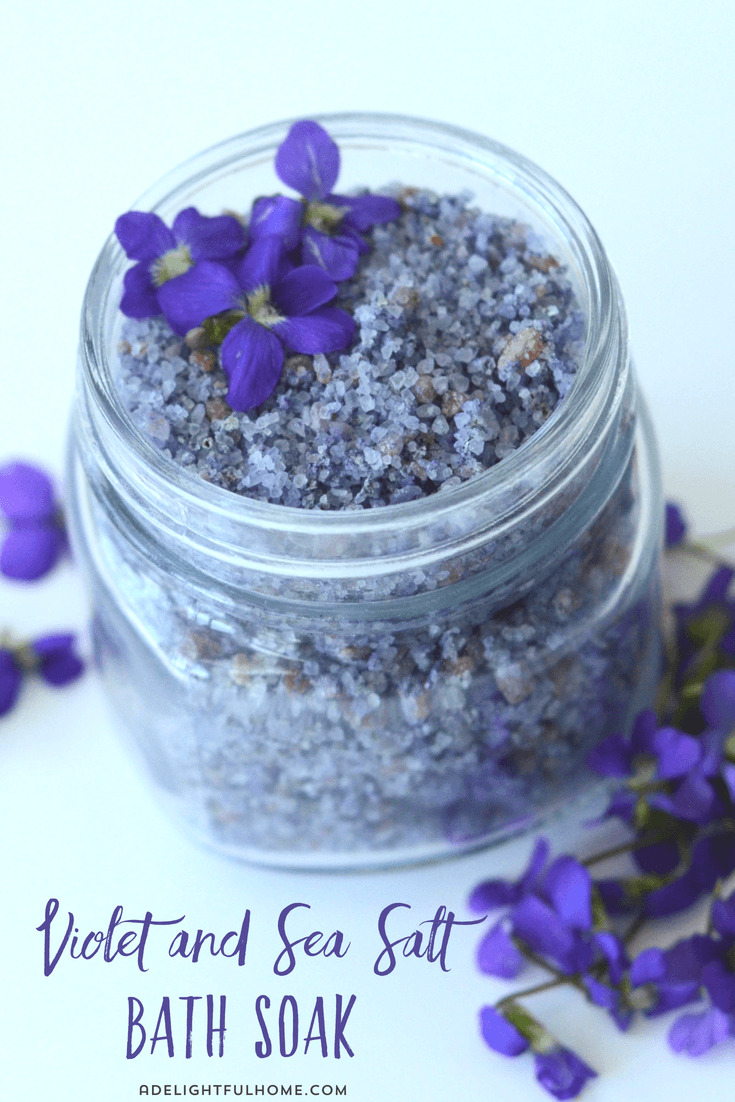 Stacy is a DIY obsessed, healthy living advocate. A preacher's wife and mom of three, she loves to encourage others to live a natural lifestyle.
Latest posts by Stacy Karen (see all)