This post may contain affiliate links which won't change your price but will share some commission.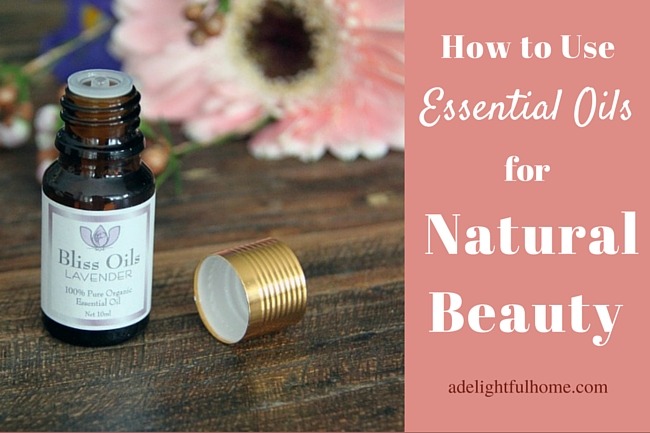 Essential oils are a great addition to natural beauty products. You'll find them in almost all of my natural body care recipes.
However, one must proceed with caution. Some essential oils aren't suitable for skin care, while others are fine, but need to be diluted correctly.
Essential oils provide fragrance to many natural body care recipes. They also infuse the finished product with additional therapeutic benefits.
For example, a lotion made with lavender essential oil, not only smells good, it also helps promote feelings of calm and relaxation. Citrus essential oils, like lemon and sweet orange, can be added to body scrubs to invigorate the senses as well as the body.
It is very important to research any essential oil you wish to use as each has it's own set of beneficial properties, cautions, and dilution level.
Most essential oils should be diluted and never applied "neat" (undiluted) to the skin. In some instances, doing so could actually burn the skin.
Essential oils frequently used in skin care products include:
lavender
helichrysum
geranium
rose
chamomile
rosemary
neroli
mandarin
frankincense
ylang ylang
Some essential oils are phototoxic, meaning that exposure to the sun after apply these oils could lead to severe sunburn, blistering, or changes in skin color.  I limit such oils to only small parts in wash-off products (such as body scrub), eliminate them, or use in products that are applied at night or to parts of the body that won't see the sun.
Phototoxic essential oils include:
bergamot
bitter orange
grapefruit
lemon (cold-pressed)
lime (cold pressed)
Note: Lemon and lime essential oils that have been steam distilled are not phototoxic. 
Which Beauty Products are Suitable for Essential Oils?
Essential oils work well in cleansers, toners and moisturizers (depending on the oil selected). They are also fantastic in massage oils, body butters, body scrubs, lotions, bath salts, bath soaks, and so on. Really, most natural beauty products could include essential oils.
Natural Beauty Recipes that Use Essential Oils
Need a few recipes to get started? Here are some great DIY natural beauty recipes to try:
From A Delightful Home:
Homemade Moisturizing Body Scrub
How to Make Solid Perfume Sticks
How to make 100 Gifts in an Hour
From Around the Web:
DIY Grapefruit Cellulite Scrub @ Hello Natural
How to Treat Red Bumps on Arms Naturally @ The Greenbacks Gal
Floral Body Scrub @ Keeper of the Home
Homemade Deodorant @ Live Renewed
DIY Sensual Massage Oil @ Red and Honey
Ylang Ylang and Rose Bath Melts @ More Than Mundane
Delightful Frankincense & Wild Orange Sugar Scrub @ More Than Mundane
Rosemary Orange Body Butter @ Vintage Remedies
Citrusy Lip Balm @ Vintage Remedies
Bliss Oils Essential Oil Set Giveaway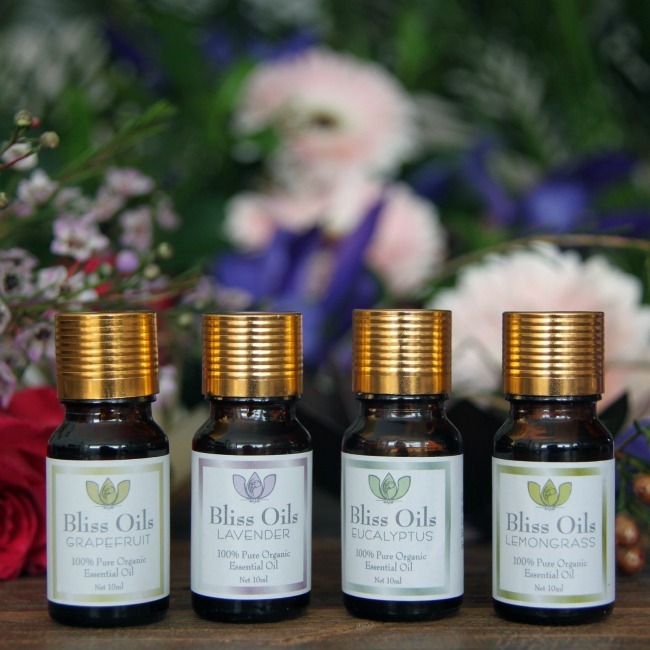 I was recently introduced to Bliss Oils from The Home Bliss Company and am excited to find a company that sells organic essential oils for a reasonable price.
They have offered to give away three sets to readers of A Delightful Home! Yay! Thank you Bliss Oils!
 The Home Bliss Company (a family-owned company) just released their first essential oils set as part of a new range of premium 100% organic essential oils called Bliss Oils.
Bliss Oils were designed to make essential oils more accessible to the public. The first Bliss Oils set  includes organic Lavender, Eucalyptus, Lemongrass and Grapefruit.
Consulting with aromatherapy experts and using plants sourced from the USA, Australia, China and Brazil, each plant was chosen for its purity, aroma and therapeutic qualities.
Being organic, Bliss Oils are naturally free from artificial fragrances and synthetic additives.
Win One of Three Sets of Bliss Oils
Enter using the Rafflecopter below.
Giveaway will close on Wednesday, October 14 at 11:59 PM PST. 
Open to US Residents only. 
a Rafflecopter giveaway