This post may contain affiliate links which won't change your price but will share some commission.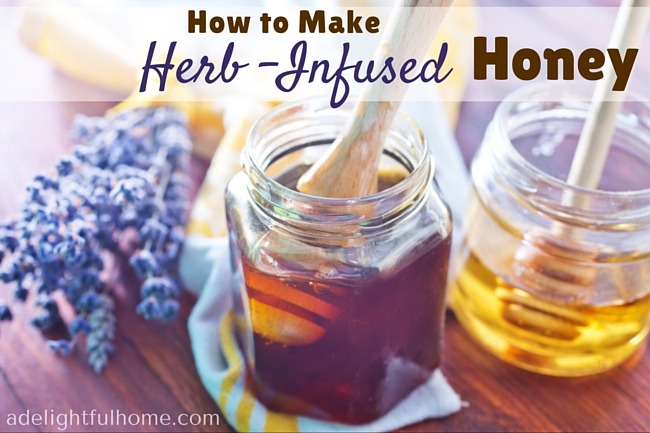 Herb-infused honey is also known as medicinal honey. It is a can be added to tea and used as a method for administering herbal medicine.
Besides being pleasant to consume, herb-infused honey is also an excellent addition to masks and scrubs. It is a simple way to include more herbal benefits in your skin care routine.
Uses for Herb-Infused Honey
Herb-infused honey can be used as a mask with no other additions. It is also wonderful as part of a scrub. Honey is so gentle it can even used as a daily cleanser (simply apply to the skin as you would any other cleanser and wash off with a wet washcloth)!
Use raw honey whenever possible as it still contains many of the enzymes and beneficial properties that lost (or significantly diminished) in the heating/pasteurization process.
Ingredients for Herb Infused Honey
1 cup honey
2 tablespoons of chopped fresh herb or 1 tablespoon of dried herb
Instructions for Making Herb-Infused Honey
Add herbs to a clean jar and pour honey over the top. Stir to combine.
Close with a tight fitting lid and allow honey and herbs to steep for one to two weeks in a sunny window.
Shake jar from time to time, turning upside down to re-distribute the herbs (they tend to float to the top).
Strain out the herbs by placing a fine mesh strainer or cheesecloth over a bowl or jar. (A cheesecloth will remove more of the herbs, but a few stray herbs is fine).
Pour honey through the sieve of cheesecloth, allowing it to catch the herbs. If honey is extremely thick, you may wish to gently warm it in a bowl of warm water. This will allow the honey to flow more easily.
Pour honey into a canning jar and close tightly. Attach a label, noting the herbs used.
Use within 18 months.
Which Herbs to Use
Many herbs will work well in this herb-infused honey recipe. It really depends on your goal.
The following herbs work well for natural skin care purposes:
For culinary (or natural remedy) purposes, the following herbs are a great choice:
How to Use Herb-Infused Honey for Natural Skin Care
Add a tablespoon to your favorite body scrub recipe
Use as a face wash/cleanser
Use as a face mask (apply to face, leave for 10 minutes, then wash off with warm water)
Mix with ground almonds or sunflower seeds to create a gentle facial scrub
PIN FOR LATER: