This post may contain affiliate links which won't change your price but will share some commission.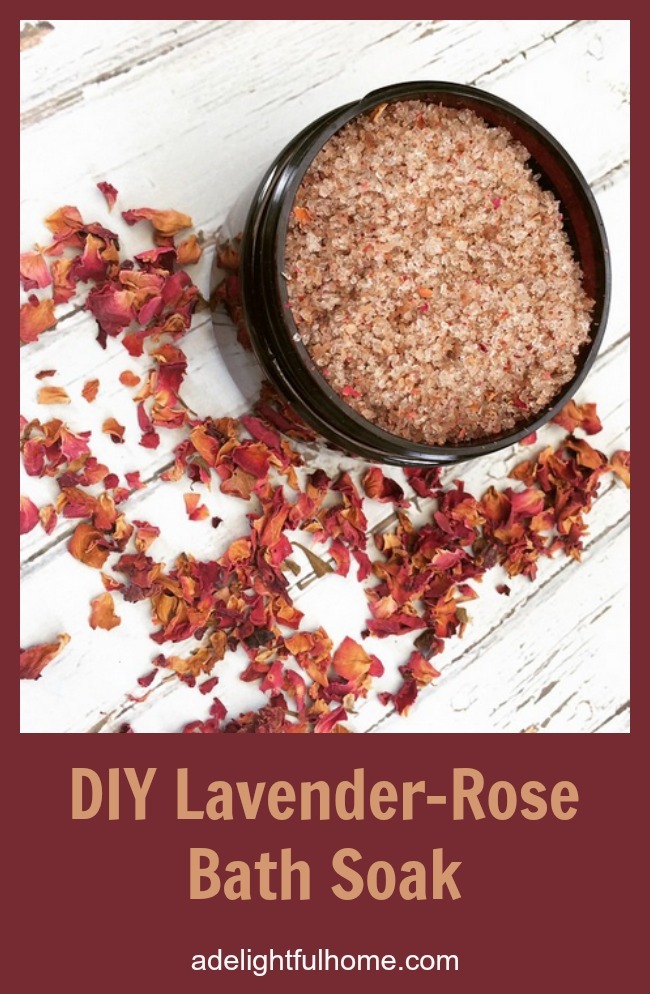 This bath soak was created to provide relaxation for the body and mind.
The combination of salts in this bath soak help to soothe tired muscles and may even draw out toxins. The minerals contained in the salts may also be absorbed through the skin, providing added benefits beyond relaxation.
The scents of rose and lavender give this bath soak an uplifting fragrance.
I've included Redmond Bath Salt in this recipe, which is healing to the skin and body. It contains a high amount of trace minerals and gives this bath soak a lovely color and texture.
If you don't have Redmond bath salt on hand, you could increase the amount of the other salts. However, I encourage you to give Redmond salt a try as it provides a unique and greatly beneficial soaking experience.
DIY Lavender-Rose Bath Soak Recipe
Makes enough for two treatments.
Ingredients
1/4 cup Dead Sea salt
1/4 cup Epsom salt
1/4 cup Redmond Bath salt (with clay)
1 tablespoon ground lavender
1 tablespoon ground rose petals
Method
Mix all ingredients together and store in an air tight container.
To use: pour half of of the mixture into bath as it fills with warm water. Soak for 15-20 minutes.
You can add a few drops of essential oils to this bath soak by mixing a few drops with 2 teaspoons of coconut oil, then stirring into the dry ingredients. Just be sure the essential oil you choose is safe for use.
This bath soak makes an excellent gift!