This post may contain affiliate links which won't change your price but will share some commission.
Homemade body care products are quick and easy to make. They are often quite frugal too.
Giving DIY body care gifts is a great way to introduce your friends and family to the world of non-toxic beauty products. Plus, it's kind of fun to impress them with your DIY skills. Most people are super impressed when you tell them you made lip balm yourself!
There are a ton of DIY recipes and tutorials on this website, but I'm going to share the fastest ones with you today.
If you have some time to spare, watch the video below for a demonstration of how to make a bunch of products in a short amount of time.
If you like this video, I'd love for you to subscribe to my YouTube channel.
Note: the above video is from the Healthy Holiday's challenge hosted in the Creating a Healthy Lifestyle…Naturally Facebook Group.
This Facebook Group was created by four bloggers focused on healthy and natural living. We will be hosting various challenges throughout the year. Feel free to join in if you'd like a fun place to share, learn, and grow together.
Go here to get your downloadable/printable PDF of all the recipes.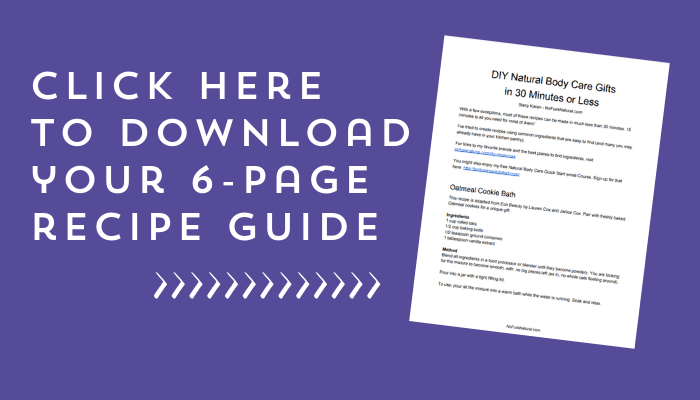 Quick and easy natural body care products you can make in 30 minutes or less:
Brown Sugar-Vanilla Body Scrub
Other Helpful Links:
How to Make 100 Gifts in an Hour
How to Make 40 Herbal Gifts in 45 Minutes
How to Dilute Essential Oils for the Bath
Where to buy supplies
I have two favorite places for supplies:
Mountain Rose Herbs
I have been a customer of theirs for over ten years! They have just about everything you need at excellent prices.I love to get carrier oils, butters, essential oils, clays, beeswax and more from Mountain Rose Herbs. Click here to see my full list of most used DIY Ingredients and Tools
Amazon
I tend to use Amazon when I need ingredients in a hurry as I feel that Mountain Rose Herbs is more reliable as far as sourcing and quality goes. But, I definitely buy things like lip balm tubes, labels, and other containers from there.You will find a few reputable brands on Amazon for ingredients as well. See the products I buy and recommend from Amazon here.
Pin for later: