This post may contain affiliate links which won't change your price but will share some commission.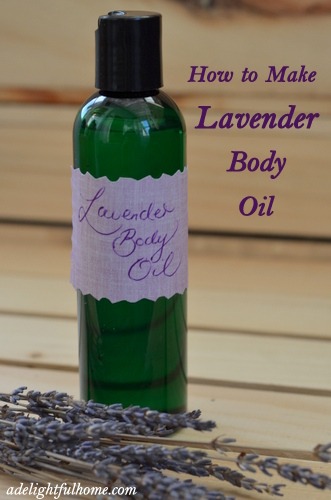 Body oil is excellent for dry skin. It feels extremely luxurious, but need not be kept for special occasions; body oil is a perfect moisturizer for every day use as it hydrates skin exceptionally well.
To use body oil: apply to damp skin after a warm shower (even better if you've used a body scrub).
One side note: It may take a few minutes for the oil to soak into skin, so don't put on and get dressed in your Sunday best in a hurry (or else you may end up with oily stains).
Body oil is also wonderful when used during a massage treatment. Especially if it's infused with lavender.
So relaxing . . .
The recipe I am sharing today is very simple. In fact, it will probably take you longer to get the ingredients out of the cabinet than it will to make it.
Simple Lavender Body Oil

I adapted this recipe from one found in The Herbal Home Spa by Greta Breedlove.

Ingredients

1 cup oil (Use Grapeseed, safflower, or sweet almond oil)
Note: It is nice to use a variety of oils to make up the 1 cup. Such as 2/3 cup grapeseed and 1/3 cup safflower. If you have wheat germ oil on hand it is a lovely addition, too. But it does go rancid faster than other oils, so be aware that the shelf life will be shorter. 2/3cup Grapeseed and 1/3 cup wheat germ oil makes a lovely combination (and is recommended in the original recipe).

Method

Pour all ingredients into a bottle, cap and shake to blend.

Makes about 8 ounces.

The bottle pictured above is only 4 ounces, so I halved the recipe.

If making a larger batch or dividing between smaller bottles, figure the amount needed for each bottle before beginning. It is easier to blend the ingredients in the bottle rather than in a cup and then pouring in. This is because the oils may not stay evenly mixed and one bottle would end up with lots of lavender while the other has almost none.
This would be very nice paired with a sugar scrub or bath salts for a Mother's Day gift (or any other day gift for that matter).
Links to Mountain Rose Herbs and Amazon.com are affiliate links.
Originally published on 4/25/2012.
This is Day 22 in the 31 Days of Natural Beauty Series.