This post may contain affiliate links which won't change your price but will share some commission.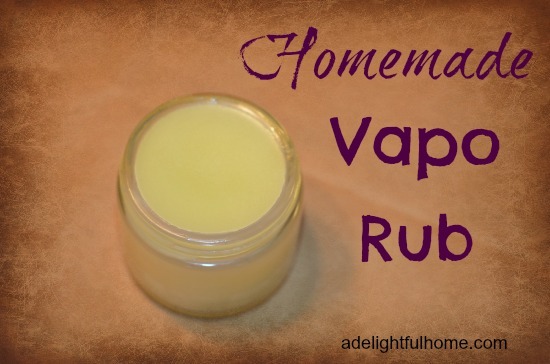 One of the most popular posts on this blog is about making vapo rub. In that post I explain how to make a quick chest rub with olive oil and essential oils. It's a great method to use because it doesn't require much preparation and can be made in less than a minute.
However, sometimes it's nice to have something already made for when the need arises. Plus, it's always fun to make stuff with beeswax (at least, that's what I think!). So, with that in mind, the following vapo rub is something you can make and store for up to a year.
Although this homemade vapo rub requires a little more effort than the quick version, it is still easy to make and takes very little time.
The recipe includes dried herbs to add some extra healing power, but they can be left out if needed.
Homemade Vapo Rub
This recipe is adapted from one found in The Rhythm of Family
You will need:

1/2 cup olive oil
1/4 ounce dried plantain leaves or dried mullein (optional)
1/4 ounce beeswax (buy from Mountain Rose Herbs or Amazon)
1/8 teaspoon vitamin E oil (buy from Mountain Rose Herbs or Amazon)
15 drops eucalyptus essential oil (where to buy Eucalyptus essential oil) – should not be used on young children
6 drops rosemary essential oil (where to buy Rosemary essential oil)
6 drops peppermint essential oil (where to buy Peppermint essential oil)
4 ounce jar (needs to hold 1/2 cup)
Method:
Place dried herbs and oil into a small saucepan and warm over a very low heat for about 20 minutes.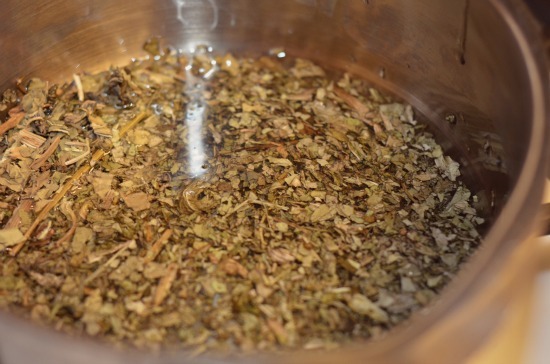 Allow to cool briefly.
Place some cheesecloth or a coffee filter over a jar and affix with a rubber band (Alternatively, you can place the cheesecloth a coffee filter in a strainer and place that over a bowl).
Pour the herb/oil mixture through the cheesecloth to strain out the herbs. Squeeze the excess oil out of the cheesecloth before disposing of herbs.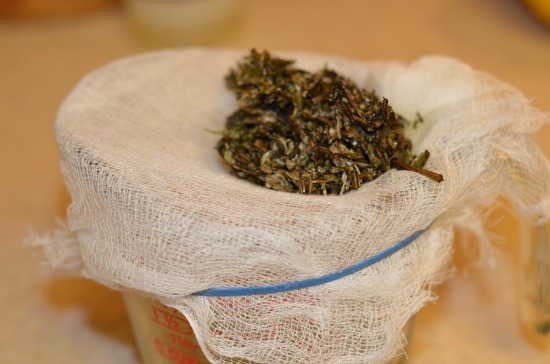 Pour the herb infused oil back into the saucepan and add the beeswax. Rewarm until the beeswax has melted.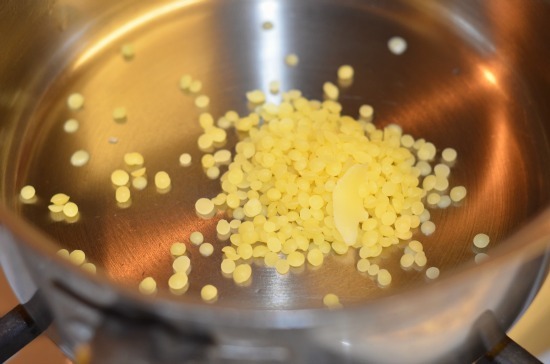 I like to use the beeswax pastilles from Mountain Rose Herbs because they are so easy to measure.
Note:
If you are not using the herbs at all, then this is the first step: Combine the oil and beeswax. and warm until beeswax has melted).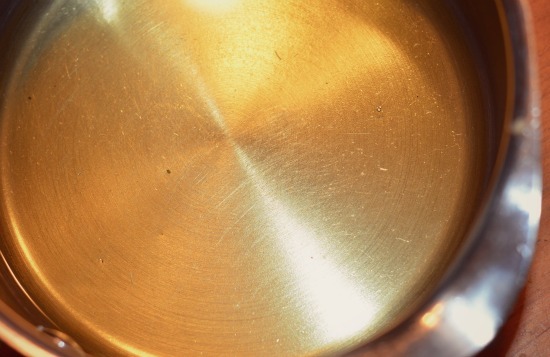 Cool slightly and add the essential oils. Stir to distribute evenly.
Pour into a clean jar and allow to cool.
Once completely cool, add the lid and label. This homemade vapo rub can be kept for one year at room temperature.
Rub on chest and back to help relieve congestion.
Does that look easy? It really is! I hope you'll try it. No more petroleum based, store-bought chest rubs for you!
I buy most of my supplies from Mountain Rose Herbs.