This post may contain affiliate links which won't change your price but will share some commission.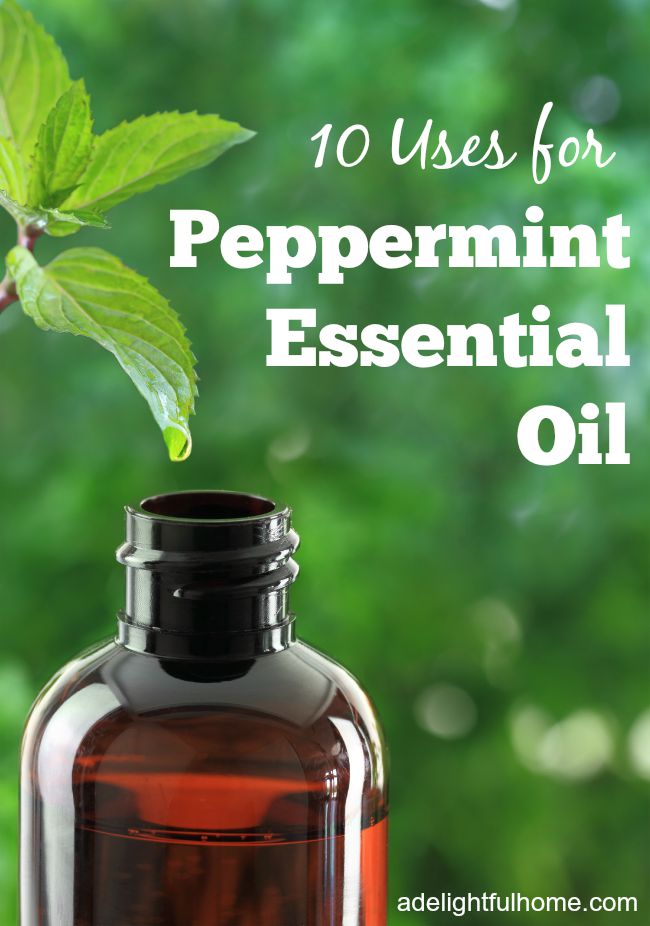 The following is a guest post from Krissa of More Than Mundane
Peppermint essential oil is one of my go-to oils and a must for every home medicine cabinet. It is antibacterial, anti-inflammatory, antiviral, and invigorating. It has been used for centuries to soothe digestive difficulties and headaches. The aroma is stimulating and may help with memory and mental performance. It is a cooling oil and is often used to reduce fevers.
There are countless uses for peppermint, but here are the top 10 ways I use it:
1. For digestive difficulties. Dilute several drops with a carrier oil (such as coconut oil or olive oil) and rub on your stomach to help with gas, tummy aches, indigestion, etc. You can also take peppermint internally if you are using a pure, therapeutic grade essential oil.
2. Headaches. Apply a couple drops to neck, temples, and forehead to relieve headache pain. Dilute with a carrier oil for children and for those with sensitive skin.
3. To reduce fever. Dilute and rub on the bottoms of feet to reduce fever, or put 1-2 drops in a capsule to take internally. (Do not give internally to children under six.)
4. To relieve congestion. Use aromatically in a vaporizer or diffuser, or place a drop on a cotton ball, cup it in your hands and breathe it in. You can also place a drop on the tongue or below the nose to relieve congestion and sinus pressure. Or you can use it to make homemade vapo-rub.
*I have peppermint mixed with fractionated coconut oil in a roller bottle and use it all the time when my kids complain of stomach aches, when I have a headache, or when my kids have fevers.
5. For bad breath. Add a drop on the tongue to reduce bad breath, use it to flavor your homemade toothpaste, or make a quick and easy mouth rinse: add a drop or two of peppermint and lemon essential oil to water, then swish and rinse to freshen up.
6. To improve alertness, concentration, and memory recall. Place a drop under the nose or diffuse in a room to increase alertness and improve memory. Or just open the bottle and inhale. This is useful on a long car trip to help you stay awake, or while studying and test taking to improve recall.
7. To cool down. Add several drops to a small spray bottle with distilled water and use as a spray to cool down on a hot day or after working out.
8. For foot care. Peppermint is cooling, refreshing and invigorating; perfect for hot, weary feet. Use peppermint essential oil in a foot bath to refresh your feet after a long day, or try this Peppermint Foot Scrub.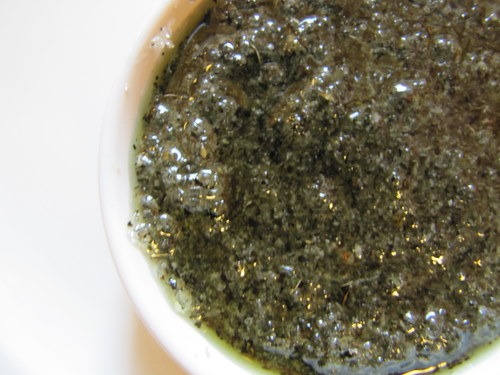 9. To keep out bugs. The scent of peppermint deters insects and rodents. Add several drops to a cotton ball if you can find a place of entry in your home and stick the cotton ball there. I often do this with ants. You can also make a peppermint spray using water and peppermint essential oil (4-5 drops per 4 oz. water) and spray it outside the home where you find ant trails, etc. This spray can also be used in your garden to deter aphids!
10. To scent homemade beauty products. Peppermint has an uplifting, refreshing scent and is perfect for homemade beauty products like Body Butter, Lip Balm and Sugar Scrub. I like to pair it with rosemary or citrus scents.
Krissa Jeldy is a busy mom of two who, since starting a family, has become passionate about learning all she can about living a simpler, more natural lifestyle. She enjoys discovering new home remedies to try, greener products to make and use, and real food recipes to nourish her family. She juggles her time between her job as an educational specialist, homeschooling her first grader, and chasing after her toddler. In her "free" time she blogs at More Than Mundane.

Did you know the Healthy Living Bundle includes lots of info on essential oils?
It also has an awesome bonus of Lemon, Lavender and Peppermint Essential Oil Set ($25.92) from Plant Therapy!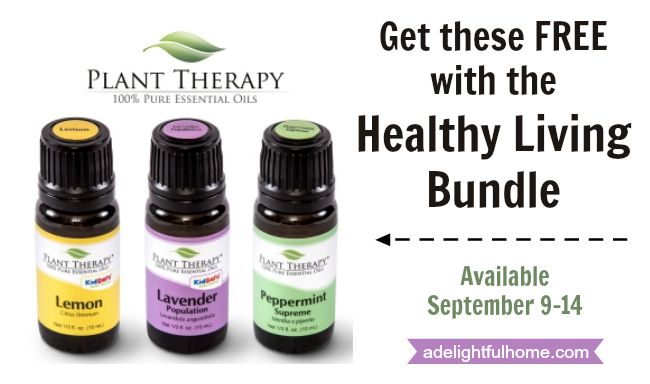 Essential Oil Resources in the bundle: