This post may contain affiliate links which won't change your price but will share some commission.
Table of Contents

[Hide]

[Show]
"A warm smile is the universal language of kindness."
– William Arthur Ward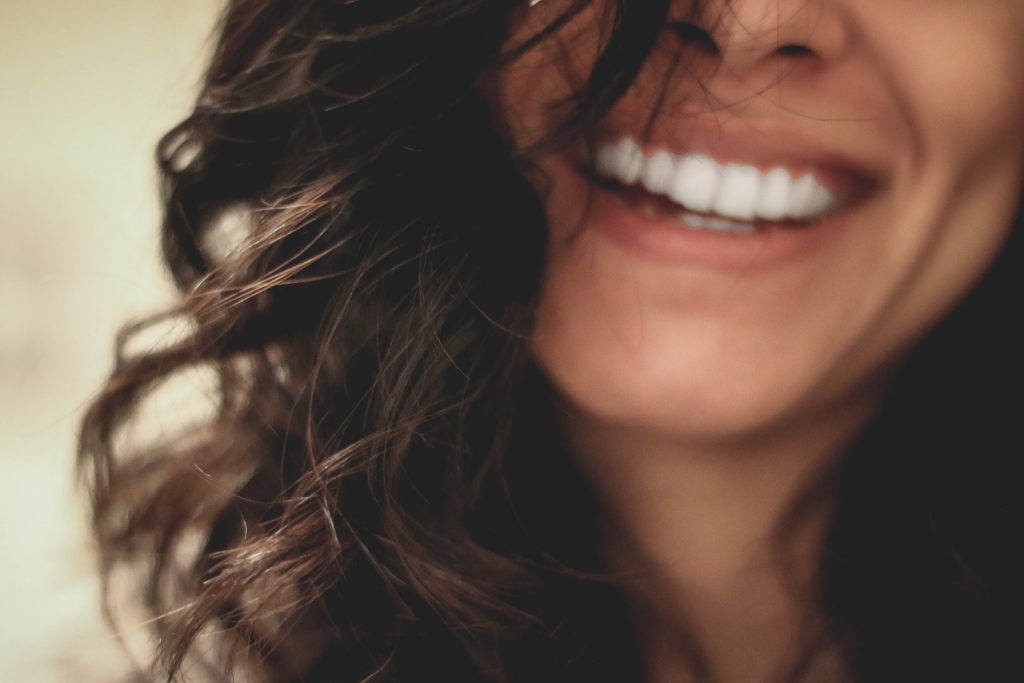 Today is World Smile Day!
Do you feel better when you smile? How about when someone flashes a genuine grin at you?
With the need to wear masks while out and about this year, many of us have missed seeing each other smile. You don't always know how much something as simple as a smile can impact you until it's gone!
Mask or no, keep smiling because it helps relieve stress and boost mood. Some suggest smiling can actually have a positive impact on blood pressure and the immune system.
Giving and receiving smiles is good for the mind, body, and soul!
I don't know about you, but I am self-conscious about smiling when my teeth or mouth aren't feeling up to par. This could be bad breath, yellowing teeth, or any other dental issue. I figure the best way to ensure I smile more is to practice good oral hygiene.
I'd say many of you would agree!
Besides smiling, what better way to celebrate Smile Day than taking good care of our teeth?
To help us take care of our teeth and gums, I've created three simple recipes for you. Each of these can be made in a matter of minutes and provides wonderful all-natural mouth care without a side of toxic chemicals (which you'll find in many dental products).
Use the following natural dental care recipes as part of your daily routine.
DIY Tooth Powder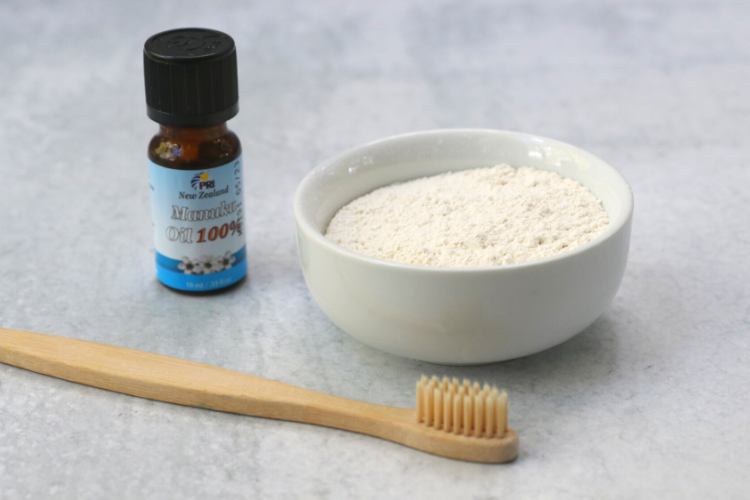 Tooth powder is a great alternative to toothpaste and can be used daily to clean teeth. This tooth powder recipe is made with bentonite clay to help draw impurities from the teeth and gums as well as baking soda which gently polishes teeth and helps freshen breath.
Manuka oil is added to aid in maintaining healthy gums; it's antibacterial qualities are an awesome addition to homemade dental care products. In fact, one study found manuka oil to inhibit the growth of certain types of bacteria and have especially strong "antibacterial activity against periodontopathic and cariogenic bacteria." The same study found manuka oil to have "significant adhesion-inhibiting activity against P. gingivalis" and S. mutans. (Source)
Ingredients
2.5 tbsp. Bentonite clay
2 tbsp. Baking soda
2 tsp. xylitol, optional
2 drops manuka oil
Instructions
Place all ingredients in a small bowl and use a wooden spoon to stir to blend. A wooden spoon is needed when working with Bentonite clay since metal can deactivate it's absorbing properties.
Once mixed, add manuka oil and stir to distribute evenly.
To use: sprinkle a small amount of tooth powder (about ⅛ tsp) on a wet toothbrush and brush as usual.
Antibacterial Homemade Mouthwash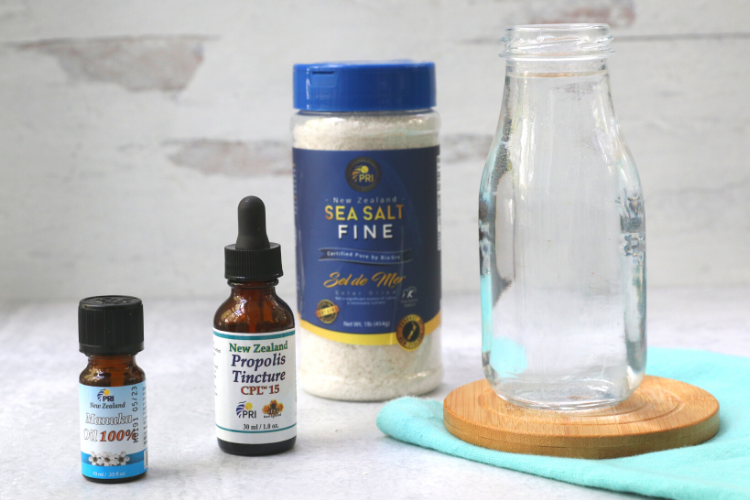 This simple mouthwash recipe includes manuka oil because of its antibacterial properties. Propolis extract is also included as recent studies suggest its antimicrobial properties may be beneficial in protecting against oral disease as well as treating canker sores, reducing plaque, and maintaining and improving gingival health (Source).
Ingredients
Makes 8 ounces.
Instructions
Place all ingredients in a glass jar or bottle. Cap with lid and shake to blend. Rinse mouth with 1-2 tablespoons of mixture . Can also be used as a gargle. Avoid swallowing.
Sea Salt Mouth Rinse and Gargle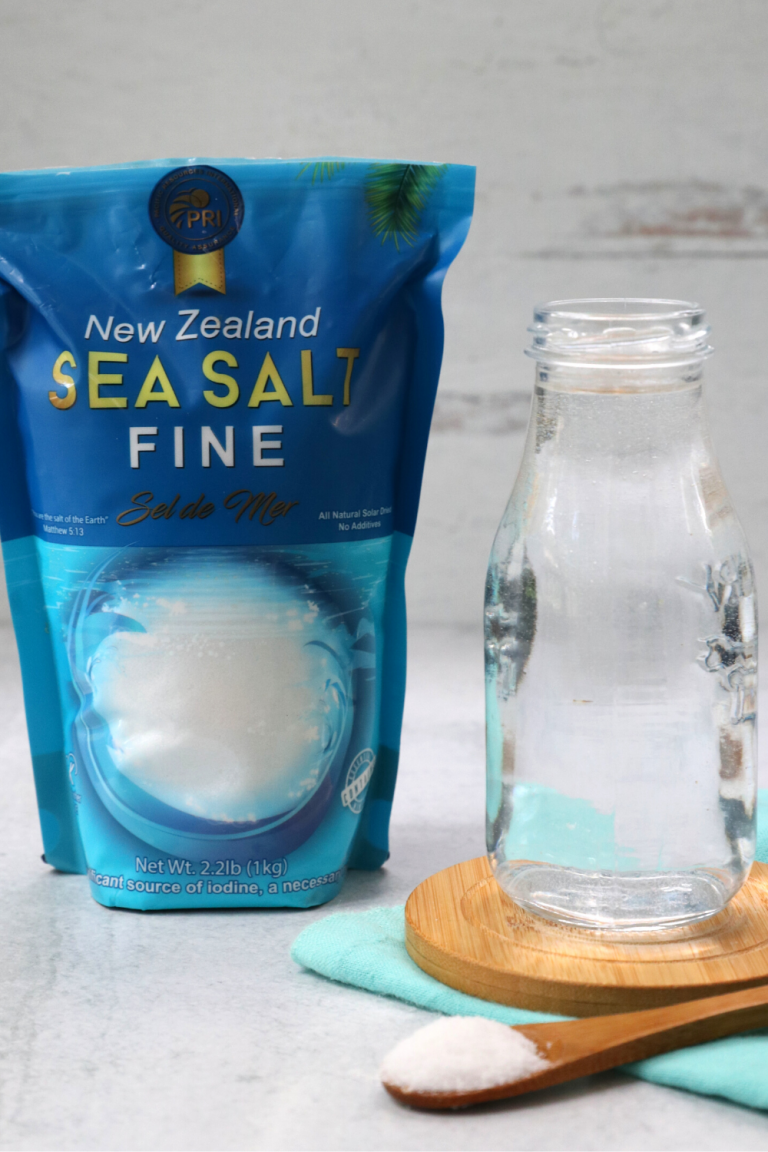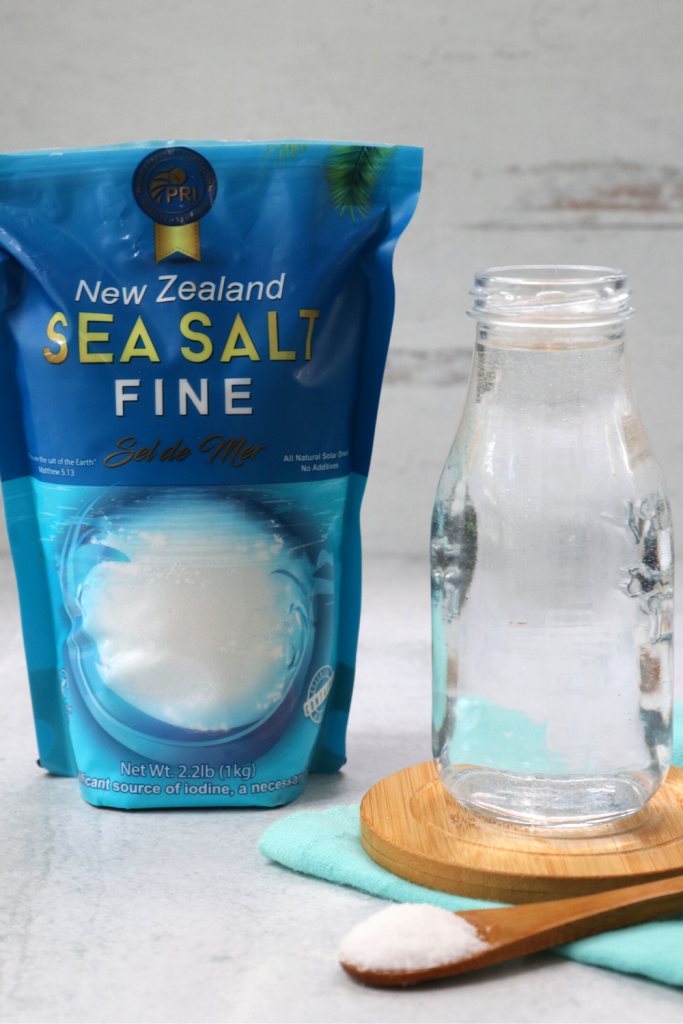 Sea salt is the unsung hero of dental care! It's useful in soothing sore throats and gums and may also speed recovery after dental surgery. Many find sea salt mouth rinses helpful when dealing with bleeding gums and canker sores. That said, a sea salt mouth rinse can be used for less acute situations and is beneficial in freshening breath and maintaining a healthy oral environment.
One study showed rinsing with sea salt to reduce plaque and help rid the mouth of microbes that cause disease and decay (Source).
When making a sea salt rinse it's important to choose high quality sea salt such as PRI Fine New Zealand Sea Salt as it contains many beneficial minerals not found in table salt (Learn more about the benefits of sea salt here).
Ingredients
Instructions
Mix sea salt with warm water until it dissolves.
To use
Gargle salt water in the back of the throat and swish around teeth and gums. Once finished, spit out the sea salt water.
Repeat twice a day or more for acute conditions (up to every three hours, as needed).
Incorporating these non-toxic dental recipes into your oral care regimen is a great way to take good care of your teeth and increase the likelihood of letting a grin spread from ear to ear.
"Don't forget to smile. It lets your teeth breathe!"