This post may contain affiliate links which won't change your price but will share some commission.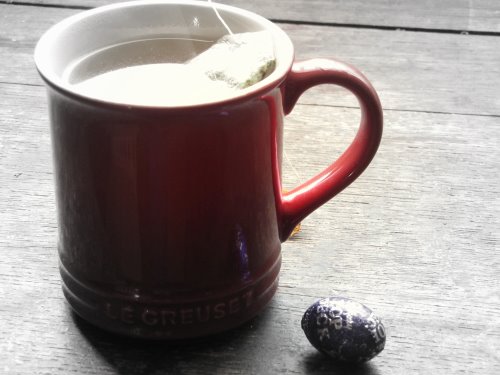 I'm sitting at my computer drinking tea, and eating chocolate eggs. I'm trying to catch up on email and thought it might be a good time to pop in here and say hello again.
This is how I have felt for the past month:
Exhausted.     Overwhelmed.      Burnt Out.
I thought it might be worth sharing a little of how I have been feeling. It always helps me to know I'm not the only mom who struggles, so perhaps you can identify with my struggles and not feel alone either.
About 4 weeks ago my youngest came down with a cold. Nothing drastic, but enough to make everyday life a little more difficult (extra night wakings, clingy, crying during the day – all while attempting to homeschool and make dinner – umm yeah). Just when I thought it was coming to an end, I heard a hacking cough from my wee one.
She is still coughing!
But not as much 🙂
Already feeling tired from lack of sleep (I do not have the gift of teaching babies to slumber well), the extra stresses just felt like a huge weight piling up on top of me. Everything was spinning out of control, and I couldn't do much besides hold the baby and make oatmeal for dinner again. Life was crashing in on me.
But, it's OK. I know it is. Life is like this. Full of ups and downs.
The down times may last a day, a week, a month, or even a year (or more). Thankfully God is always there. Waiting. Embracing. Loving.
He is good.
All the time.
I wish I handled these tough times with grace. But of course I often don't. I'm still so immature in many ways.
I'm glad God is patient.
How about you?