This post may contain affiliate links which won't change your price but will share some commission.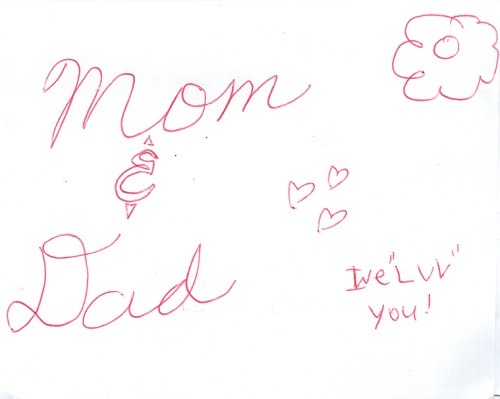 It happened on an afternoon that found me with anxious nerves swirling in my belly.
I worried about the posts I wanted to write (or felt I needed to write) but couldn't carve out the time to type even one word.
There were comments and emails waiting for replies.
Invitations without a response.
These weighed on me.
Then I saw the note.
A note from my daughter.
This is what it said: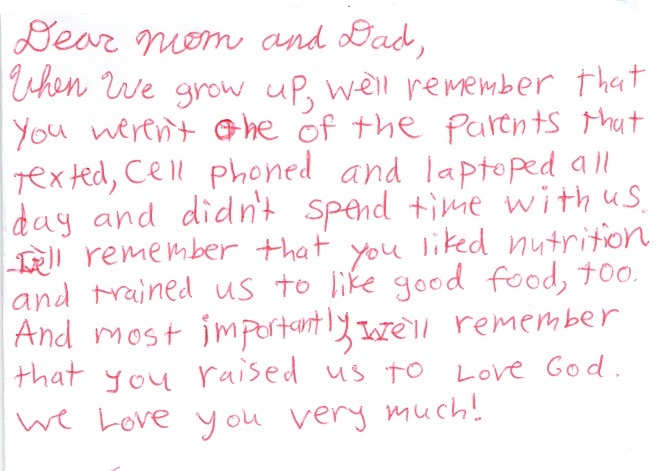 Just in case you can't read it, it says:
Dear Mom and Dad,

When we grow up, we'll remember that you weren't one of the parents that texted, cell phoned and laptoped all day and didn't spend any time with us.

We'll remember that you liked nutrition and trained us to like good food, too.

And most importantly, we'll remember that you raised us to love God.

We love you very much!
All the to-dos melted away.
These words were a gift to me.
And also a somber charge.
I hope I can be this mom.
I hope these will be her memories.
They can be if I hold true to the call to be intentional with my time. To focus on my children, my husband, my home.
The words were made even sweeter when she told me that the note was read aloud to her brother and sister. She asked them if they agreed.
They said, "Yes." And proceeded to sign the note as well.
I'm keeping this one close and visible.
It's no small thing to be a mother.
I want to do it well.
I will fight the world (and myself) to do so.