This post may contain affiliate links which won't change your price but will share some commission.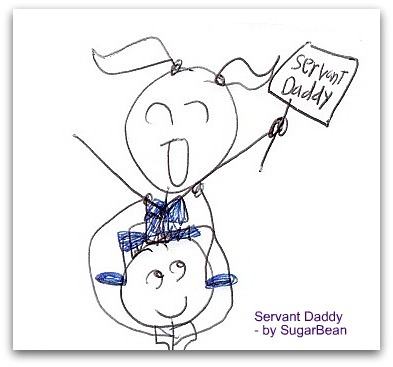 Servant Daddy is a game  my kids adore.  Although this is our own invention, I'm sure many families have their own version of it.
My children enjoy playing Servant Daddy so much we use it for rewards and gifts. In fact, this past Valentine's Day both kids received Servant Daddy coupons and they were thrilled.
Best of all, this game provides an excellent opportunity for family bonding and memory making (and it's free).
Now I've built this up, here are the ever so uncomplicated instructions so you can play Servant Daddy (or Servant Mommy) too:
1. Decide on a set amount of time (we usually choose 20 minutes).
2. Have kids tell Daddy what to do for the allocated amount of time.
3. Daddy does what he is told for allocated amount of time.
(Of course you will have to decide for yourself what limits there are. It might be helpful to communicate any rules ahead of time.)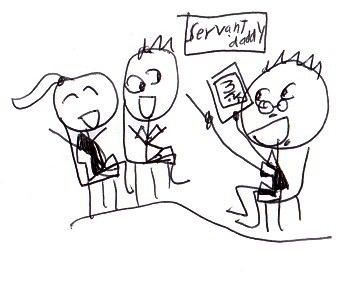 Typing the instructions like this makes it seem a little scary. Will the kids be bouncing off the walls? Hanging their Dad by his toe nails?
Honestly, this has never happened. More than telling Daddy what to do, its a chance for the kids to tell him what game they would like to play.
Usually my kids have their Daddy play school. Sometimes he is the teacher, others the student. It is very amusing to hear him ask how to spell cat and be reminded to raise his hand.
Another bonus  is that while the kids are playing Servant Daddy, I have a few minutes of precious time alone! The kids are completely consumed with their game and I am free to do whatever I want (and you know how infrequently that happens). I can relax because I know they are safe and having a great time.
While this may seem like a silly game, it is actually an investment in family relationships. Children need our undivided attention. It builds confidence and strengthens their trust in you.
Do you play any goofy family games like this one? What kind of things would your children ask their Daddy to do if they played Servant Daddy?
As you probably guessed, my daughter drew the pictures depicting Servant Daddy! Can you tell she enjoys it?