This post may contain affiliate links which won't change your price but will share some commission.
Do you ever feel that your life needs a complete overhaul? I have felt that way lately.
I can't pinpoint the specific moment it happened, but sometime this week I realized that I have to pare down.  I don't do very much outside the home, but it honestly doesn't take a lot to overwhelm me.
At times I wonder why I can do so little. Then I realize it's because I am doing so much at home. The responsibility of raising children is huge. Really huge.
Some people have a greater capacity for activity than me. I have learned it is wise to know your limits, instead of trying to do as others do. Or as I perceive they do.
So, I'm cutting a few things out. Stepping back. Re-focusing.
This life is short.
I won't trade smelling the flowers for busyness.
Which brings me to my actual picture… (a very poor segue, I know)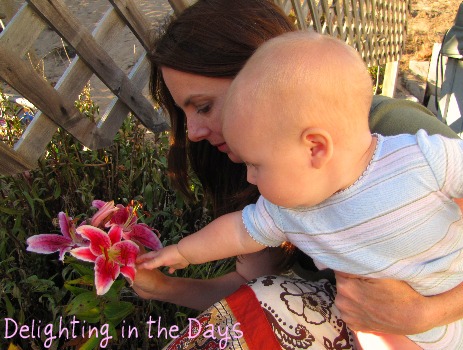 That there is me and my Little Miss. I know you can't see us very well, but this is about as good as it is going to get on this here blog! My husband took the picture and we decided to use it for my profile. I like it. That chubby, little baby is a blessing I can't even describe. Something dearly hoped for, but not expected.
I love what the ladies at the Bigger Picture Blogs are doing. Looking at the bigger picture regularly affects the way we live. It helps us make wise decisions. It helps us choose to smell the flowers, or listen to a made up poem, or watch your child practice their cartwheels.
The dishes can wait, activities can wait. But children won't wait.
They are here now.
And now doesn't last very long.
How are you finding the bigger picture?
This post is linked to this weeks Bigger Picture Moment at This Heavenly Life