This post may contain affiliate links which won't change your price but will share some commission.
Table of Contents

[Hide]

[Show]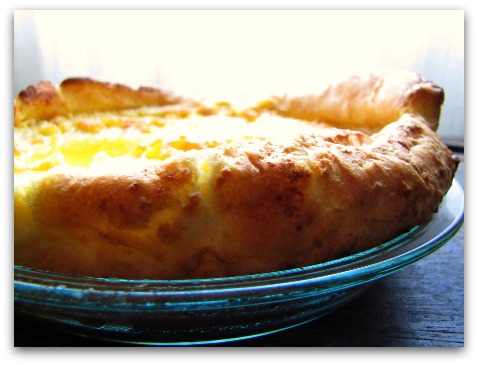 We have eaten the same breakfast each Sunday for a few months now. It is easy and adds a little tradition to our day. I like that.
The kids always enjoy watching the puff emerge from the oven. Sometimes it grows to great heights! Once it actually touched the top of the oven! It deflates rather quickly, so give everyone a shout to come and take a peek.
This Puff can be made a few different ways. The I'm-late-getting-breakfast version involves unbleached white or whole wheat flour. The I'm-preparing-in-advance version is made the night before. Both are lovely served with jam or syrup. However, I like mine plain so I can really taste the butter.
Dutch Puff – I'm Late Version

1/4 cup butter
1 cup milk
4 eggs
1 cup flour, unbleached white or whole wheat (wheat will not puff quite as much as white)

Preheat oven to 425 degrees

Place 1/4 cup of butter in an 8 inch square baking dish or large pie plate and put in the oven to melt. This is an important step. Don't melt the butter and add to a cold dish, the dish needs to get hot to create the puff.

Whisk together the milk and eggs, followed by the flour.

Pour mixture into baking dish (which is hot and contains the melted butter).

Cook for 20 minutes.

Slice and serve alone or with jam or syrup. You can also add fruit to the batter, such as blueberries or diced apple, but sometimes this affects the puffiness.

Dutch Puff – I'm Prepared Version

1/4 cup butter
1 cup milk
4 eggs
1 cup flour, unbleached white or whole wheat (wheat will not puff quite as much as white)

In a blender mix the flour, eggs, and milk until smooth.

Let sit on counter overnight*.

In the morning heat oven to 425 degrees and melt butter in baking dish.

Pour batter into dish once butter is completely melted.

Bake for 20 minutes. Serve as suggested above.

*I would only recommend letting the batter sit out overnight if you know where your eggs and milk are coming from. Good pastured eggs and fresh raw milk are excellent, but not always accessible. You can also let the mixture sit in the fridge if you are unsure. As always, do your own research regarding the safety of this. I have done it and lived to tell the tale 🙂

If you put the batter in the fridge, take it out as soon as possible in the morning to allow it to return to room temperature.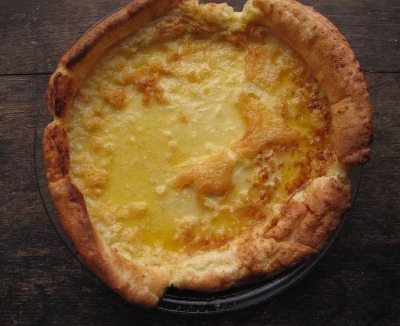 I discovered this recipe at Large Family Logistics (other great breakfast recipes are there too).
Do you have a Sunday Morning Breakfast tradition? If not, what do you think would be a good breakfast for Sunday morning?
This post is linked to the Hearth and Soul Blog Hop.