This post may contain affiliate links which won't change your price but will share some commission.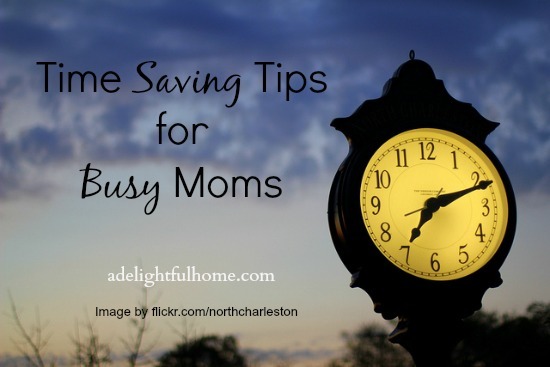 It always seems like there are more things to do than hours in the day.
Recently I sat down to brainstorm the ways I could save time in order to do more of the things my family enjoys (and to be honest, to have  more time for some quiet by myself!).
Here are some of the things from my list, maybe a few of them will help you save more time too:
Plan menu
Planning a menu means I know what ingredients to have on hand and what steps I need to take to prepare each meal. Oftentimes I will plan dinners, but not breakfasts. However, I'm starting to plan breakfasts again because it really is much easier to wake up an know exactly what I'm making.
I first noticed how much planning breakfast improved my morning after instituting our Sunday morning dutch puff tradition. I'd head straight to the kitchen are start cooking. It was easy!
Prepare food ahead of time
Once a week I try to pre-cook some meat and cut up a few vegetables. If I have more time, I'll prepare the main portions of a meal and this makes dinner times much easier and quicker to prepare.
Freezer cooking is a great way to get ahead on dinner prep. However, even if you can't pre-cook an entire meal, browning some ground beef with spices and storing in the freezer will save a good 10 minutes of meal time prep. Simply thaw out the beef, add tomato sauce and pasta for an easy dinner.
Crock pot bags are another great way to get dinner ready ahead of time. If you need help with crockpot freezer meal ideas, I recommend this Slow Cooker freezer Recipes eBook. It has 75 slow cooker freezer recipes.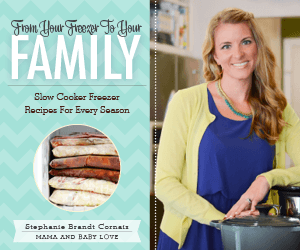 ALL the recipes are 100% Grain-free, Gluten-free and Dairy-Free.  The recipes are all Paleo, Whole 30, Weston A. Price, GAPS, and Real Food compatible meals.
Capture ideas
Trying to remember something I thought of earlier in the day can take a long time. Sad, but true.
I know I'm not alone in this; many have told me that it's virtually impossible to remember wonderful ideas they had in the shower or as they were drifting off to sleep.
Carry a notebook in your pocket or keep one close by to jot down ideas and things to remember. On your phone or tablet use the Notes app, Evernote, or a variety of other apps to keep track of ideas as they come to mind.
A white board works too.
I might even get this waterproof notepad!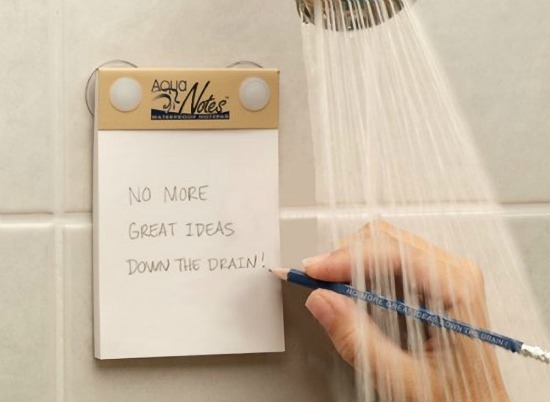 Amazon Prime
I was an Amazon Prime hold out for a long time. But, once I signed up, I wondered why I waited so long!
As a busy mom, it's hard to get out of the house sometimes, and even when it isn't hard, I don't always want to spend that time shopping. Amazon Prime allows me to order what I need whenever I want.
I've ordered everything from books to groceries to natural body care supplies and even a shower curtain rod from Amazon Prime!
My family also uses Prime to watch instant video and borrow Kindle ebooks.
Use Evernote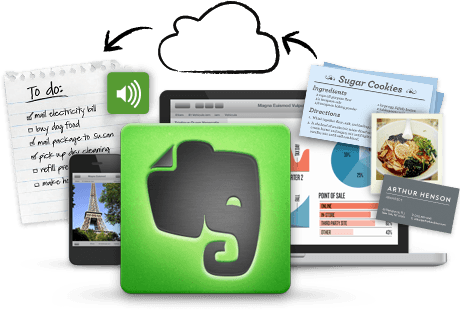 Evernote, helps me find the stuff I need in a few seconds.
I use Evernote as a type of filing cabinet. Storing anything and everything there that I don't want to forget.
With Evernote you have the ability to take notes, listing ideas, thoughts, plans, and the like, but you are also able to store webpages, files, images, and audio.
The best part about Evernote is it's search feature. Evernote can find just about anything. It can even read words on images!
Recently, I needed the appliance repairman's phone number, I knew I had taken a picture of his card on the last visit and stored it in Evernote. All I had to do was search appliance, and up came his card with all the info! So quick and easy.
Evernote can also be used as a paperless home management binder. The eBook,  Paperless Home Organization: How to Create A Digital Home Management Binder
, is the best I've read on the topic. Very thorough.
Make space
In her book, Happier at Home, Gretchen Reuben states that every drawer should be easy to open.
I've been working to make this a reality, but still have a ways to go.
But, making every drawer easy to open is a worthwhile endeavor, don't you think?
When drawers, closets and shelves are stuffed to the brim, it takes longer to find things, plus add a greater level of frustration!
For example, I live in a relatively small house and sometimes struggle to find a place for everything. My kitchen cabinets were causing me some distress, especially the one in which I kept a few appliances. Whenever I needed an appliance, I had to drag out one or two of them in order to reach the one I wanted. It was time consuming.
 Once I cleaned it out and made more space, it became much quicker and less frustrating to get what I needed. 
Here's a picture of the cabinet now: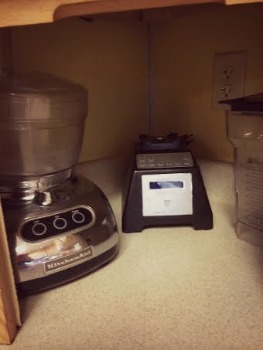 Since this post is already getting so long, I'm splitting it into two parts. Stay tuned for part 2 next week where I'll share even more time saving ideas for busy moms.
What tips do you have for saving time?
 Part two is here: MORE Time Saving Tips for Busy Moms
This post may contain affiliate links which won't change your price but will share some commission.!
Top image by North Charleston