This post may contain affiliate links which won't change your price but will share some commission.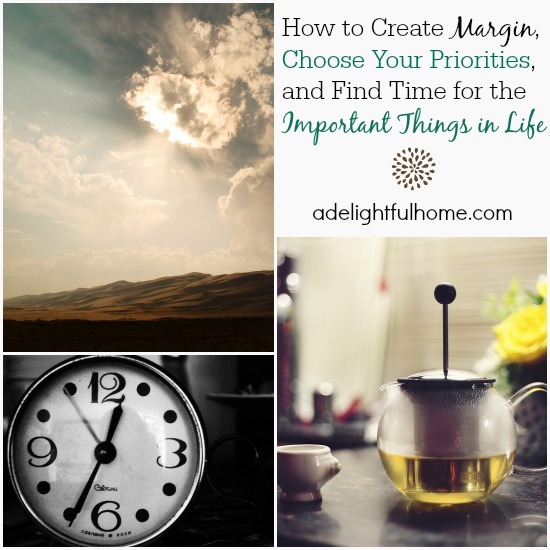 As moms most of us are forever hunting up better ways to manage time, keep margin in our lives, and make room for the most important things.
Today I'm sharing a few podcasts, posts, articles, and books that have helped to me. I hope you find them useful:
Picking Your Priorities – Podcast from Power of Moms
How Moms Can Dream – Podcast from Power of Moms
How to Create More Margin in Your Crazy, Busy Life – Podcast by Michael Hyatt
Discover the Beauty of Margin @ I Take Joy
Time Savers for Busy Moms – What works for me
More Time Savers for Busy Moms – A few more tips and tricks from my personal arsenal.
One Simple Secret to Effective Time Management – Ann Voskamp
My favorite quote from the above post:
"I don't know why I waste time with worry in a life that's too short to lose."
Amen!
The 3 D's and The Big Three: A Survival Guide to Survival Mode @ Sorta Crunchy
A Time Management Wake-Up Call for Parents @ Simply Rebekah
Boundaries Aren't Bad @ The Humbled Homemaker
 Stop Trying to Do It All @ Money Saving Mom
Books to Check Out:
Shopping for Time  by Carolyn Mahaney
168 Hours: You Have More Time Than You Think by Laura Vanderkam
The Early to Rise Experience by Andry Traub
Tyranny of the Urgent by Charles E. Hummel
Margin: Restoring Emotional, Physical, Financial, and Time Reserves to Overloaded Lives by Richard Swenson
What are your best tips for creating margin, choosing priorities, and making time for the most important things?