This post may contain affiliate links which won't change your price but will share some commission.
A grain-free version of the classic lemon and zucchini pairing is sure to delight your taste buds!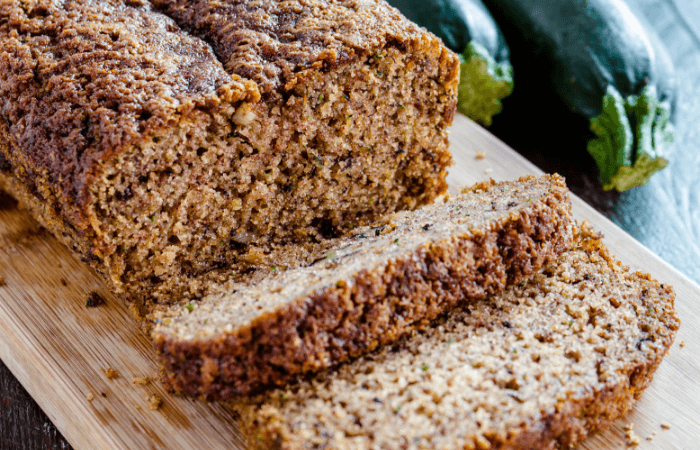 Grain-Free Lemon Zucchini Bread Recipe
Ingredients
1-1/2 cups grated zucchini
1/3 cup lemon juice
4 eggs
1/2 cup coconut milk or almond milk
2-1/4 cups almond flour
1/2 cup coconut flour
1/2 cup coconut sugar
1/2 tsp. salt
1 tsp. baking powder
1 tsp. vanilla
1 tsp. lemon zest
3 tbsp avocado oil
Instructions
Grease 9×3 loaf pan and line the bottom with parchment paper.
Preheat oven to 350F.
Grate zucchini and place on paper towels. Let sit for 20 minutes then squeeze out as much water as possible.
In a large bowl add eggs, avocado oil, and milk, then whisk together until well blended.
Add the lemon juice and whisk to combine.
Place coconut flour, almond flour, coconut sugar, salt, and baking powder in a medium bowl. Stir until combined.
Add wet ingredients to dry ingredients. Stir until smooth.
Fold in lemon zest and grated zucchini.
Pour into greased loaf pan and bake on center rack for at least 50 minutes.
Check middle with knife. If knife does not come out clean, cover with foil and continue cooking until done.
Remove from oven and let cool.