This post may contain affiliate links which won't change your price but will share some commission.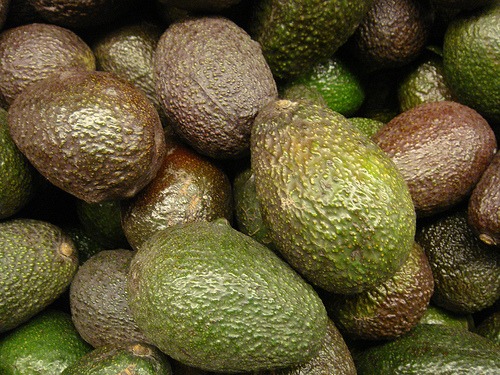 Did you know the avocado is also called the Alligator Pear?
I didn't. (I learned that little tidbit in Healing Foods by Michael T. Murray.) But it makes sense. They are shaped like a pear and have alligatorish skin.
Moving on . . .
Avocados are a favorite food of mine. I like them so much my husband has accused me of trying to slip them in any time there is room for one more ingredient. I guess I'm guilty as charged, but who can blame me? They are delicious.
I know some people are afraid of avocados because they are high in fat. But it's good fat. Really good fat.
Because of all the low-fat hype over the past decade, it's hard for us to realize that fat can actually be beneficial to our health. But it can.
In fact, Michael Murray actually states in his book, Healing Foods:
". . .one study of individuals with moderately high levels of cholesterol who ate a diet high in avocados showed significant decreases in total cholesterol and LDL cholesterol. They also exhibited an increase in healthy HDL cholesterol."
Who would have thought?
Besides this, avocados are also thought to help maintain a healthy heart, prevent inflammation, and promote eye health.
They are also especially beneficial to growing children. Not to mention an excellent first food for baby.
Here are 10 delicious ways to enjoy avocado:
1. Guacamole
Yes, this is an obvious one. But who can pass up guacamole? Yum!
2. In sandwiches
Yes, another easy and maybe obvious choice. I love the nutty flavor avocado adds to sandwiches. Mash and spread over bread, slice thinly and lay on top of lettuce, or try making a special spread like this one: Avocado-Walnut Spread.
3. Alongside eggs for breakfast.
Scrambled, fried, or poached eggs go very well with a little avocado. One of my favorite breakfasts, actually.
4. Mash a little and add to pasta sauce
My sister told me about doing this. And it is delicious. Plus it adds a bunch of health benefits to your meal.
5. Add to smoothies
Avocados add a nice creamy consistency to smoothies. This Applecado smoothie looks great.
6. Make chocolate pudding
Yes, you read that right! Chocolate pudding made with avocado. I've tried it and liked it.
7. In Black bean dip.
This Black Bean Dip recipe at Peak 313 is a real winner! When I made it and took it to a church event I got numerous requests for the recipe. It is very tasty. You should try it.
8. With cheese and crackers.
Spread a little mashed avocado on your cracker before topping with cheese and a thin slice of tomato. Sprinkle with slat and pepper. Good stuff.
9. Add to salad
I love adding avocado to salad. It adds a great flavor as well as provide some good, healthy fat which enables you to absorb more of the nutrients in the vegetables on your plate. You can also make an avocado based salad dressing or even an avocado egg salad.
10. Make a chilled summer soup.
I haven't tried this one yet, but it looks good to me: Chilled avocado and cucumber soup.
Are you and avocado fan? If so, what's your favorite way to eat it?
I'm sharing at Top Ten Tuesday, Teach Me Tuesdays, Fat Tuesday