This post may contain affiliate links which won't change your price but will share some commission.
Sometimes I think of my hair as an accessory.
Styling it in different ways makes me feel more put-together. When my hair is healthy, I feel more confident about how I look.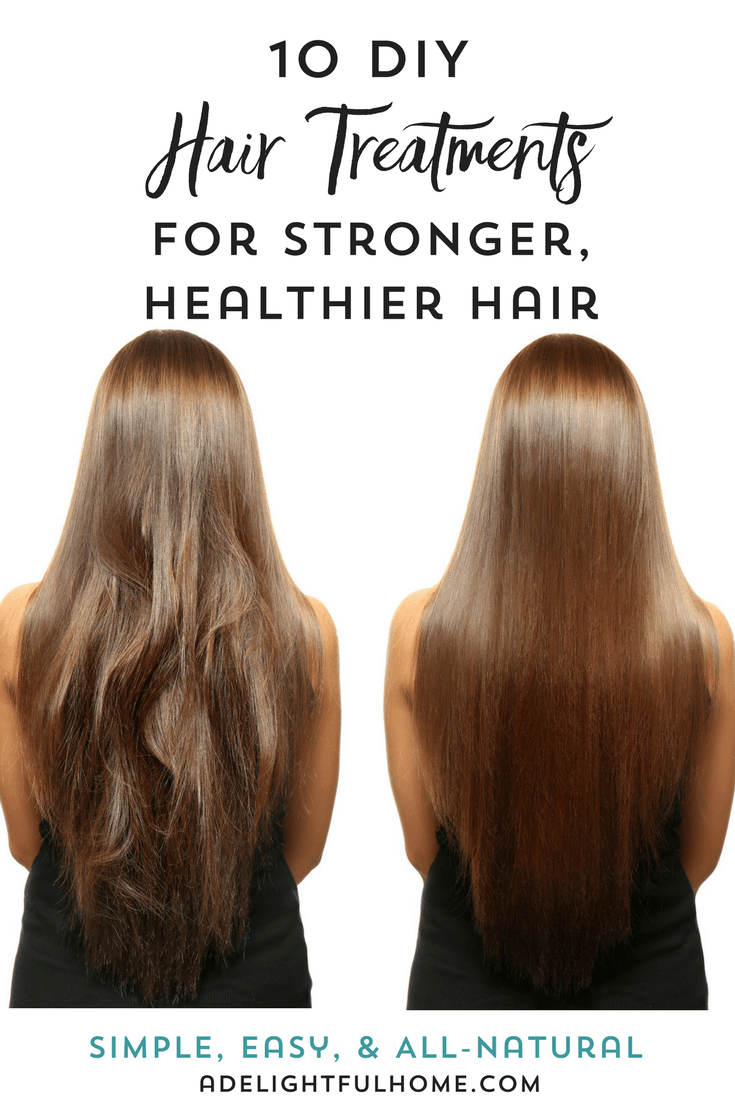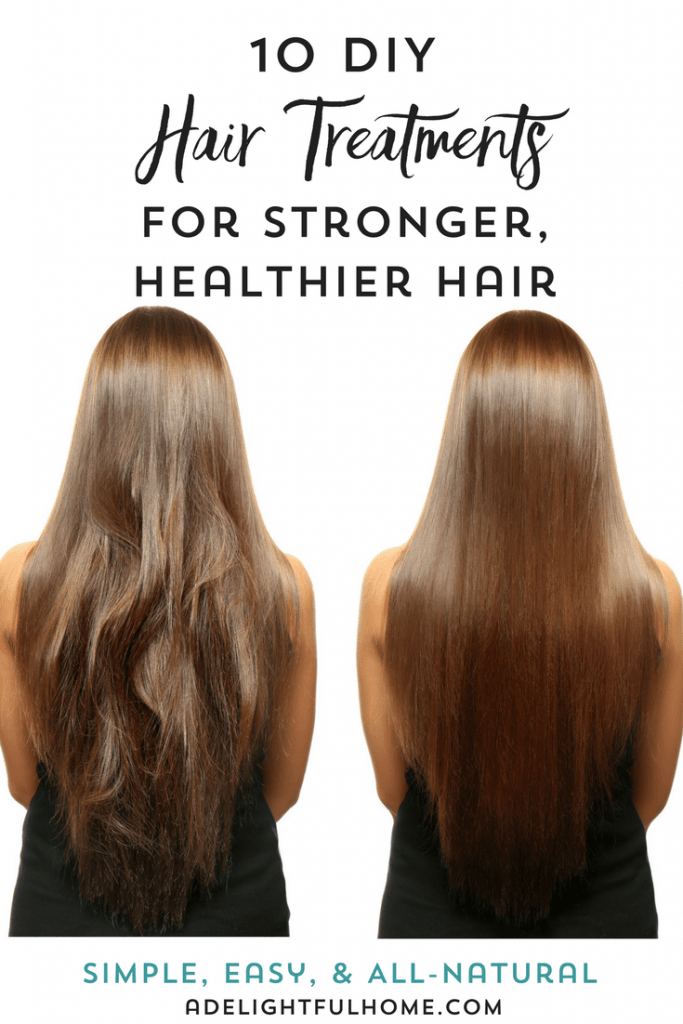 Scraggly hair makes me feel sort of frumpy. Does it do that to you?
All that said, I don't like to spend a lot of time or money on my hair. And I certainly don't want to use a ton of chemicals on it to make it look good, even though I have done so on occasion. Hello, perm! (I was 16, OK?)
The following is a round-up of natural hair treatments you can make at home. Most are quick and easy to prepare, so try a few and let me know what you think.
10 Homemade, Natural Hair Treatments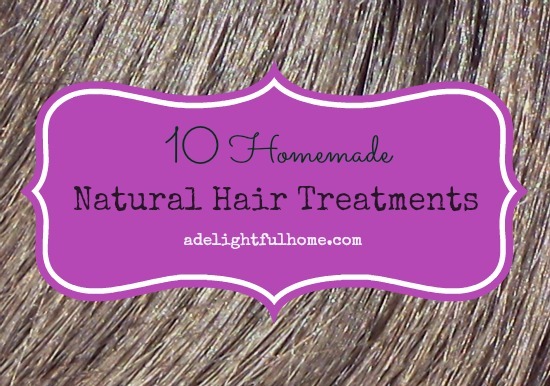 These treatments are designed to nourish your hair, making it healthier and softer to the touch.
1. Hot Oil Hair Treatment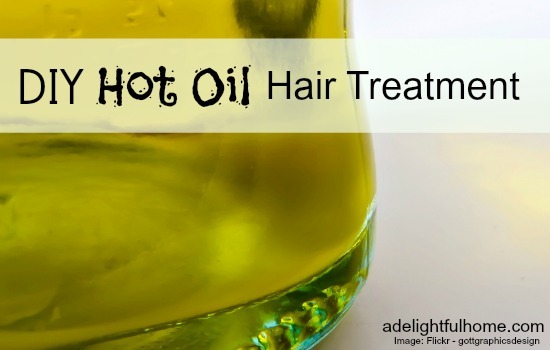 Create a hot oil hair treatment in just a few minutes by warming a few tablespoons of olive oil then massaging into the scalp and down to the ends. Find the full details here.
2. Homemade Leave-in conditioner
It's quick and cost-effective to make your own leave-in conditioner/detangler. I've been doing it for years and it works great. In fact, I like the homemade detangler better than any I've purchased at the store. All it takes is mixing a little conditioner and water in a spray bottle. Find the ratios in my post: Homemade detangler or leave-in conditioner.
3. Honey Hair Mask
This is super simple and will leave your hair feeling soft and smooth. Just massage honey into your hair from scalp to tip and leave for It is a little sticky to put on, but it's worth the trouble.
While you're at it, why not give yourself a honey facial? And maybe eat a little? Check out 10 ways to use honey (in your food and on your skin) for ideas.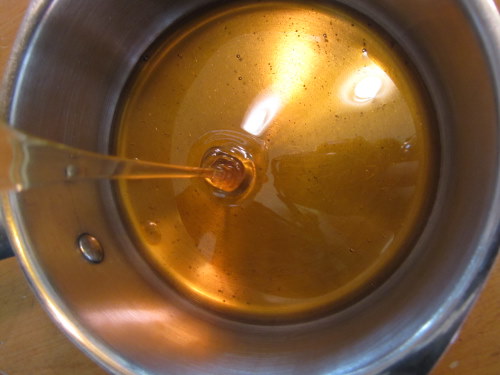 4. Make a Vinegar Rinse
An apple cider vinegar rinse will help increase shine and cleanse the scalp.
Mix 1/4 cup of apple cider vinegar with 1 cup of water. After shampooing hair, pour the apple cider mixture over hair and massage into your scalp. Rinse with warm water.
Keep a mixture of this in a bottle in the shower for use at any time without the need to mix.
5. Mint Tonic
This mint hair tonic stimulates the scalp. Use it before you shampoo.
In a saucepan mix 3 tablespoons of dried mint, 1 cup of water and 1/2 cup vinegar. Simmer for 5 minutes. Then allow to cool. Strain and massage into the scalp. Let sit for 10 minutes, then shampoo as normal.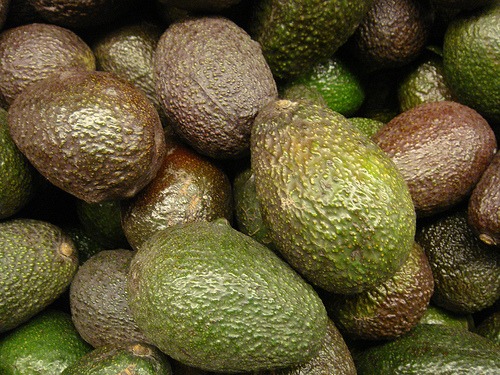 Image credit
6. Avocado Hair Mask
Avocado adds moisture to hair. They are the perfect natural treatment for soothing frizzy or dry hair.
Simply mash an avocado and massage into hair. Wrap hair in a towel or shower cap for about 10 minutes. Shampoo as normal.
If you like to eat avocado, there are some good ideas here: The health benefits of avocado and 10 yummy ways to eat it. (and did you know you can freeze avocados? Here's how I do it).
FYI: Avocado makes a great face mask too.
7. Coconut Oil Hair Mask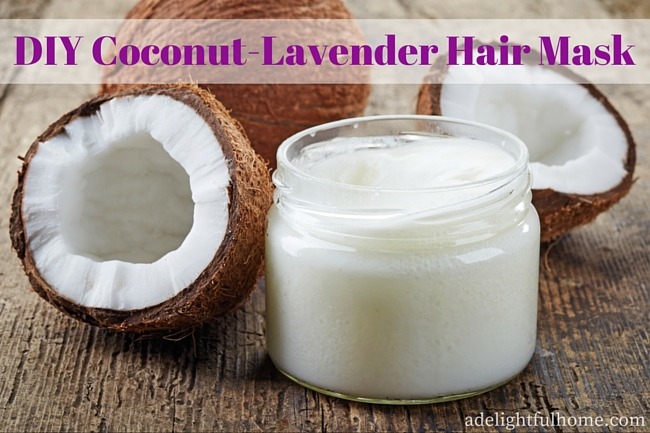 A great way to deeply condition hair, just mix 3 drops of lavender essential oil with 3 tablespoons of coconut oil. Apply to hair, cover and leave for 20 minutes.
For further instructions see: DIY Coconut Oil Hair Mask.
8. Gelatin Hair Mask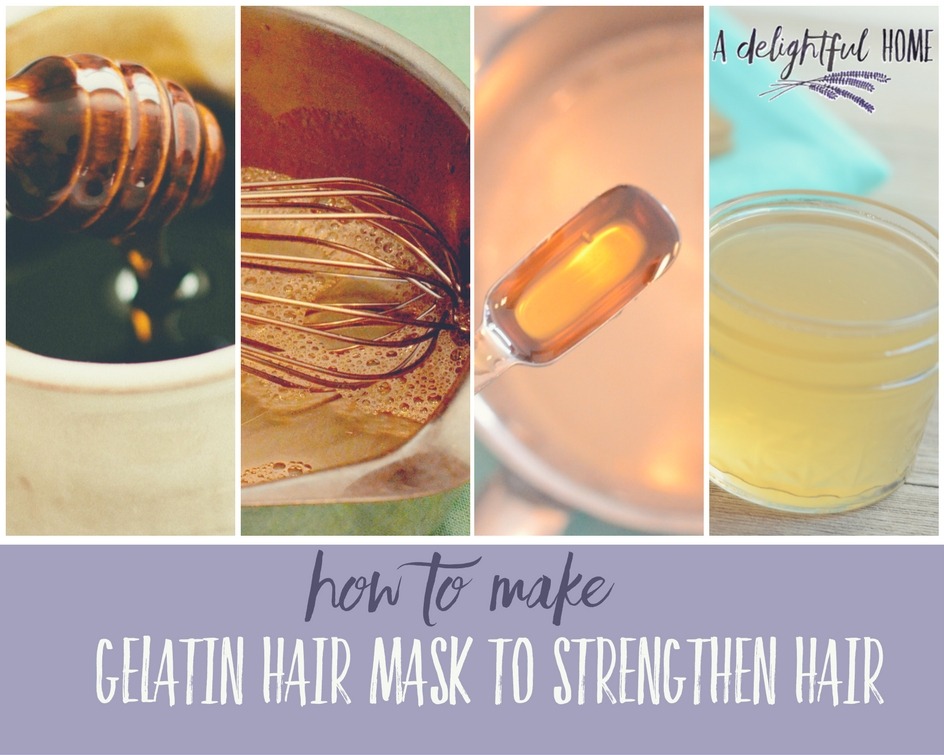 A gelatin hair mask is a strengthening and conditioning hair treatment that repairs damage and adds shine to hair. It is extremely nourishing and moisturizing, smoothing out dry, damaged hair while restoring luster.
9. Mayonnaise Conditioning Treatment
Mayonnaise is an excellent choice for conditioning dry hair. Massage mayonnaise into hair (if you have long hair it may take a whole cup of mayonnaise). Cover hair with a shower cap or plastic bag. Leave mayonnaise on hair for 30 minutes. Rinse with warm water and shampoo. Follow with a vinegar rinse to remove any residual greasiness.
10. Rosemary shampoo, oil treatment, and vinegar rinse
Rosemary is one of the best herbs to use on hair. Add a few drops of rosemary essential oil to your shampoo for everyday use. Or, add 6 drops of rosemary essential oil to the hot oil hair treatment above.
A rosemary hair rinse can be made by mixing 2 tablespoons of dried rosemary leaves with one quart of water, bring to a boil, cover and turn off the heat. After 30 minutes, strain and use as a hair rinse by pouring over clean, wet hair. No need to wash out.
Bonus:
Many people avoid toxins in their shampoo by using shampoo bars (like this one).
You may also like to try Baking Soda Shampoo and Hair Rinse.
It is possible to give up shampoo completely and use baking soda to clean your hair instead. I have only tried this for a week and didn't get past the yuck stage, but plenty of people have and find their hair adapts well.
Baking soda mixed with water also makes a good hair rinse. Simply mix 1 tablespoon of baking soda with 1 cup of water. Pour over wet hair after you have shampooed. Massage into scalp and rinse with warm water
If you'd like more information regarding natural hair care, check out this post: Why Natural Hair Care Is Important
Have you tried any of these natural hair treatments? Do you have any homemade hair treatment ideas to share?
If you like this post, you'll enjoy my FREE Natural hair Treatments eBook!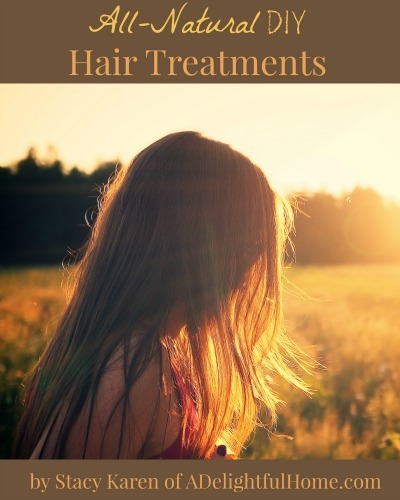 This is Day 17 in the 31 Days of Natural Beauty Series
Originally published on Feb. 26, 2013.