This post may contain affiliate links which won't change your price but will share some commission.
Infused honey is a delightful gift for the holiday season. There are many possible variations, all of which are fairly easy to prepare. Use it in tea, on toast or muffins, and even as a sore-throat soother (and is some cases, a facial wash—no I'm not kidding about that!).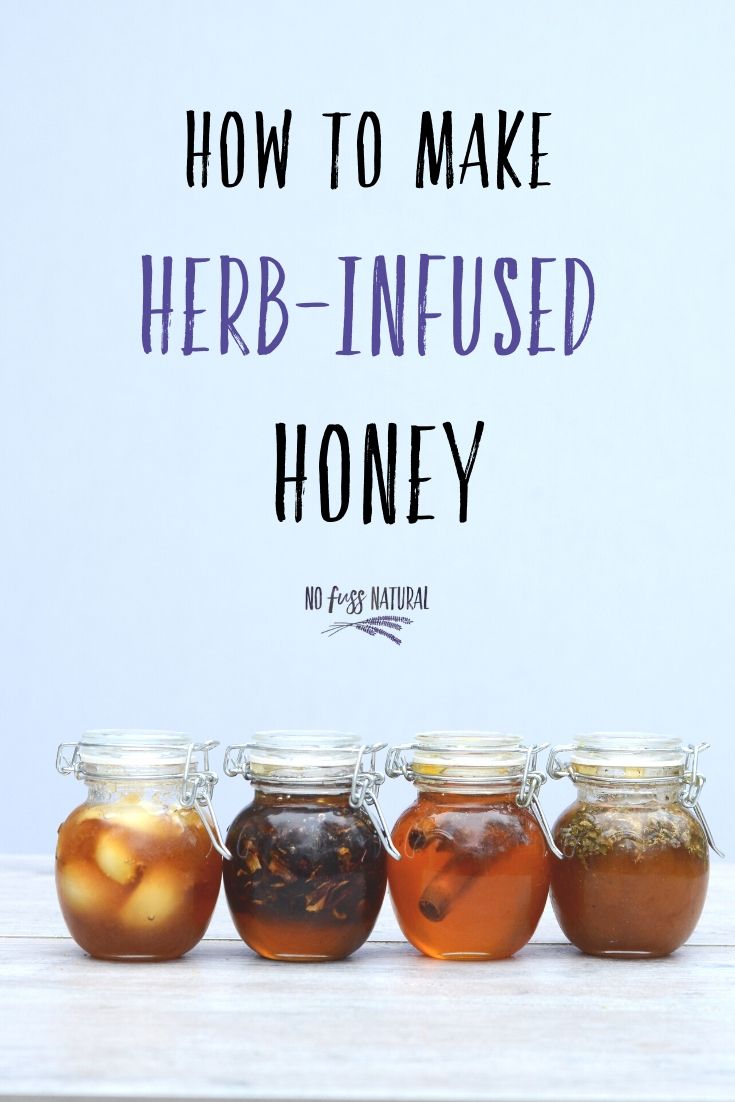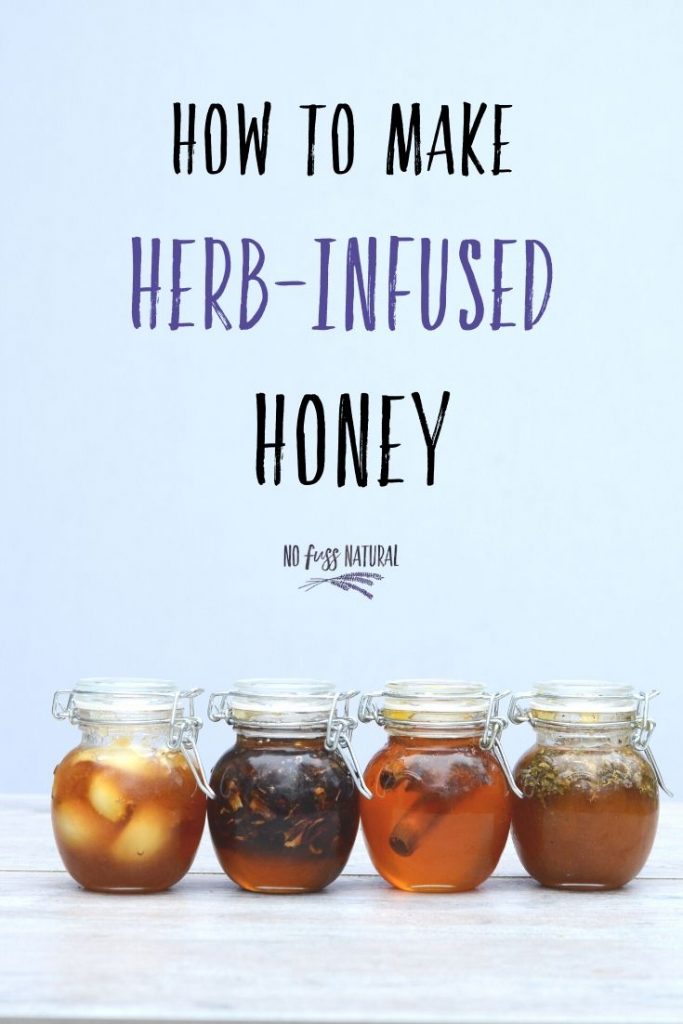 Below you'll find four infused honey recipes. Each one is lovely on its own, but together they make a fun gift set.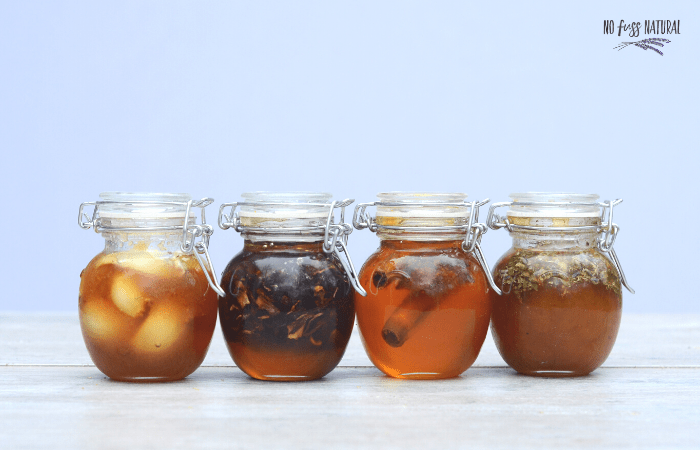 I used a different variety of honey for each recipe, attempting to pair the flavor of the honey with honeys, each with complimentary herbs and spices. Each has its own district flavor. All are delicious.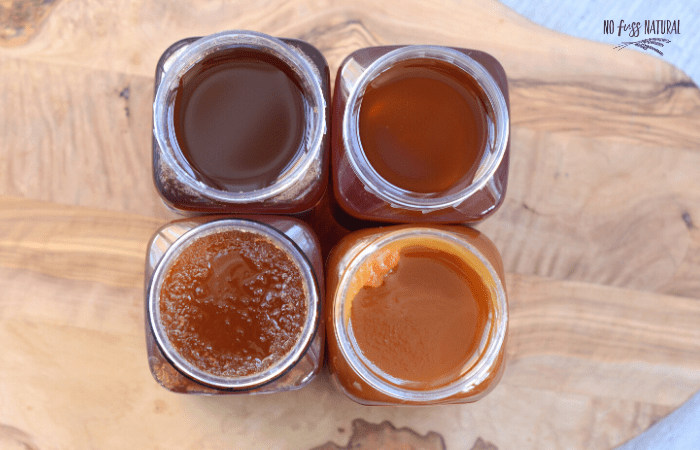 Infused Honey Recipes
These recipes are quick and easy to prepare. Be sure to use high-quality ingredients for the best-tasting results.
Night time honey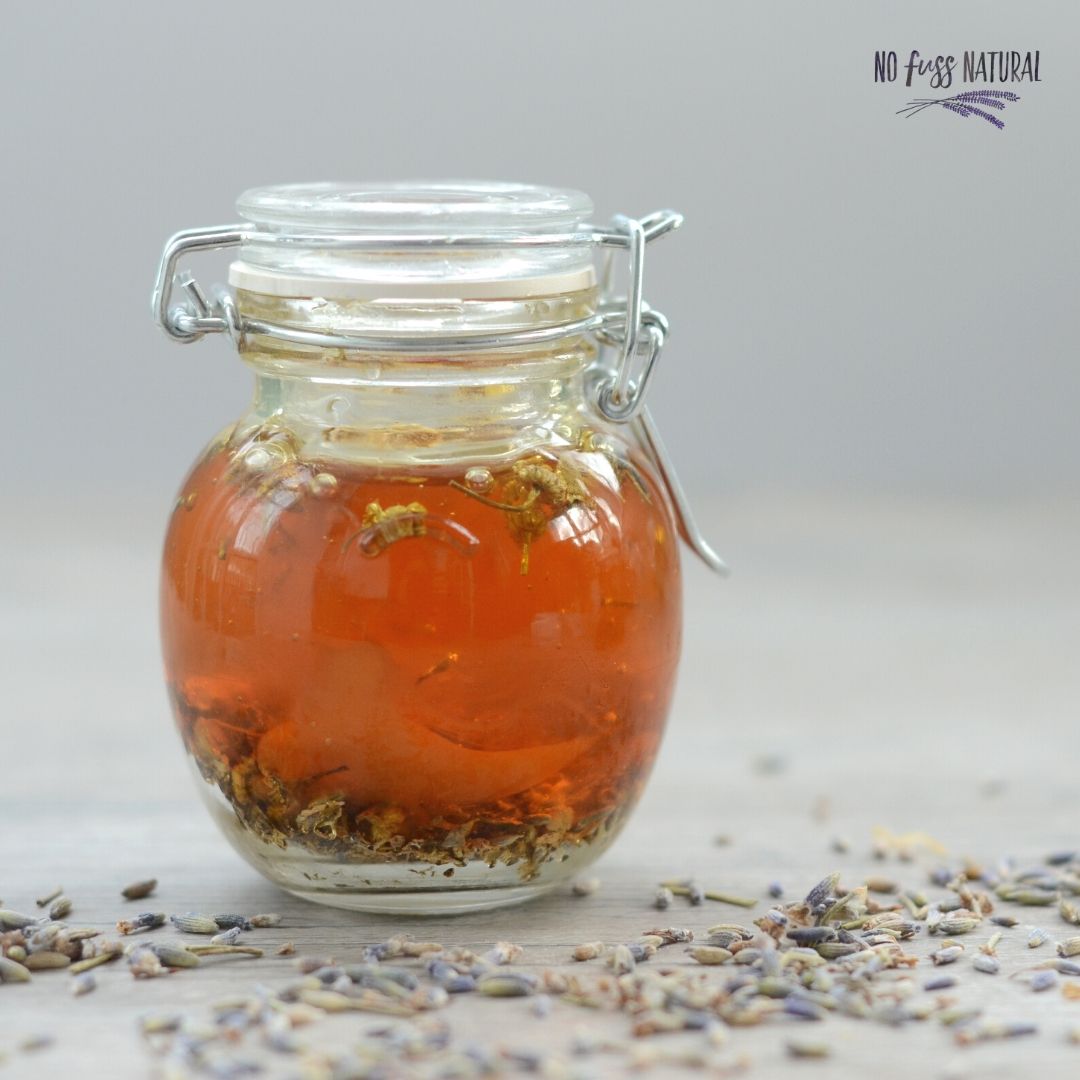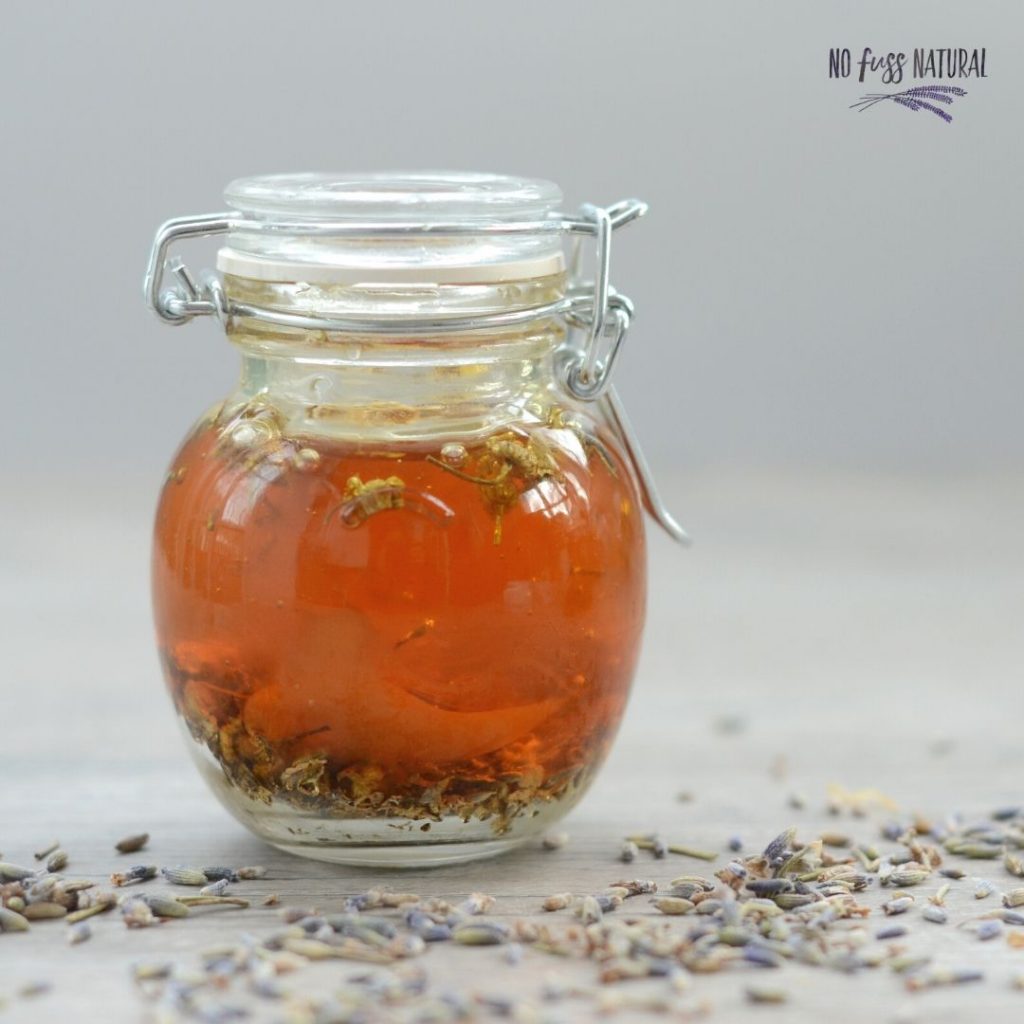 Place dried herbs in jar and pour honey over the top. Stir with a spoon or skewer.
Let sit for 2 weeks before straining out the herbs. Take a spoonful before bed or stir into a cup of tea. Bonus: this blend works well as a face wash too!
Fermented Garlic honey with raw honey
Works well as a drizzle over meats and vegetables, in salad dressings, and by the spoonful during a cold.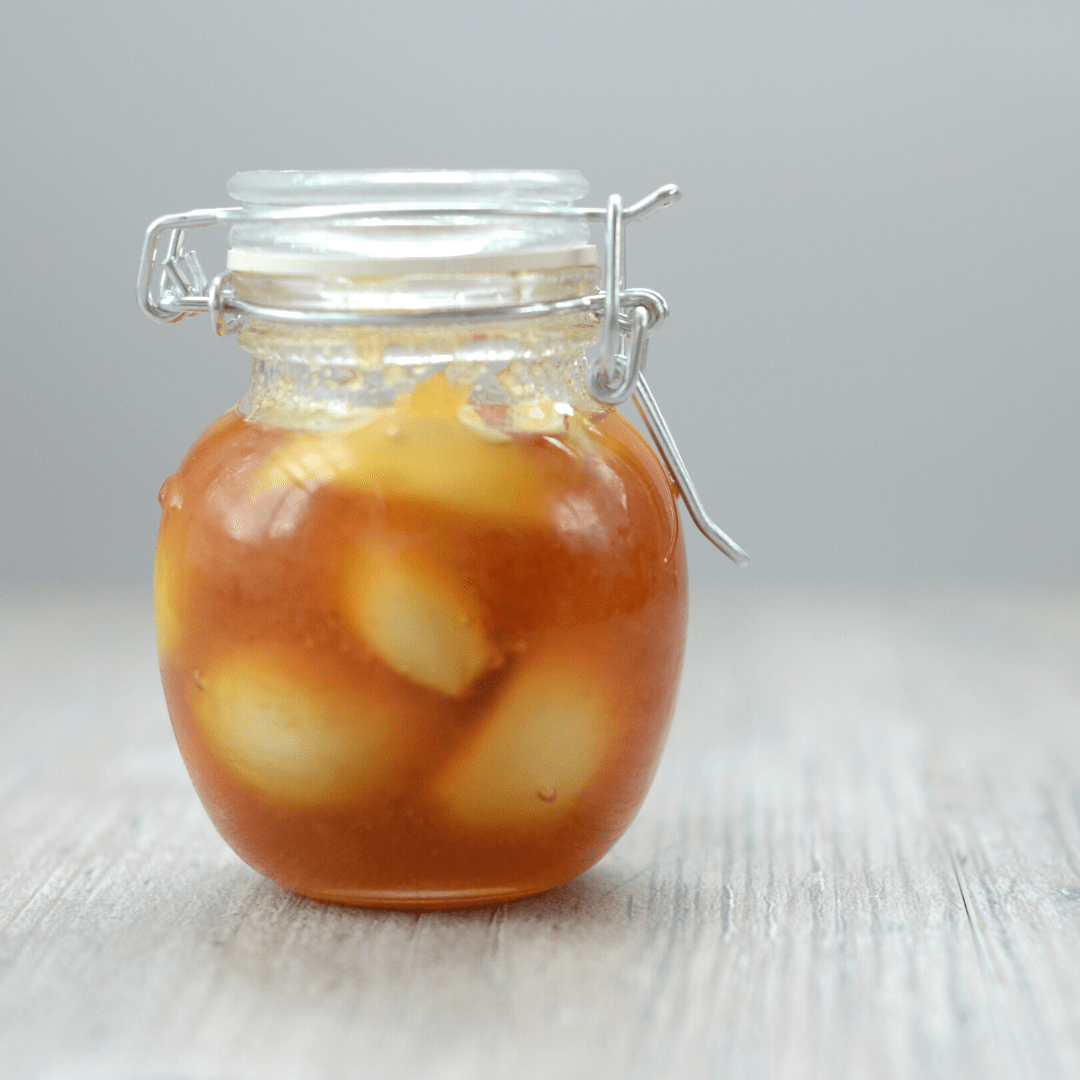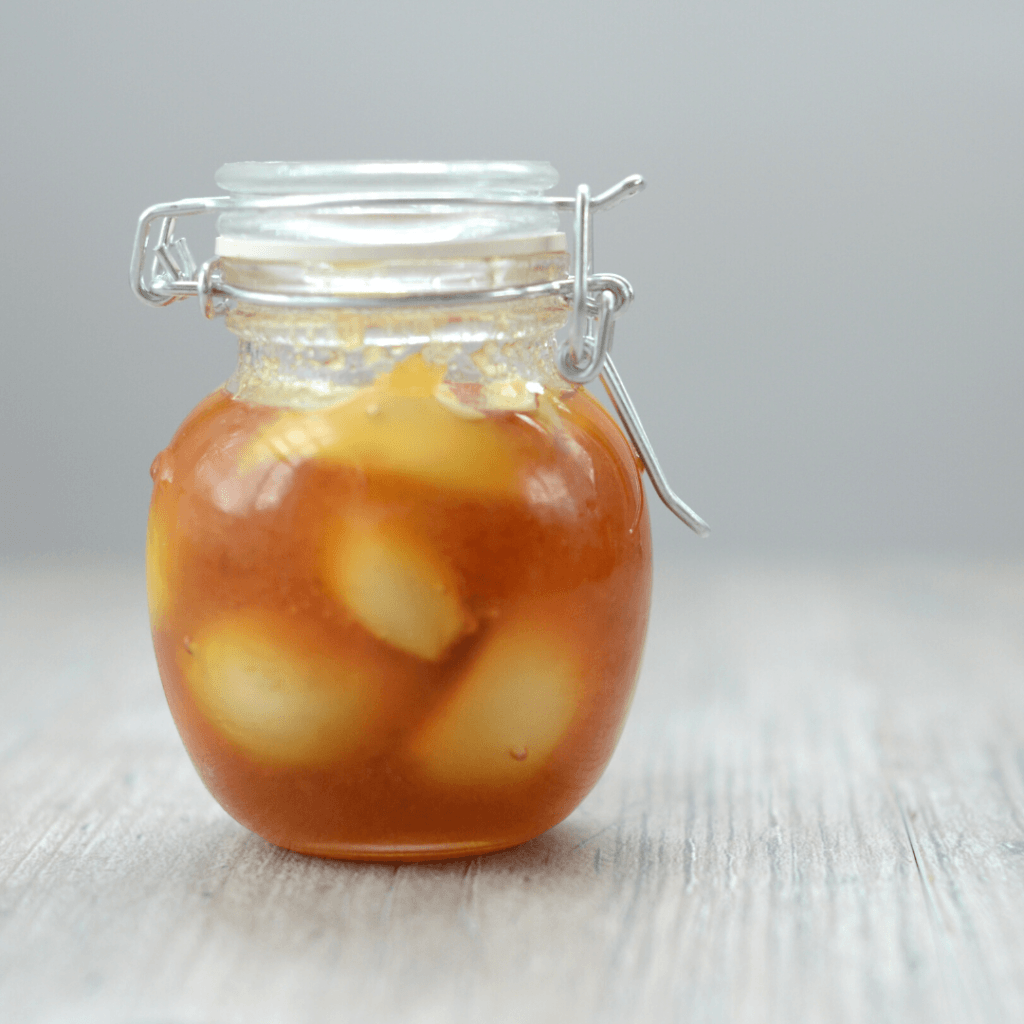 It's important to use raw honey as it still contains the necessary bacteria to promote fermentation. Peel garlic and place in a jar. Pour honey over and close jar loosely with lid. Place in a cool, dark place.
After a day or two, close lid tightly. Turn jar over every few days to make sure cloves are completely submerged.
Vanilla-Hibiscus Honey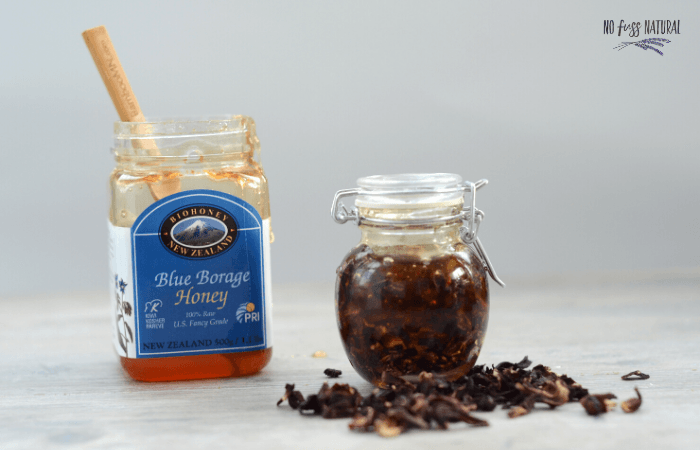 Blue borage is mildly herbal with lemon and floral characteristics and pairs beautifully with the tanginess of hibiscus. Vanilla rounds out the flavor nicely.
Use as a spread on scones, stir into tea (warm or iced), and any other food as you see fit.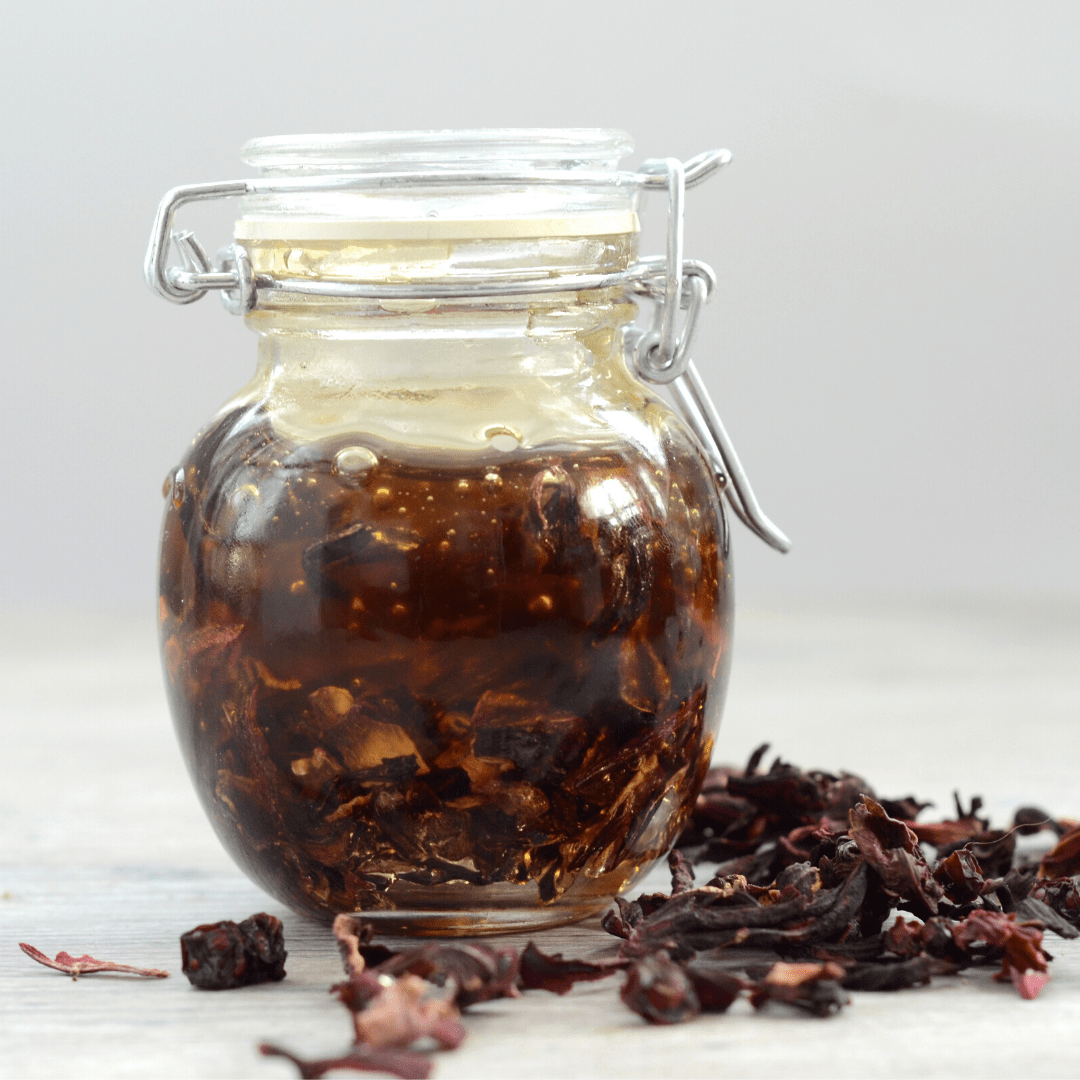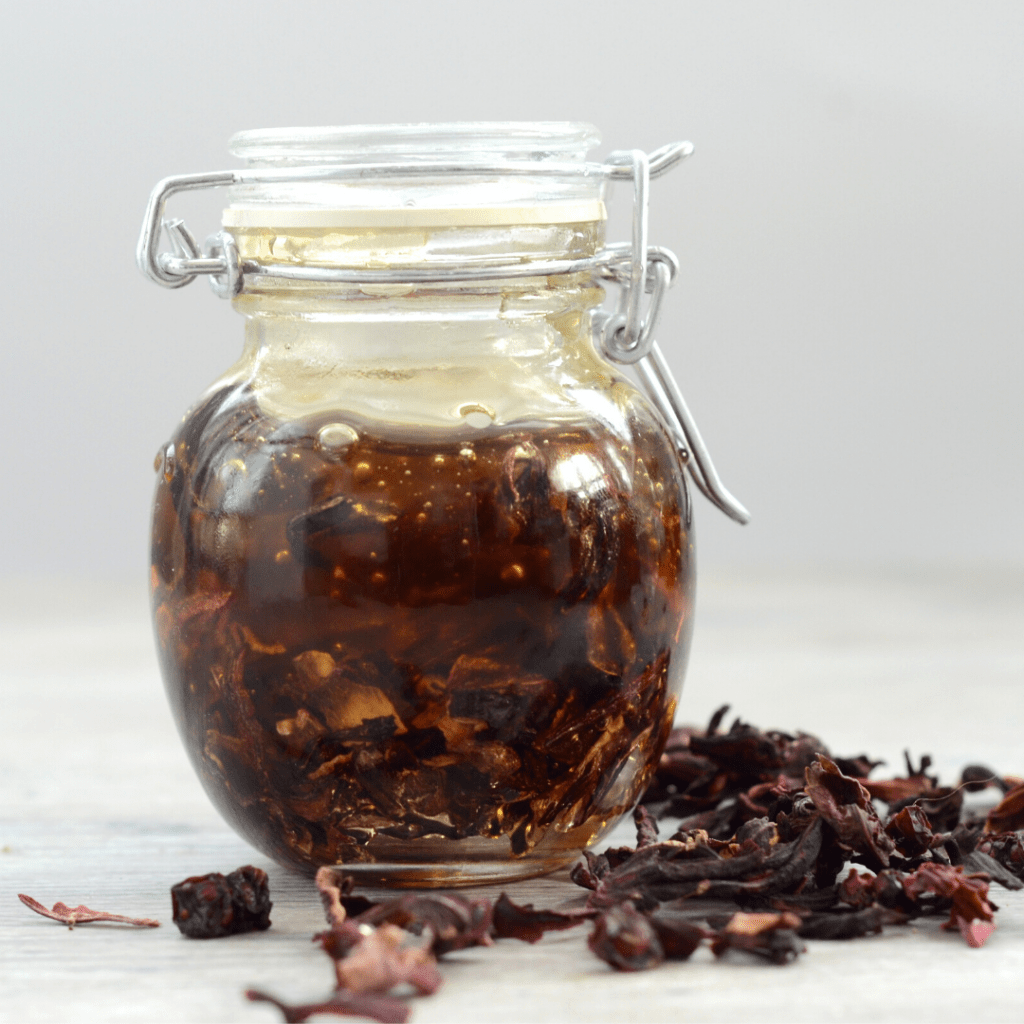 Cut vanilla bean lengthwise and scrape seeds into jar. Add vanilla bean pods and hibiscus flowers. Fill jar with honey. Close with lid. Strain after 2-4 weeks.
Spiced Orange and Cinnamon Honey
Orange and cinnamon are exquisite infused in buttery Leatherwood honey.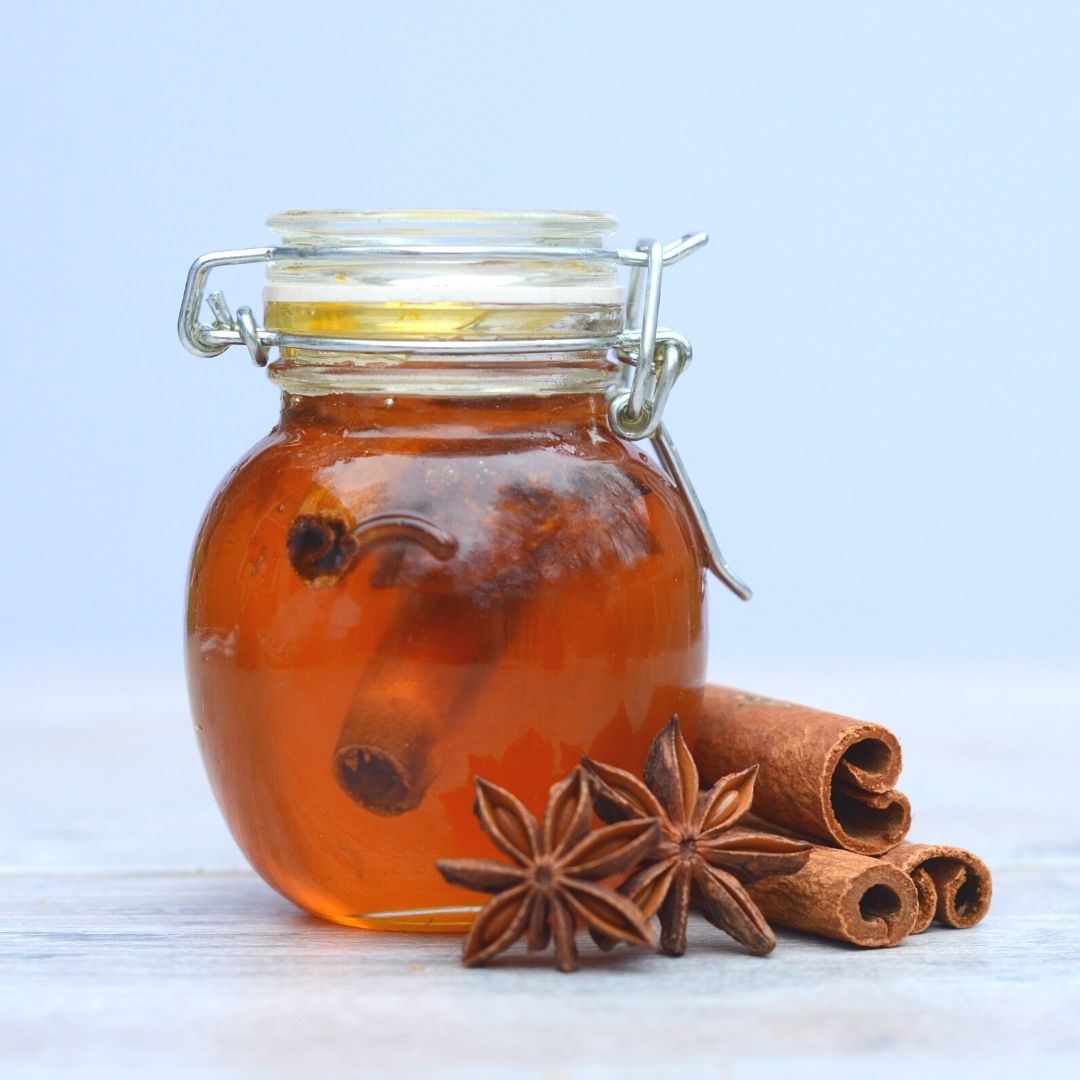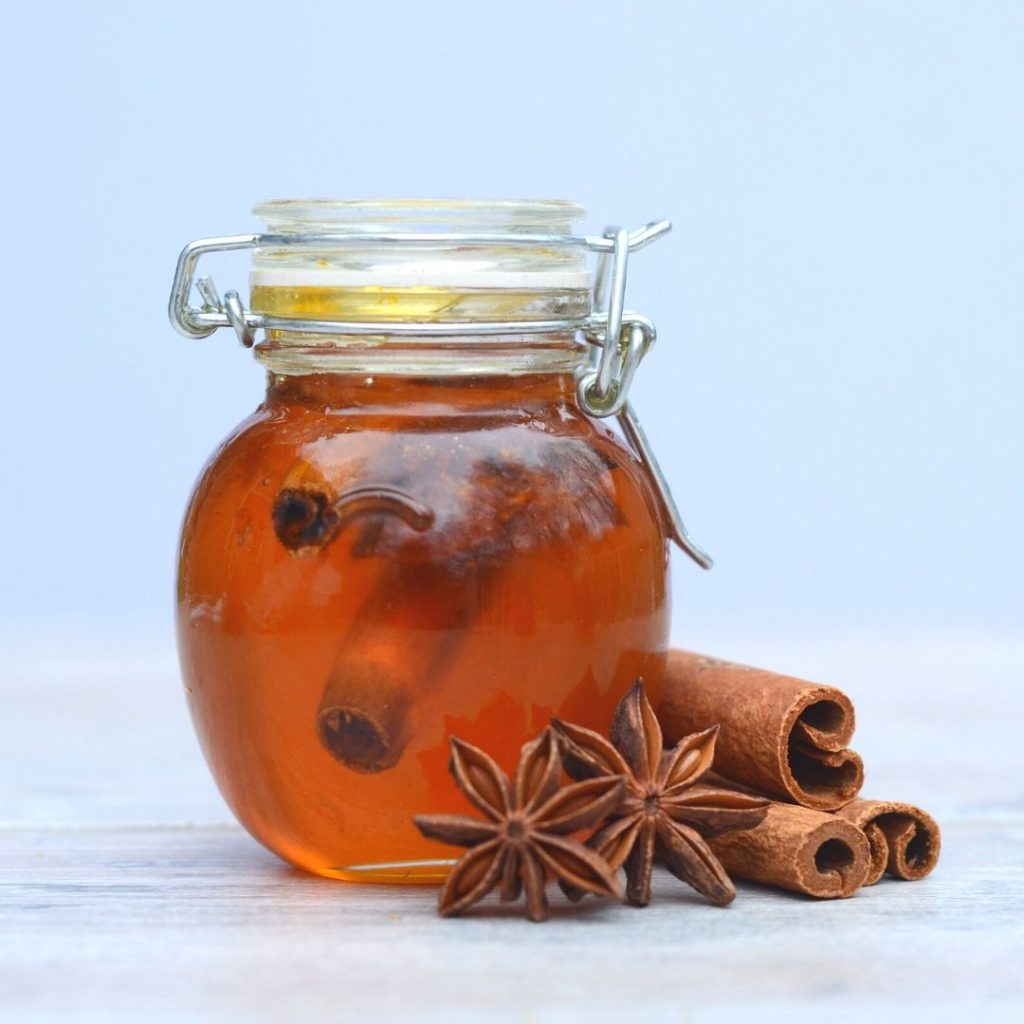 Place peel, star anise, cinnamon chips in jar and pour honey over the top. Stir to combine.
Close with lid. Turn jar over every day.
Let infuse for 2-4 weeks.
Where to find ingredients and supplies for infused honey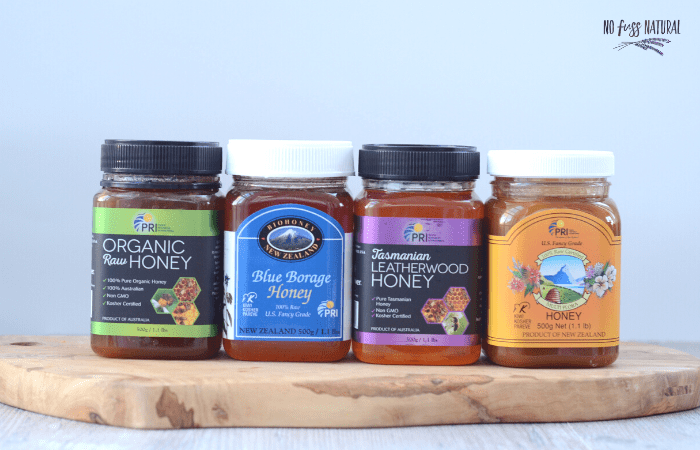 Honey
I love the variety of honey available at Pacific Resources International. It's extremely high quality and amazingly delicious.
Everything they carry works well for infused honey. Besides Organic raw honey, you'll also find Leatherwood and Borage. PRI Manuka is wonderful too (and they have testing documentation available for each and every batch). Be sure to check them out.
Herbs
I purchase almost all dried herbs from Mountain Rose Herbs. I've been ordering from them for over 15 years. They are fantastic and have just about everything you could ever need.
Jars
I purchased the jars in the above photos from Hobby Lobby. You can also find jars on Amazon and some at places like Walmart and Target. Canning jars work well for this too.