This post may contain affiliate links which won't change your price but will share some commission.
I've already shared my love of Buckaroo's laundry soap and essential oils, but did you know there's a whole line of Buckaroo Organics Skincare items too?
Buckaroo sent me a few skincare items to try, and I am excited to share them with you. Especially the body butter! It is amazing!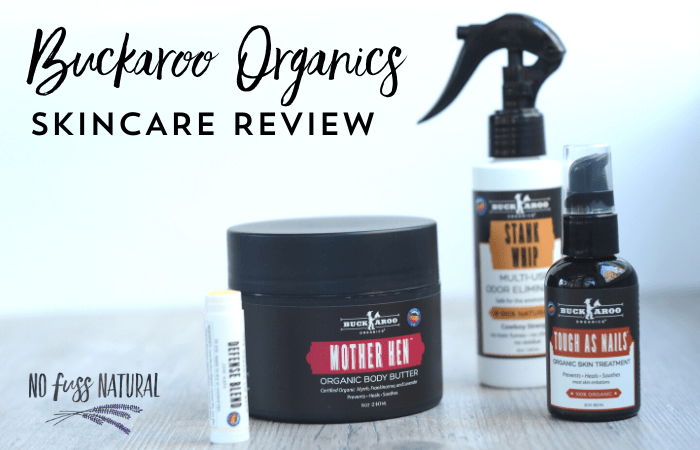 Why I love Buckaroo Organics Skincare
I love this family-owned company because of their dedication to creating safe and natural products that make a difference. They work hard to make products that 100% organic and everything they make is extremely useful in daily life.
It's important we vote with our dollars if we want safer products to be more readily available. I'm happy to support this company and am truly thankful for their commitment to creating products with clean, organic, easy-to-read ingredient labels.
This family wanted better and I'm grateful they are sharing their products with the world.
I particularly enjoy their skincare products because they are much like products I'd love to design myself. They address and support issues that appear frequently in our busy lives. Most of these are items I'd include in my purse and use regularly.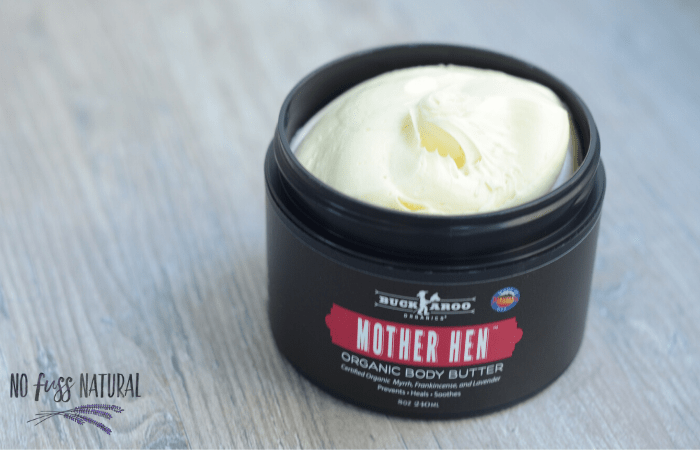 Mother Hen Organic Body Butter
My first impression of this body butter was awe over it's size! I got the 8 ounce container and wow! That's an amazing amount of body butter. It's perfect for the winter months when you might want to apply it more often.
Buckaroo Organics Mother Hen Organic Body Butter feels luxurious, but also has the essence of a homemade item. It has a light, fluffy texture, and applies easily.
The ingredients in this body butter are some of my favorite to include in natural body care. To name a few:
Organic Shea Butter – excellent for softening and moisturizing the skin
Organic Jojoba Oil – also excellent for soften and moisturizing the skin, plus it absorbs very quickly (which keeps the butter from feeling greasy)
Organic Rose Hip Oil – another superstar skincare ingredient
Organic Calendula Flower Extract – my favorite botanical for soothing skin
There are a number of other ingredients, but these are my favorites.
The butter is scented with an organic essential oil blend that includes certified organic Myrrh, Frankincense and Lavender.
It's a great choice for preventing dry winter skin, and helps soothe skin that is already feeling the effects of cold weather. It works well as an all over body butter, but is also great for use on hands throughout the day. It would also make a great belly butter.
Click here to learn more about Buckaroo Organics Mother Hen Organic Body Butter

Defense Blend Lip Balm
This 100% organic lip balm is perfect for dry cracked lips, but also designed to help fight germs (with a carefully crafted essential oil blend).
The ingredients in this lip balm are very simple: Organic Coconut Oil, Organic Beeswax, Organic Vitamin E, and Essential Oil Blend
I love that everything is 100% organic. It's also wonderful that coconut oil and vitamin E have natural SPF to protect from harmful UV rays.
The blend of essential oils definitely gives this lip balm a medicinal feel and flavor. I like it!
Click here to learn more about Defense Blend Lip Balm.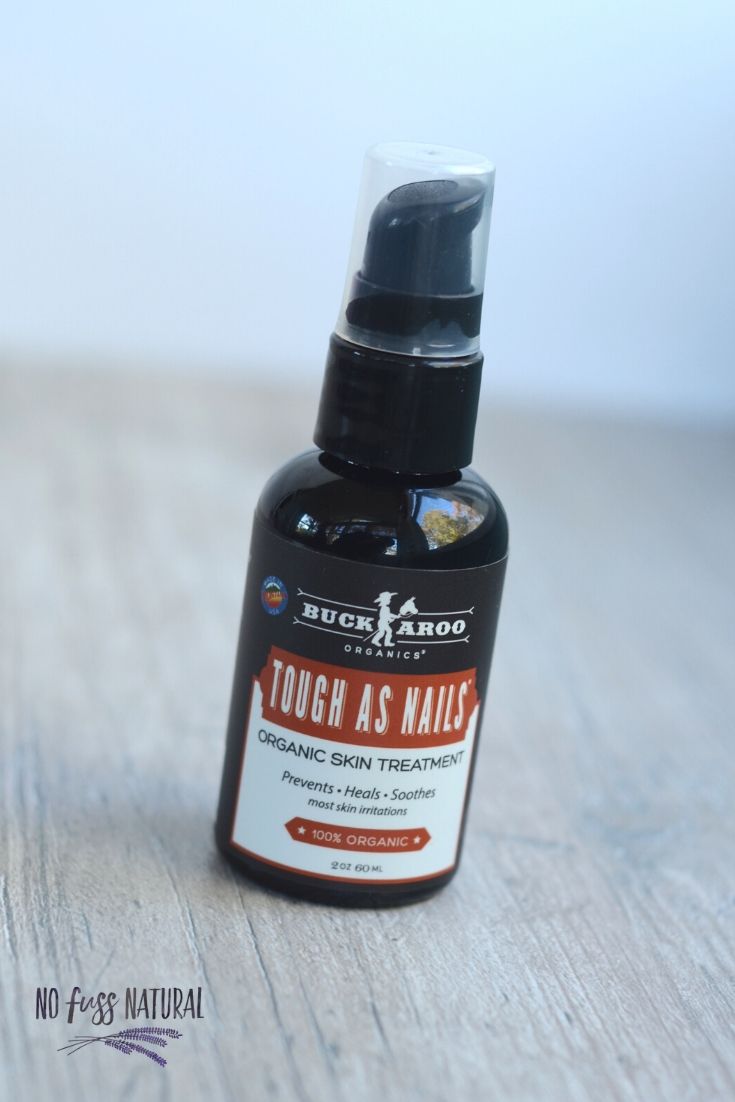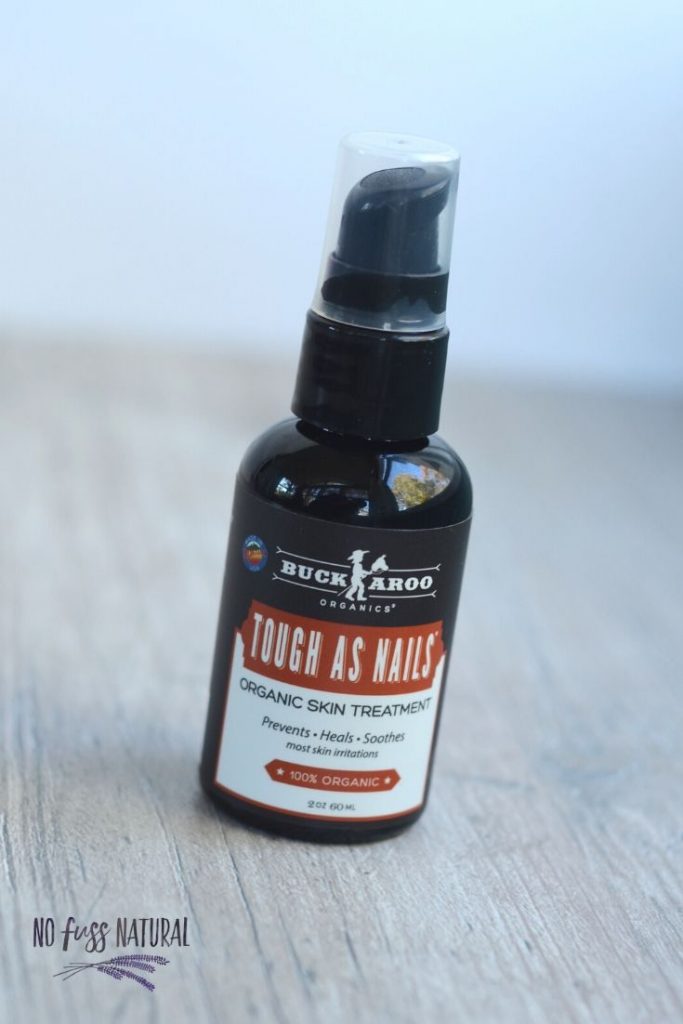 Tough As Nails Organic Skin Treatment
Designed to support the healing of common skin traumas and irritations, this skin treatment can replace many antibacterial, anti-infection, healing ointments.
Use it on minor cuts, insect bites, dry patches, rashes, sunburns, scrapes, scar tissue, severe burn scarring, eczema, and even shingles. This oil-based product is really an all-purpose skin treatment.
This nourishing blend includes:
Organic Almond Oil, Organic Sunflower Seed Oil, Organic Rose Hip Oil, Organic Vitamin E, Organic Calendula CO2 Extract, Organic Rose Oil, Certified Organic Essential Oils: Frankincense, Tea Tree, and Lavender
Click here to learn more about Tough and Nails Organic Skin Treatment

Stank Whip Multi-Use Odor Eliminator
This one of not a skincare item, but is super helpful! An all-natural odor eliminator Stank Whip works to eliminate odors in the bathroom, car, diaper pail, and anywhere else your've got a stench you'd like to get rid of.
It's safe for environment, cloth diapers, wet bags, diaper bins, and fabrics plus there are non toxic fumes, chemicals, or residue (like you'll find in many conventional odor eliminators).
As with Buckaroo's other products, the ingredients are very simple: Water, Sodium Bicarbonate, Essential Oil Blend.
The scent is quite strong; you'll only need to spritz this a few times in order to attack and bad smells.
Click here to learn more about Stank Whip Multi-Use Odor Eliminator
Buckaroo Organics Discount Code
Use code SAVE15 for 15% off.