This post may contain affiliate links which won't change your price but will share some commission.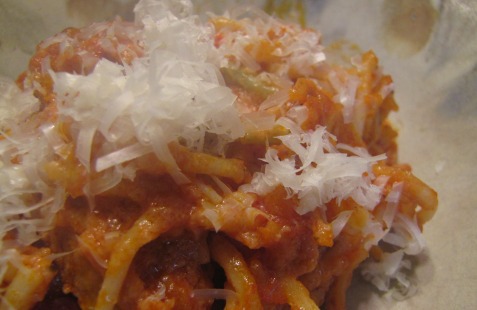 Cold, leftover pasta is often not very appetizing.  And unless there is a lot of sauce, it doesn't reheat very well.
Thankfully, a recent botched recipe led to a delicious discovery.  Don't you love it when that happens?  Now I'm happy to have leftover pasta! I make this all the time.
Baked Pasta
This will work with most pasta shapes or sauces.   Even though the following reads as a recipe, with measurements and timing, it is very flexible.  Feel free to tweak it to suit your tastes and also to use the ingredients you have on hand.
If you think of a clever name for this dish, let me know in the comments!  It was inspired by Giada De Laurentiis' Pizza Di Spaghetti (from her book Everyday Italian)
.
Ingredients
4 cups sauced, leftover pasta
1/3 cup milk
1/3 cup oil (I use olive oil)
1 egg
1 to 1 1/2 cups shredded cheese – I like to use Parmesan and Mozzarella. But many other kinds would work well.  It is nice to throw in a few cubes of fresh Mozzarella instead of shredded.
Method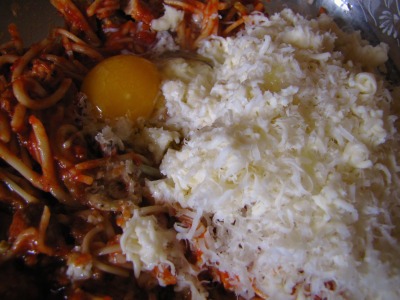 Mix all ingredients together and place in greased casserole dish.
Bake at 350 for about 30 minutes.
Serve with a little Parmesan.
Notes
If you have leftover pasta with only a little sauce, you may add some canned tomato sauce and a sprinkling or oregano or basil to your taste.
I have not needed to cover the casserole dish because I usually make sure there is a lot of sauce so the pasta won't dry out and become crunchy.  But it wouldn't hurt to cover it while baking, if you are uncertain.
This is a fun recipe to play with.  It is hard to mess up.  Different cheeses, leftover meat, or vegetables could all be included.
This recipe is linked to Tasty Tuesdays at Balancing Beauty and Bedlam.
What are your tricks for using up leftover pasta?