This post may contain affiliate links which won't change your price but will share some commission.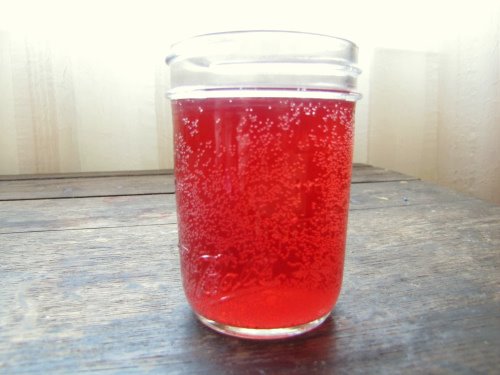 Have you ever heard of Water Kefir?
I hadn't until last year. Now I love it!
Water Kefir is an easy to prepare, pro-biotic beverage full of healthy bacteria to improve your gut health.
I've written a step-by-step tutorial explaining how to make it over at Keeper of the Home.
The above picture s of kefirized cranberry juice. Yum. See the bubbles? Fun!
Here's a brief excerpt:
What is water kefir?

Water kefir is a lacto-fermented beverage made with water kefir grains and sugar water. It is easy (and relatively quick) to make, and provides an abundance of probiotics to improve digestive health.

Water kefir grains are not grains at all, but rather "bacteria and yeast existing in a symbiotic relationship" (as noted by Julie of Cultures for Health.) The term grains really just describes their appearance.

Because the grains feed on sugar, the resulting beverage is not overly sweet.

Water kefir is often bubbly and has a reputation for being a natural alternative to soda pop.