This post may contain affiliate links which won't change your price but will share some commission.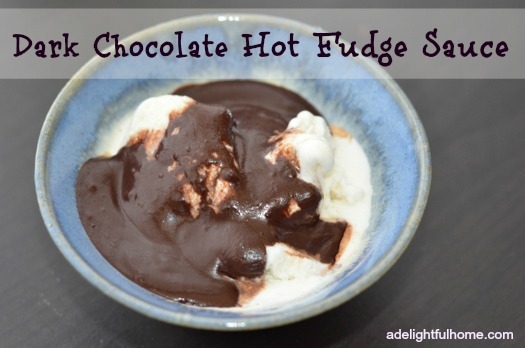 Last night I asked on Facebook if I should post this hot fudge sauce recipe even if I missed taking step-by-step pictures, and it was a resounding yes. So, here you go!
I feel kind of mean sharing this recipe now, since we are not eating dessert in the 42 Days to Fit challenge. But perhaps you who are reading this are not on a dessert fast and feel like a little dark chocolate richness drizzled over your ice cream. Eat some for me.
Decadent Dark Chocolate Hot Fudge Sauce
Recipe adapted from Oreo Hot Fudge Sauce at The Kitchn.
Makes approx. 1 cup
4 tablespoons unsalted butter
4 ounces dark chocolate, chopped
3 tablespoons cocoa powder
1/2 cup sucanat (or sugar)
2 tablespoons honey
2/3 cup boiling water
1/4 teaspoon salt
Place butter and chocolate in a small saucepan and heat over medium heat until melted chocolate and butter are melted.
Using a whisk, stir in the sucanat and honey. Melt until smooth.
Add the boiling water (very carefully. Mixture can bubble up). Whisk until smooth. Allow to boil for 3 minutes until the sauce is thickened slightly.
Remove from heat and stir in the salt.
This sauce is lovely served warm. It can be  refrigerated for up to 2 weeks, or frozen for up to 3 months.
When ready to use, gently reheat in a saucepan over low heat.
Do you like hot fudge on your ice cream?