This post may contain affiliate links which won't change your price but will share some commission.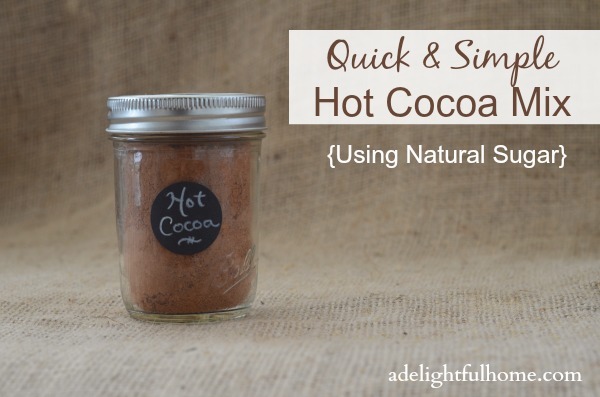 The following hot cocoa mix is quick to make and includes real food ingredients.
I chose to use coconut sugar or sucanat as the sweetener because both are less processed than white or brown sugar and still contain nutrients.
Ingredients:
Method:
Mix cocoa powder and  sucanat or coconut sugar  in a bowl. Pour into a clean jar and label.
The basic formula of 1 part cocoa powder to 2 parts sucanat or coconut sugar can be used to make more or less of this hot cocoa mix.
For example: make a tiny batch by using a few tablespoons of cocoa powder and twice as many tablespoons of sugar, or make a larger batch by mixing 3 cups cocoa powder with 6 cups sugar.
To use:
Warm 1 cup of milk over low heat and whisk in 2 tablespoons to 1 cup milk
(Include this information if giving as a gift.)
This post contains affiliate links.