This post may contain affiliate links which won't change your price but will share some commission.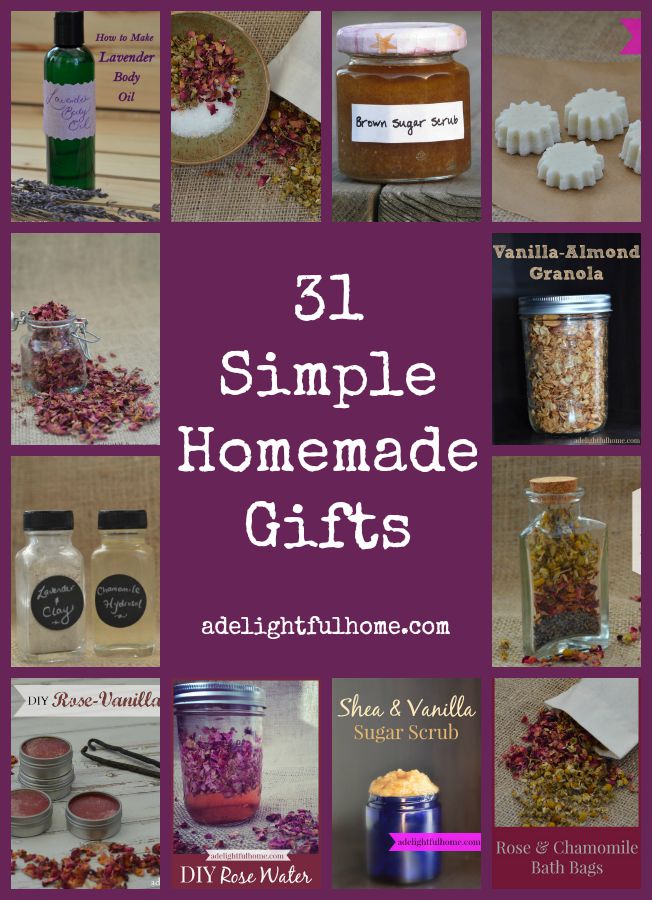 In October of 2014 I shared 31 Days of simple, homemade gifts. It was an entire month dedicated to simple, DIY gift ideas and tutorials.
Below you'll find links to all of them!
Why homemade gifts?
It is my belief that homemade gifts are a simple way to show love and care. The recipient of a homemade gift knows they have been thought about and considered (who doesn't want that?!).
Homemade gifts are also good for the gifter. The satisfaction found in creating something with your own hands is something everyone should experience.
The problem with homemade gifts is that they can easily get out of control. They can become overwhelming and take the joy right out of the process. This is why I will be sharing SIMPLE homemade gifts. Gifts you can make without too much fuss. Gifts that won't take weeks or months to prepare.
The simple, homemade gifts in this series include:
DIY natural bath and body
Herbal Gifts
Food gifts
Simple sewing and crafty gifts
Packaging ideas
and more!
Below is a list of each post in this series:
Day 1: Announcing 31 Days of Simple, Homemade Gifts
Day 2: Shea & Vanilla Sugar Scrub
Day 3: Lemon and Rose Body Wash
Day 4: Orange and Cranberry Granola
Day 5: Simple, No-Sew Gifts (Bags, Blankets, and More)
Day 6: Printable Labels for Homemade Gifts
Day 7: Homemade Lavender Pillows
Day 8: How to Make Lotion Bars (A Simple Lotion Bar Recipe)
Day 9: Peppermint Foot Scrub Recipe
Day 10: Vanilla-Almond Granola Recipe
Day 11: Simple Lavender Salve
Day 12: DIY Hair Treatment Gift Basket
Day 13: Lavender-Clay Face Mask
Day 14: Floral Facial Steam
Day 15: 11 Homemade Bookmark Tutorials
Day 16: Rose & Chamomile Bath Bags
Day 17: Brown Sugar Scrub
Day 18: Lavender-Rosemary Fire Logs
Day 19: Handmade Gifts that require Simple Sewing
Day 20: Chamomile Bay Leaf Bath Vinegar
Day 21: Quick and Simple Hot Cocoa Mix
Day 22: Soothing Oat and Lavender Bath
Day 23: Homemade Gifts with Washi Tape
Day 24: Chamomile-Lemon Balm Tea Recipe
Day 25: Gifts using Muslin Bags
Day 26: Soothing Lavender-Chamomile Bath Salt
Day 27: DIY Bath Fizzies
Day 28: Things to Make with Dried Roses
Day 29: 55 Homemade, Real Food Gifts
Day 30: Creative Bug – Tutorials Galore!
Day 31: Rose-Vanilla Lip Balm
Happy gifting!