This post may contain affiliate links which won't change your price but will share some commission.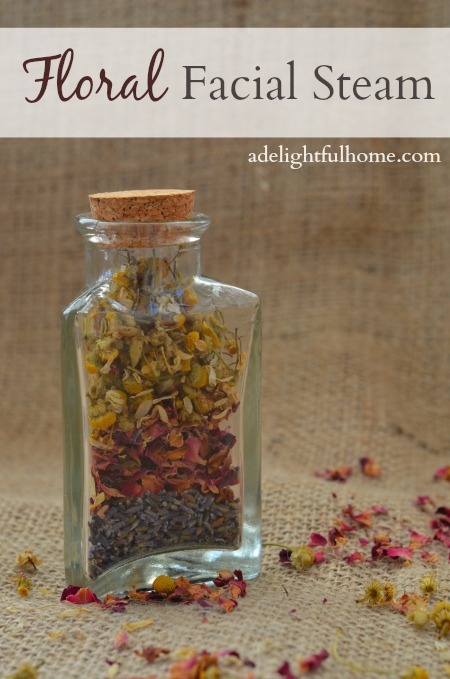 Why use a floral facial steam?
Facial steams are a great way to prepare the skin for further skin treatments. A facial steam is the perfect precursor to a scrub or masks since it opens up the pores allowing the masks or nourishing oils in the scrub to penetrate more deeply.
The herbs used in this particular steam are: lavender, rose, and chamomile.
Each herb is fragrant and soothing in it's own right and could be used alone. However, a combination makes for a pleasant experience and boost the therapeutic effect.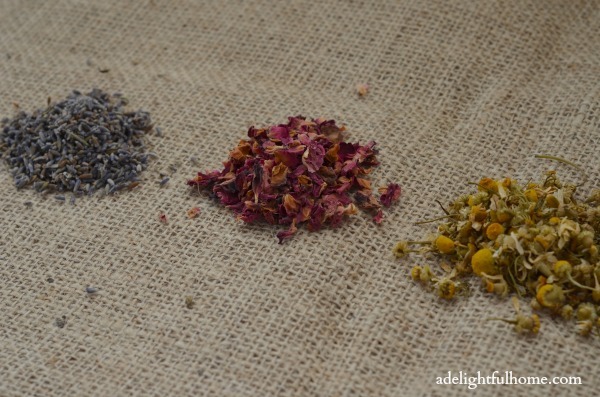 Lavender is anti-fungal, antibacterial, and helpful in soothing stress and aiding sleep.
Rose petals are antibacterial, anti-inflammatory, and antioxidant.
Chamomile is anti-fungal, antibacterial, and anti-inflammatory. It is also helpful in treating anxiety and soothing skin irritations.
These herbs are not just good for the skin, they are also a treat for the senses. An herbal facial steam is an aromatic experience as well as skin conditioning and cleansing.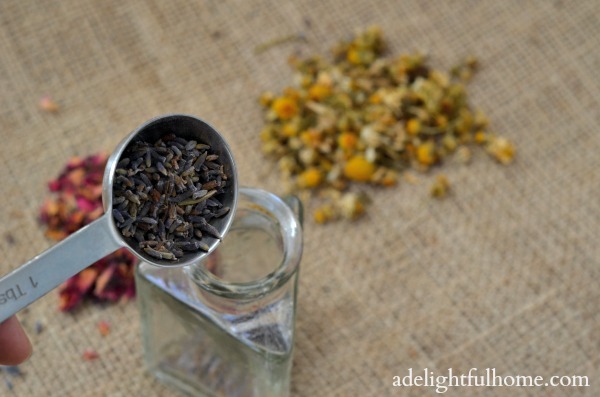 To Create an Herbal facial Steam for Gift-Giving
You will need:
One jar
Lavender buds, dried – 1 part
Rose petals, dried – 1/2 part (approx.)
Chamomile flowers, dried- 1 part
I use less rose petals than the other herbs because I find the scent to be very strong. It can be overpowering if too much is used. However, others enjoy the strong fragrance, so feel free to use more if that is you.
For my recipe, I use about 1/3 cup cup of lavender and 1/3 cup chamomile flowers, then 2-3 tablespoons rose petals.
Herbs can be mixed together or layered in the jar.
I enjoy the layered look.
If wishing to layer the herbs, place the lavender buds in first. If you do not, they will trickle down and mix with the other herbs instead of forming a definite layer.
You will need to use the entire batch in about 1 pint of hot water to create a facial steam. If preparing a larger portion of herbs, use about 3/4 cup of herb mix per steam treatment.
Follow the instructions below. If giving as a gift, be sure to include the instructions.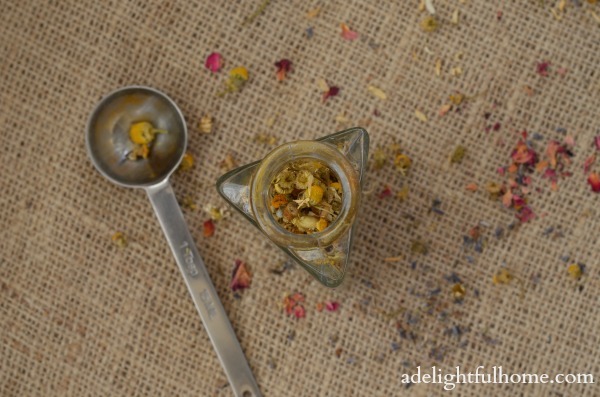 How to perform a floral steam treatment:
Remove makeup or dirt by using a gentle cleanser

Place herbs in a heatproof bowl

Place bowl on a sturdy surface (like a table) – be sure to have a towel and chair close by

Pour one pint of boiling water into a heatproof bowl (use pure water, if possible, to avoid breathing in any chemicals from a treated water supply)

Sit in a chair pulled up close the table and lower face over the bowl

Place towel over your head to create a tent over the bowl (the towel helps the steam stay close to the face and not evaporate into the air so quickly)

Stay here for about 10 – 15 minutes

If possible, follow this treatment with a face mask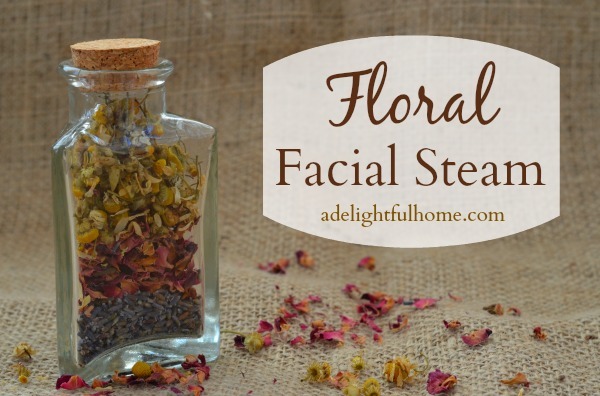 This post contains affiliate links.