This post may contain affiliate links which won't change your price but will share some commission.
I LOVE making learning fun. Anything that gets us away from dreary worksheets has me excited!
The following is how we started world history with my oldest child a few years ago. I've been thinking about doing it again and thought I'd share it here. (The pictures are not wonderful -I'll update when I take new ones). If you read my old blog, you may have seen this before. This is an enjoyable activity for any Christian family (homeschool or not).
In Lorrie Flem's Book, Welcome Home Daddy, she describes a special dinner which corresponds to each day of creation. A simple yet fun idea that makes great memories for your family.
The dinners can be enjoyed over one week or spread to one Day/meal per week over a period of 7 weeks. We opted for one week. It was great!
Here is what we did:
Day 1
We began by reading Genesis 1:1-5
We ate a simple supper and talked about the passage. Following dinner was a Day 1 Dessert which included vanilla ice cream and chocolate syrup (Ice cream for the light and syrup to represent the dark) – corny I know, but they are only 3 and 6 years old! They thought it was cool!
You could come up with anything for this – corn bread for the light and black beans for the dark.
My favorite part was when we read, And God said, "Let their be light" . I asked the kids, 'Then what happened?" They yelled out "There was light!!". They know God is powerful and can do anything.
After dinner my daughter drew a picture on an index card to add to her timeline.
Day 2
Review Day 1 then read Genesis 1:6-8
We talked about the passage over dinner and then ate a Day 2 Dessert – I promise these are not all desserts…keep reading
.
We layered blue jello with pudding to show that God separated the waters from the waters with an expanse in between.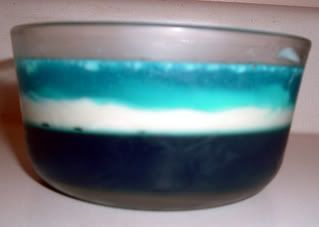 My daughter then made another card for her time line showing day 2.
Day 3
Review Day 1 and 2 then read Genesis 1:9-13
We covered the table with a clean, blue sheet to represent the water.
As I read, "And God said, 'Let the waters below the heavens be gathered into one place and let the dry land appear.'" I, very dramatically, moved the blue sheet to one side allowing the table (land) to appear. The kids giggled – I think all children love seeing their mommy acting a little silly.
I continued…."The earth brought forth vegetation, plants yielding seed after their kind, and trees bearing fruit with seed in them, after their kind" and presented them with their lunch: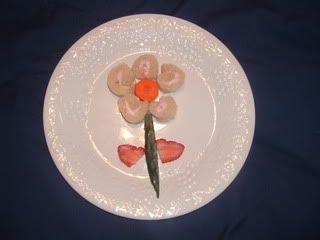 Rose petal sandwiches
and vegetables for dipping.
Followed with drawing a card for the timeline.
Instead of food the table could be decorated by the children with flowers collected from their back yard or a nature walk.
Day 4
Review previous days and read Genesis 1:14-19
Sadly, my camera broke and I was not able to get a picture for day 4.
Our lunch consisted of the Sun, Moon and Stars.
Sun: Round slice of orange with carrot sticks for rays.
Moon: Apple sliced in shape of a crescent moon.
Stars: Peanut, butter and Jelly sandwich cut into a star shape with star shaped cookie cutter.
Made a card for the timeline.
Day 5
Review all days then read Genesis 1:20-23
Instead of a creation themed meal, we decorated the dining area. The table was covered with a blue sheet and then we added birds to the ceiling fan and sea creatures to the table: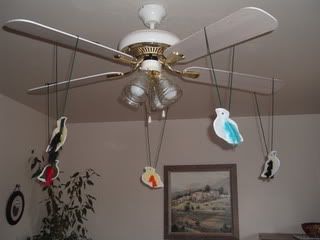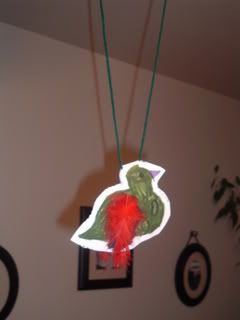 A printable bird pattern can be found here
I also tried an Origami bird but found that origami is not my talent.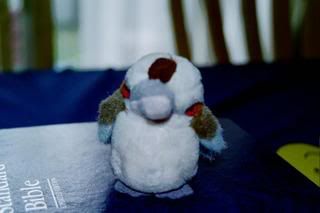 We even had a Kookaburra
Ocean printables can be found here
My favorite sea creature was this fish:
I'm not sure why he has glasses!
Day 6
Review all days then read Genesis 1:23-31 and Genesis 2:18-25
Day 6 involved more dining room decoration. The kids gathered all their animal toys and placed them on the table, which was covered with a green sheet.
I cut the top off a cereal box and taped green bushes on the front. Adam and Eve were then placed inside the box: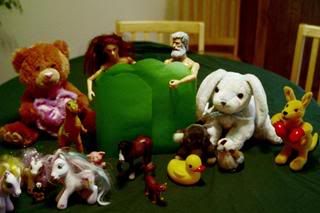 I know our Adam is a little old, but my son's Moses doll is the only male "doll" we own.
Day 7
Review and read Genesis 2:1-4
Since God rested on this day we went out to Denny's for dinner! I know Mom resting is no comparison to God resting, but it made sense to a 6 year old.
You could also order a pizza for dinner or have the children prepare a meal and let mom rest on day 7.
Finish by making a card for the timeline. Be sure to go over all the days on the timeline.
At dinner we talked about all of the previous dinners and what happened on which day. They remembered a lot.
They also memorized Genesis 1:1.
I know this may seem silly, some of you are probably laughing, but the kids really did enjoy this and so did I.
I'd love to update these dinners with some healthier alternatives. Do you have any ideas for food that would help kids learn the days of creation?