This post may contain affiliate links which won't change your price but will share some commission.
I can't adequately express how much I love small business with great integrity! Branch Basics has impressed me so much with their commitment to doing the right thing and holding to the standards they have set that I want to share about them everywhere I go!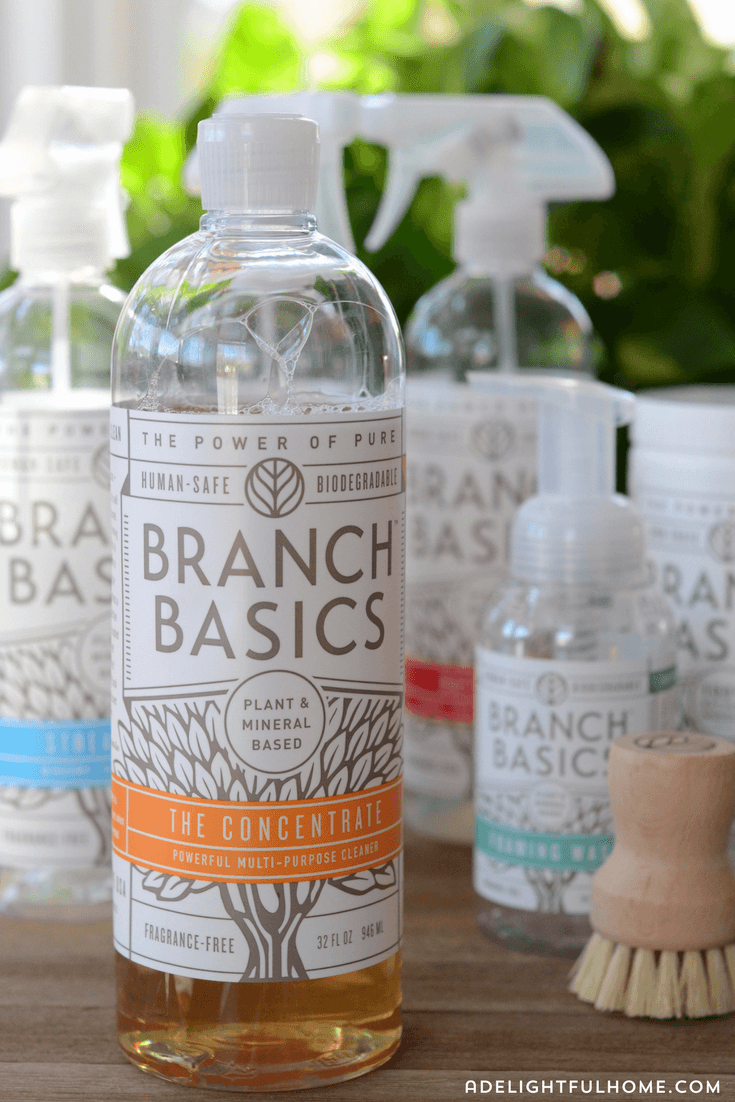 Besides that, they have created a natural cleaning product that is effective and convenient, which makes my life so much easier!
So what is Branch Basics exactly?
I think their user guide says it best:
"Branch Basics is a multi-tasking plant and mineral based cleaner. Branch Basics not only removes dirt, dust, grease, and grime, it removes the residue left behind by previous cleaners."
The star product of Branch Basics is their concentrate (pictured above). They don't ship water, which I love because there's no waste (of space, money, or energy!).
The concentrate can be used to create an all-purpose cleaner, hand soap, window/mirror cleaner, and bathroom cleaner.
Branch Basics provides bottles in their starter kit, each one having a different fill line, showing you how much water and concentrate to add to create the desired cleaner.
But that's only the beginning.
The concentrate can be used to treat laundry stains, clean coffee-pots, wash dishes, and more.
You can even use the all-purpose mixture to wash fruits and veggies! Just spray and rinse!
Besides the concentrate, Branch Basics also carries Oxygen Boost.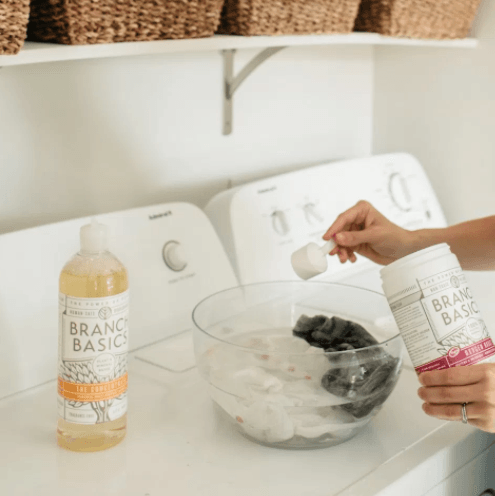 This is the perfect product to whiten and brighten laundry naturally.
It contains no bleach, ammonia, dyes, or fragrances and is safe for septic tanks.
what is actually in the concentrate?
Well, this is the cool part! Branch Basics worked for years to perfect this!
They have tested many formulas before settling on the following:
"Purified Water, Coco Glucoside (Sugar-Based Cleanser), Chamomilla Recutita (Chamomile) Flower Extract*, Decyl Glucoside (Sugar-Based Cleanser), Sodium Citrate (Food-Grade Emulsifier), Lauryl Glucoside (Sugar-Based Cleanser), Sodium Bicarbonate (Food-Grade Baking Soda), Sodium Phytate (Plant-Based Antioxidant), Sapindus Mukorossi Fruit (Soapberry) Extract*"
This formula is non-GMO, plant and mineral based, and is not tested on animals.
Why is natural cleaning important?
Household cleaners are responsible for much of the toxic load in our homes. The chemicals contained in most conventional cleaners are harmful to our health, disrupting hormones, as well as causing breathing issues and allergic reactions.
Plus, chemical-laden cleaners make it much harder for children to help with cleaning! One of my favorite things about using natural cleaners like these is that the kids can easily help clean up around the house! I don't have to worry about the fumes or other safety hazards that accompany conventional cleaners.
Who is behind Branch Basics?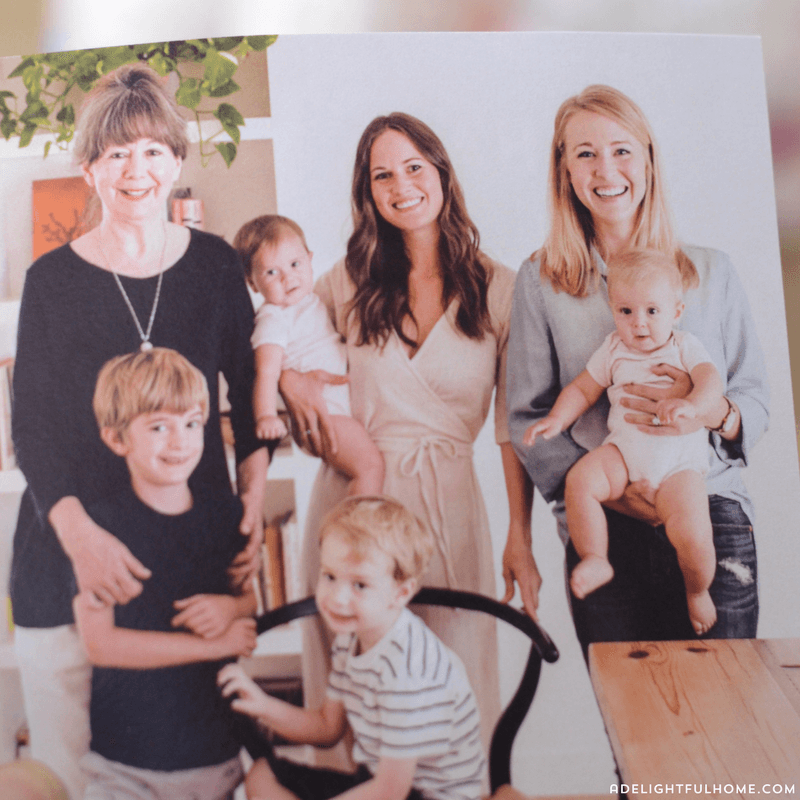 I snapped the above picture of the card that came with my order. Aren't they cute?
The company was founded by three women committed to living a healthy lifestyle and sharing that with others. Each has experienced their own health struggle before turning to a cleaner, non-toxic lifestyle and seeing great benefits.
Read more about the founders here.
Why I love Branch Basics
There are a number of reasons I love this company:
Integrity
I am just so proud of Branch Basics for working hard to create an effective, yet safe formula and not compromising to get there. It took a lot of time and struggle, but they stayed the course! (Thank you for that, ladies! I appreciate your example as much as your product.)
Transparency
Branch Basics is very open about what is in their products. They purposefully did not use a propriety formula so they could share the information with customers. Just check out their FAQs page. It's full of answers to any questions you may have.
safeTy
I love that I can feel good about using this in my home and around my kids. I can even spray it on my fruits and veggies! This reduces the toxins in my home, including the toxic anxiety I feel using conventional cleaners!
Versatility
Being able to use one concentrate for almost all cleaning tasks is a huge time-saver and space-saver. It's nice to not have my cupboards overflowing with products and wonderful to know this one works for so many things.
If you want a natural cleaner that works and you'd like to support a small business that's committed to integrity, look no further than Branch Basics.
Their starter kits would make great gifts!
Discount Code
Use code CLEAN to get 15% off!