This post may contain affiliate links which won't change your price but will share some commission.
Since the skin is the largest organ of the body, it's extremely important to be careful when choosing what to apply to it.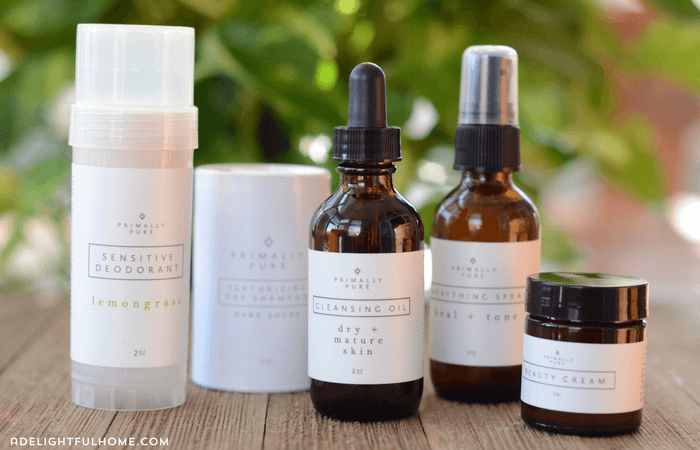 Thankfully, a number of natural and non-toxic skincare products have become available. However, it is important to note, that there are companies jumping on the green beauty bandwagon and using "greenwashing" to sell us products that aren't truly natural at all.
According to Greenwashingindex.com,
"Greenwashing is when a company or organization spends more time and money claiming to be "green" through advertising and marketing than actually implementing business practices that minimize environmental impact."
In other words, many companies are trying to get in on the green and natural movement, and portray themselves as green and natural, without actually becoming green and natural!
You'll find many products say things like, "contains organic ingredients," which may be true, but this is sometimes used to distract you from other undesirable ingredients the product may contain. In many cases where that phrase is used, the percentage of organic ingredients could be seriously low (only a tiny percentage).
That's why I like to share trustworthy companies and products with you from time to time. I love to support small businesses that are creating clean and natural products. Especially when they create products that make our lives easier and more enjoyable.
Please note: this post contains affiliate links.
One such company is Primally Pure.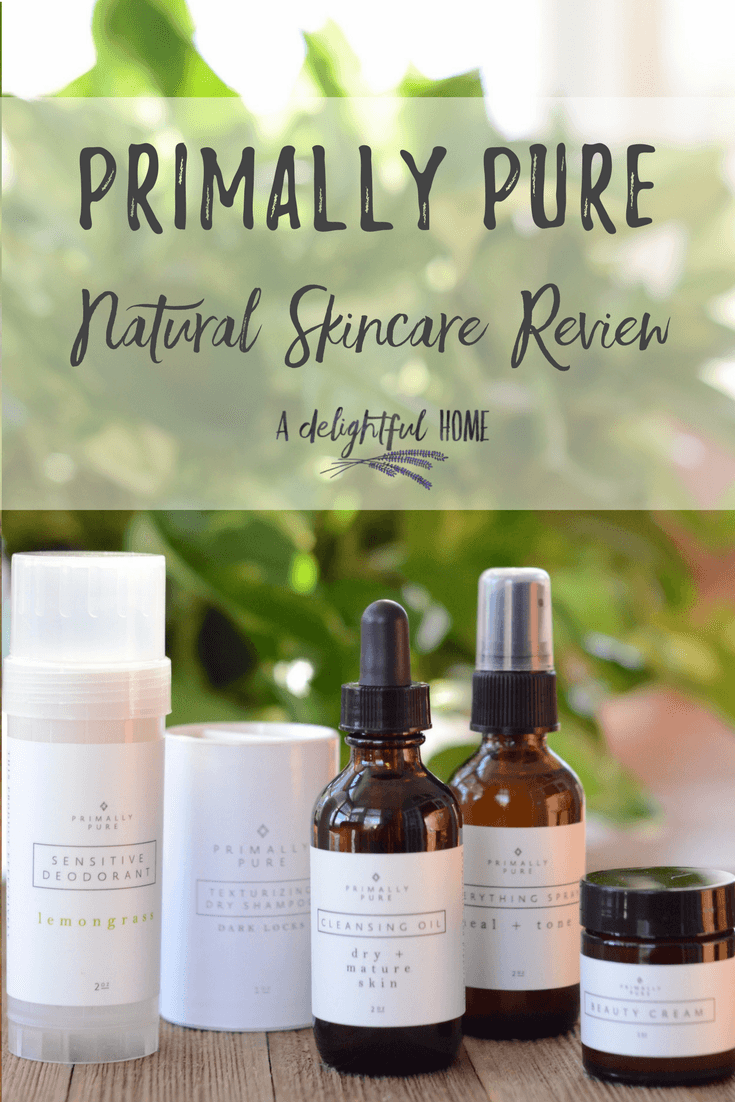 I have fallen in love with their products and want to share them with you because I think you will enjoy them too.
It's wonderful to use products that not only make my skin feel good, they make me feel good too. I feel good using their products because I know they are safe; nourishing and improving my skin without adding toxins to my life and creating more body burden (which many beauty products do!).
Since they also make my skin look and feel better, I feel better about myself too. So that's a win-win!
Primally Pure sent me the following products to try:
Here's a quick rundown of each product:
If you'd like to try any of the Primally Pure products, be sure to use coupon code NOFUSSNATURAL10 for 10% off.
#1 – Cleansing Oil for Dry and Mature Skin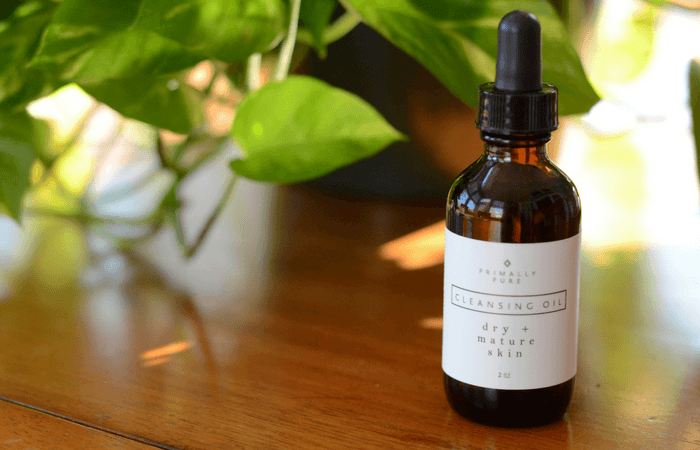 The Cleansing Oil was probably my favorite (along with the dry shampoo). It works well along with the Everything Spray (as a toner) and the Beauty Cream (as a moisturizer).
I personally love the feeling of using oil to cleanse my skin. I think it is one of the most effective ways to cleanse and nourish the skin. So much so, I've got a whole post about it: Oil Cleansing Method.
While I'm a huge proponent of the Oil Cleansing Method, it can be tricky to get the ratios and types of oils right according to your skin type. Primally Pure has made it easier by formulating oil blends for each skin type.
I used the blend for dry and mature skin, which was perfect for me. It smells wonderful, removes dirt and make-up, and leaves skin feeling soft and smooth.
Take a look at the ingredients:
Sunflower Oil*, Apricot Kernel Oil*, Avocado Oil*, Castor Oil*, Rosehip Seed Oil*, Essential Oils of Orange*, Lavender*, Geranium* and Peppermint*
*ORGANIC
These are perfectly targeted to dry and mature skin.
Primally Pure has Cleansing Oils for dry and mature skin, normal skin, and oily and acne prone skin.
Priced at only $20, this is a steal for a non-toxic cleanser made with such high-quality ingredients.
#2 – Everything Spray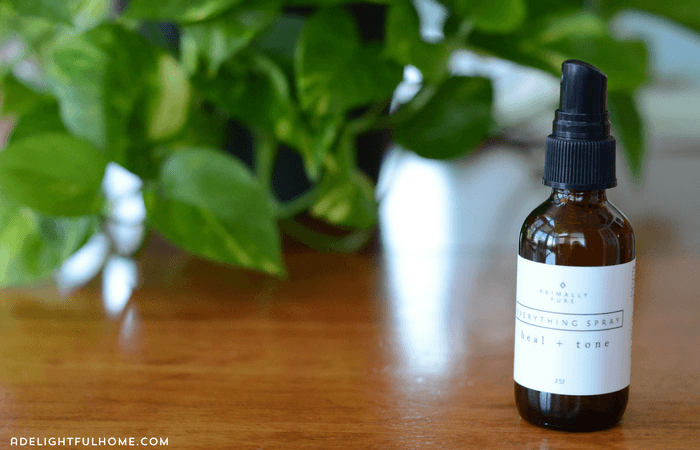 The Everything Spray blends skin-soothing lavender hydrosol with witch hazel, apple cider vinegar, and tea tree to provide a calming effect on all manner of inflammatory skin conditions. 
It works well as a facial toner; just spray three to five times on the face after cleansing and before applying moisturizer.
The Everything Spray is great to keep in your purse for a quick refresh throughout the day. It even works to cleanse the armpits! Just give a quick spritz and you are good-to-go.
This blend of ingredients is also well-suited for treating minor wounds. Spray on cuts and scrapes to cleanse and promote healing.
#3 – Beauty Cream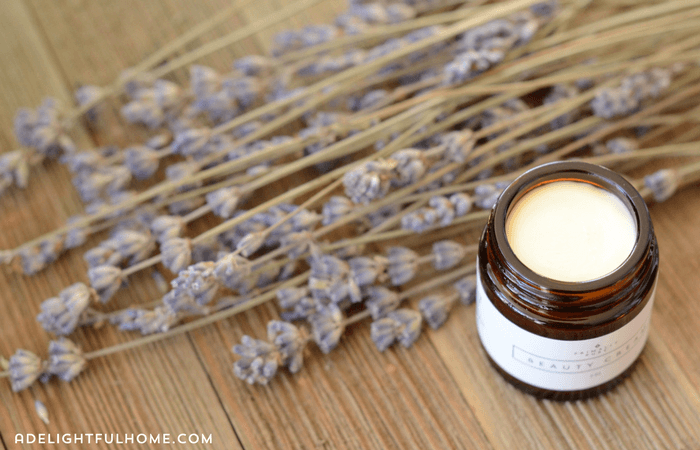 The first morning after applying the Beauty Cream I was amazed at how soft my skin felt.
The texture of the balm is soft and creamy. It applies easily and absorbs well.
The base of this cream is grass-fed tallow, which is amazing for the skin.
Tallow is unique in that it "resembles the makeup of our skin cells (both are comprised of roughly 50% saturated fats) and contains a high content of fat-soluble vitamins A, D, E and K (nutrients that are nearly impossible to find in plant oils in a balanced combination with their activators). These vitamins are necessary for healthy, elastic, and balanced skin." (from Primally Pure)
You're not going to find something like this cream at your local drugstore!
Besides beef tallow, Primally Pure Beauty Cream also contains Emu oil, Jojoba oil, and Palmarosa and Peppermint essential oils.
Primally Pure recently released another version of their Beauty Cream which contains Blue Tansy. This would be awesome for addressing inflammation. I can't wait to try it.
#4 – Lemongrass deodorant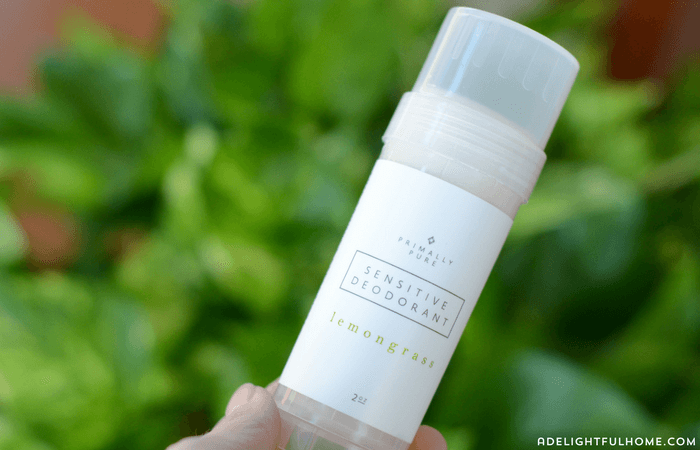 The Lemongrass deodorant smells great and works very well. I didn't deal with any stink when using it, which is awesome since many natural deodorants under-perform.
Another thing I liked about this deodorant was the moisturizing factor. It wasn't drying or irritating at all. Probably because it contains non-nano zinc oxide, coconut oil, and grass-fed tallow.
Primally Pure deodorant also contains baking soda, but not enough to be irritating to most people.
I also love that it includes White Kaolin Clay (and clay I often use in my homemade face masks) which is a powerful detoxifier.
Here's a look at the full list of ingredients:
Organic Arrowroot Powder, Organic Extra Virgin Coconut Oil*, Tallow from Grass-Fed Cows, Organic Beeswax, Baking Soda, Non-nano Zinc Oxide, White Kaolin Clay, Organic Lemongrass Essential Oil
This stuff works! And it's not just me saying that, check out the reviews!
Primally Pure has a number of other deodorants as well. I'll be trying the charcoal deodorant next.
#5 – Texturing Dry Shampoo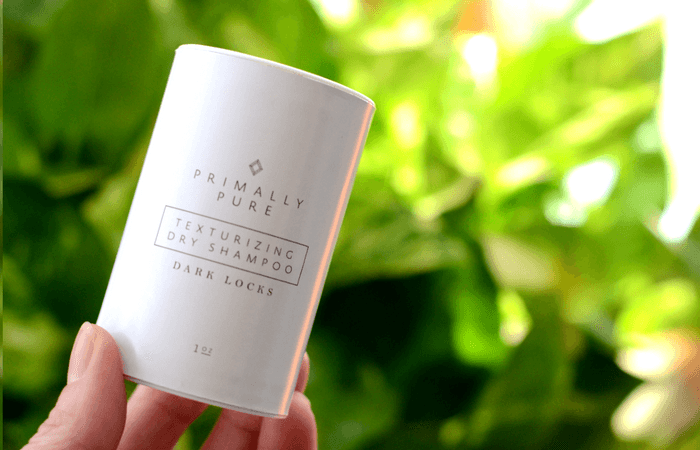 As you may remember, I enjoy making my own dry shampoo. However, I have to say that I like this dry shampoo from Primally Pure better!
They've got the formula just right.
Here are the ingredients:
Cocoa Powder*, Kaolin Clay, Arrowroot Powder*, Baking Soda, Essential Oils of Grapefruit*, Lavender* and Peppermint*
*ORGANIC
I use the dry shampoo for dark locks, but they also make one for light hair.
This is why I love it:
It contains cocoa but doesn't have an over-powering chocolate smell (like others I've tried)
It really does add texture!
I have natural have super smooth straight hair that tends to be limp, so this really upped the volume and workability. I felt like I was able to style my hair much more effectively. Which was amazing!
It works – the kaolin clay and arrowroot absorb so well that you are not left looking oily (which is how my hair would look if I didn't wash it)
It smells good!
The mixture of grapefruit, lavender, and peppermint essential oils is refreshing and uplifting.
Dry shampoo is a life-saver for busy women. Most of the conventional versions are full of toxic chemicals that are not good for your hormones! Try this version for peace of mind and awesome hair!
A little about the Founder of Primally Pure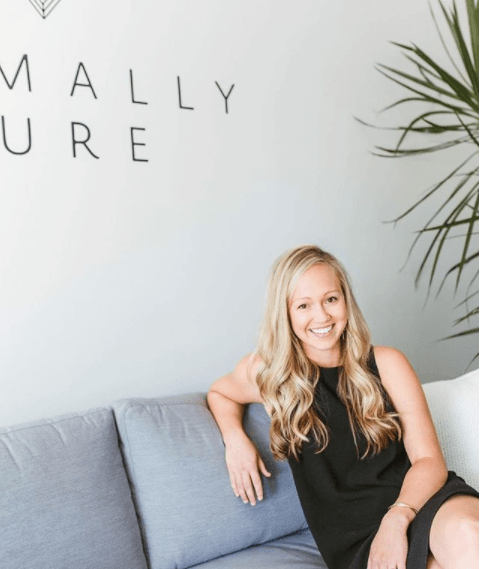 Primally Pure was founded by Bethany, a woman who believes skincare should be safe and effective. Bethany created these products because she wants others to have skincare that actually works, yet doesn't damage health or well-being in the process.
She believes fewer is better when it comes to ingredients and strives to stay to this philosophy when formulating products. If you peruse their website, you'll notice Primally Pure products have few ingredients but are designed for maximum potency and effectiveness.
According to her Instagram page, Bethany is also a farmer's wife and momma bear, which is pretty awesome, don't you think?
All products from Primally Pure are made with:
real ingredients found in nature
tallow from grass-fed cows
organic ingredients
fair trade Ingredients
locally sourced hydrosols
glass jars/bottles
BPA-free plastic tubes
therapeutic grade essential oil
I hope you'll check out Primally Pure for your skincare needs!
You'll be glad you did.
Also note: Primally Pure carries a great baby line and many wonderful bundles and kits that would make great gifts.
Primally Pure Coupon Code
Get 10% off with code NoFUSSNATURAL10