This post may contain affiliate links which won't change your price but will share some commission.
During the holidays, bloating can become a problem. This is usually due to the excess food, especially the sugary variety, but stress also plays a role. As you may remember, stress can lead to digestive issues, making it hard to actually get nutrients out of the food you're eating.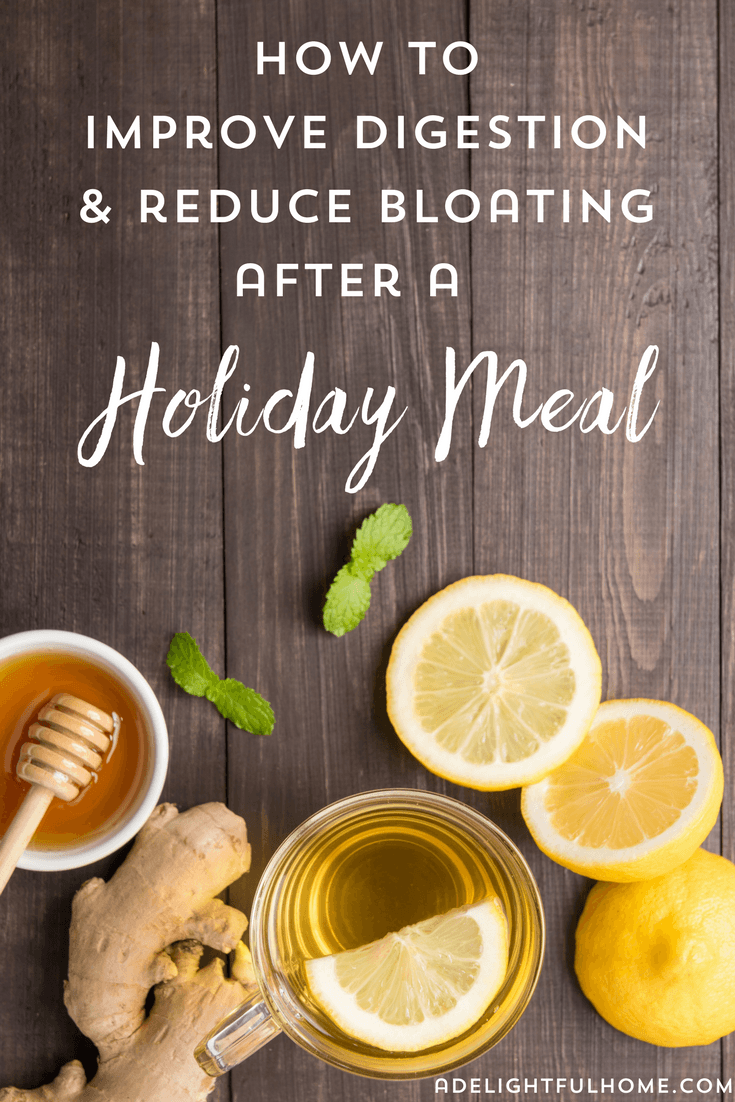 Besides doing what you can to avoid stress, like taking walks, deep breathing, sleeping enough, and so on, here are a few suggestions for easing (and avoiding) bloat this holiday season:
(If you need more stress reduction tips, see this post: 20 Ways to Reduce Stress)
Eat slowly
Eating too quickly causes us to swallow a lot of air, which contributes to bloating. It can also lead to overeating, which is going to lead to bloating and discomfort as well.
Take a breath before you eat and put your fork down between bites. Try to avoid eating mindlessly and really enjoy the food before you.
Drink digestive tea after meals
If you are struggling with bloating after a meal, try a simple tea blend to relieve discomfort. Here are a few options:
Sip Apple Cider Vinegar
You may also like to try drinking raw apple cider vinegar mixed with water after a large meal. The most common recommendation is 1 tablespoon of apple cider vinegar in 4 ounces of water. This is a pretty strong combination and might burn a little going down. Feel free to start with 1 teaspoon apple cider vinegar and work your way up.
Others suggest only mixing enough water with the apple cider vinegar to help get it down. This results in an extremely potent remedy, but one that burns a lot! Use at that recommendation at your own risk
Avoid constipation
Constipation is frustrating and painful and can really ruin your day! While this may not be an issue immediately after your meal, it can become a burden during the holiday season.
To address occasional constipation during the holidays (which may be an issue, especially when traveling), you need to be drinking a lot of water and moving your body on a daily basis (walking is great!). However, it also may be a time to break out some carefully selected supplements.
The best supplement I've found to help with occasional constipation is Triphala.
Triphala is a blend of Indian herbal fruits: harada, amla, and behada – it is quite gentle, yet still very effective. Dosage recommendation is generally 2-3 at night.
Triphala has helped everyone I've recommended it to, so it's worth a try!
Smooth Move tea is another helpful supplement to take before bed. It is senna-based, so does work quite quickly. Most people tolerate it very well and find that it works (check the amazon reviews for more information on how it's worked for other people).
Chronic constipation needs a more in-depth discussion and often requires dietary changes (more vegetables), testing for food sensitivities, and increased hydration among other things.
Other Supplements to Ease Digestive Woes
The following may also aid in improving digestion and reducing belly bloat and associated discomfort:
Herb Pharm Gastro Calm is a liquid extra that is often used for treating occasional gas and bloating. It contains Cinnamon, Clove, Ginger, Lavender and is reported to work quickly to reduce discomfort associated with gas and bloating.
Digestive enzymes can be helpful when taken at the beginning of a meal. They are not suitable or effective for everyone. Read this article to see if digestive enzymes are right for you.
Digestive Enzymes Ulta by Pure Encapsulations is a good broad spectrum digestive enzyme supplement. It was created to enhance digestion of protein, carbohydrate, fat, fiber and dairy.
Betaine HCL with Pepsin is often recommended for people with low stomach acid. It helps support stomach acid production when may aid in the digestion of proteins and absorption of nutrients.
I've found this supplement very beneficial for me as I have long struggled with digesting protein-rich meals (due to years of stomach problems, leaky gut, and low stomach acid which is often associated with Hashimoto's thyroiditis). Betaine has made a big difference in my digestion.
Please note: Betaine with Pepsin is not recommended for those with a history of peptic ulcers or gastritis. It is also contraindicated for people who take NSAIDs, steroids (or other medications that can cause an ulcer).
Gentle exercise
Various yoga poses and stretches are thought to relieve bloating and digestive distress. Here are a few targeted exercises to try.
Some studies suggest that walking after a meal can also aid digestion and help control blood sugar levels as well (Source). Getting out for a stroll with the family after your holiday meal is a great idea!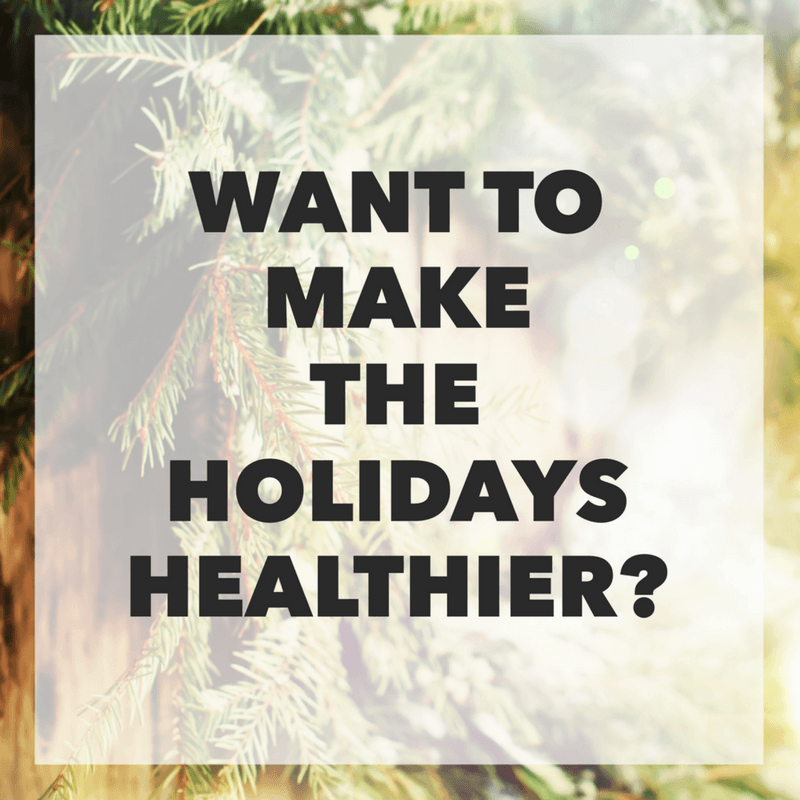 The holidays are meant to be a sweet time, but many of us feel overwhelmed, stressed out, and bloated!
What if you could feel good this year?
The Healthy Holidays ecourse is here to help you! And it's only $7!

It's designed to support you as you strive to maintain (and establish) healthful habits throughout this busy time of year.
Inside you'll find:
tips for managing stress throughout the holidays
healthy real food holiday recipes (including mains, sides, and desserts)
simple solutions to staying active throughout the holidays
healthy self-care practices to help you stay sane
simple all-natural DIY gift ideas healthy gift suggestions