This post may contain affiliate links which won't change your price but will share some commission.
Have you ever wondered, "How can I reduce stress?" It's a question a lot of ask at one point or another.
Why? Because we all face it. And we all understand that stress impacts us in many negative ways.
Stress wrecks havoc on your life.
Stress steals joy, harms health, and strains relationships.
(Unfortunately, I know this from experience.)
In this article we disucss 20 different ways to reduce stress. Some are easier than others, but all are beneficial.
Read on for the deatils (I hope it helps).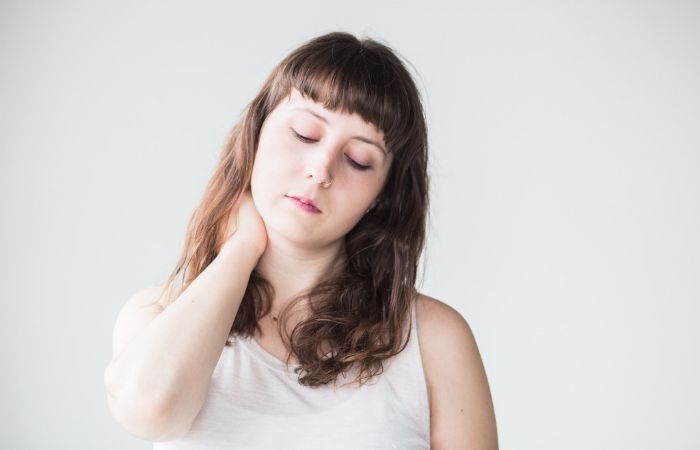 In Dr. Mark Hyman's recent documentary, The Broken Brain, he said:
"95 % of all illness is either caused by (or worsened by) stress."
That's a lot of illness we could be avoiding! Or, at least, minimizing.
As I've been working to reduce stress in my life, I've kept note of what actually helps. Today I'd like to share 20 things that make a difference.
I've you've ever wondered how to reduce stress or sought for ways to manage stress, this is for you:
1. Do less, much less
Cutting stuff out of my life has made room for more downtime, more sleep, and eliminated the churning anxiety in my stomach.
2. Do something you love
Set aside a little time each week to do something you enjoy. Life shouldn't be serious all the time. Throw yourself into a favorite hobby and watch the troubles of the world melt away for a while.
3. Get up before the kids (even if it's just 10 minutes)
This few minutes of quiet helps focus me. When I sleep until the kids wake me up, the mornings are much more difficult.
4. Limit (or control) social media
The internet can be a noisy place. I found myself sighing one morning as I scrolled through Facebook and realized I was beginning to feel less-than, or that I should be doing more of such-and-such, just from reading everyone's posts.
This is my own insecurity showing itself, sure, but I think a lot of people suffer from the same thing. Just take note of how social media affects you and adjust accordingly.
It's not just the worry of measuring-up, the social media world can also be a vicious place. It's disheartening to see so many controversies and mean-spirited arguments online. Avoiding (or at least limiting) those, can help you avoid one source of stress.
I have friends who are excellent at setting up their Facebook streams to only display certain people and pages; making it more manageable and less stressful.
5. Create margin in your day
Make sure your day is not filled to the brim. Leave room for mishaps, smelling the roses, and a peaceful cup of tea or coffee. You can only go at break-neck speed for so long. It's much better if you are the one in charge of slowing down rather than illness putting you there.
6. Reduce clutter
When you clean out a pantry or closet, do you go back and look at it again and again? Or maybe that's just me!
I find the clear space helps me feel more peaceful. Clutter assaults my eyes and brain as it yells, "you need to clean this up!"
Plus, it simply causes more stress because it's harder to find things among clutter!
Need help getting out from under the clutter?
If you need help getting rid of clutter, one of the best programs I've seen is Allie Casazza's Your Uncluttered Home.
Her program includes a step-by-step guide to declutter each and every room, closet, and area in your home. But she doesn't leave you hanging there, Allie also teaches how to maintain a minimalist lifestyle after your initial purge. The program includes 40+ video/audio trainings and checklists, cheatsheets, and workbooks.
7. Plan and prepare in advance (whenever possible)
Sunday morning breakfast is easy for me because I make the same thing every week (a Dutch puff). It's been a family tradition for years. I love waking up and knowing exactly what to do.
In contrast, the days when I've not thought about breakfast bring a lot more stress, especially if I'm unprepared and have an empty pantry.
Of course, it's not just about meals, a bit of planning and preparation goes a long way to reduce stress in all areas of life.
For example:
laying out clothes the night before (makes mornings less stressful)
working on assignments before they are due eliminates coffee-filled late nights
8. Sit on the ground
Sounds weird, I know, but sitting on the actual ground really does help. Try it and see for yourself.
I challenge you to sit outside on the dirt, sand or grass for five to ten minutes.
Just sit there, look at the sky, look at the ground, breathe in. Thank God for your blessings.
You might be surprised at how this simple act can ground you. (Pun intended.)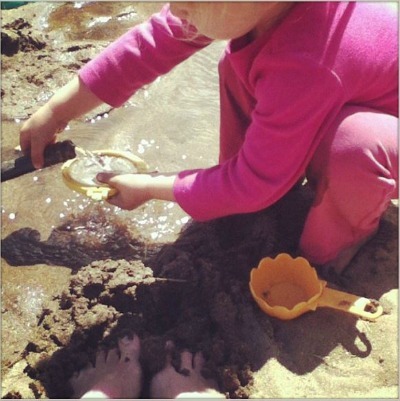 Me sitting with my daughter and getting my toes in the sand
9. Count your blessings
Intentionally focusing on the good things in life does a lot to lift spirits. It brings the important things into focus, causing stress (at least some of it) to fall away.
10. Proactively train children to help around the house
The stress of trying to do it all is monumental. We won't ever do it all, nor should we. Teaching kids to do their part in maintaining the home, leaves a lot less for mom to do (and worry about).
11. Get Organized
Disorganization can be a huge trigger for stress.
If you ever feel overwhelmed by emails, projects, lists, or simply trying to get things done during the day, something needs to change.
One of the best solutions seems to be creating a workable system within your home.
I'm not an expert or organization and have struggled a great deal with setting up systems. What helped me the most was going through a program created by people who also have families and busy lives, but have made ways for their home to function at its highest capacity.
The most thorough program I've seen is STEP Mastery from Learn Do Become. It was created by a husband and wife team (April and Eric Perry) based on the work of David Allen's book Getting Things Done.
Honestly, I've looked at a lot of programs (a LOT) and this is the best!
They walk you through everything, step-by-step. Help you learn how to set up systems that make life so much easier, and get that worry off your mind because you have a workable plan in place.
I purchased this program at the beginning of the year and it has been very helpful!
April and Eric also have a wonderful Facebook group for those in the program. They actually answer questions and provide a ton of encouragement.
Need Help?
Check out the free class: How to Finally Stop Drowning in Piles
One of my favorite parts of this program is that they teach how to get stuff off your brain so that you don't have to constantly think about it. She talks about how this brings more peace to life and how one can be fully present in the moment because a system is in place to deal with all of the to-dos, to-remembers, and every day activities.
I love the idea behind this system (it's based on David Allen's, Getting Things Done, but tweaked a little to suit the demands of motherhood). I'm currently setting it up in my home.
12. Eat protein
In her book, The Mood Cure, Julia Ross mentions how good-mood foods such as protein, healthy fat, and certain key vegetables help alleviate depression, irritability, stress, and other negative emotional states. I've tried upping my protein intake and found it to be very effective. It evens me out.
Try including protein at each meal, and also make snacks protein-based whenever possible.
13. Eliminate Stress Triggers, when possible.
For me that;'s staying out of crowded shopping centers! When I can, of course. Sometimes you just have to go for one reason or another.
Anyone else need a nap when they get home from Wal-Mart? I do. In fact, I avoid that store at all cost nowadays.
My point is, know what causes you stress and avoid it, if possible. Of course is it NOT possible to avoid all stress triggers, but if it's something like a certain store, do it!
14. Get familiar with"good enough"
If you are a perfectionist, you might be causing yourself a lot of unnecessary stress. It's great to do a good job, and wonderful to care about a project, but know that many times we spend countless hours perfecting something that was more than good enough a long time ago.
Stop spending hours tweaking and perfecting, trying to getting just one more thing right, when its not important. Only you can be the judge of that. But seriously, if I could have a few of the hours I spent working on my first child's two year old birthday party, I would!
15. Remember that Mommy is a person, too (and teach your kids this truth)
I have told my kids, " Mommy is a person, too." They need to know that I am not super-human. I need to rest, eat, and go to the bathroom by myself.
Yes, I do.
It's OK.
Please remember that YOU are a person. You must take care of you and not just the rest of the family.
16. Eat that frog
I first heard this term in Brian Tracy's book, Eat That Frog!: 21 Great Ways to Stop Procrastinating and Get More Done in Less Time
(an awesome book, and great on audio, too). It's actually a quote from Mark Twain:
Eat a live frog first thing in the morning and nothing worse will happen to you the rest of the day.
-Mark Twain
Doing the biggest or most disliked item on my to-do list first thing in the morning saves me from worrying about it throughout the day. This way there's nothing hanging over my head, and the sense of accomplishment gives me a boost that seems to spur me on to more productivity.
17. Pray
"Cast all your anxiety on Him because he cares for you." 1 Peter 5:7
Share your concerns with God. Do it every day. Ask for His help. He made you and knows all, so who better to talk to!
18. Read the Bible
God's word is full of wisdom and truth. Reading it regularly shapes our worldview. It helps us see what is really important and brings comfort to our earthly days. We know that this life here is not all there is; the best is yet to come.
19. Exercise
Exercise is an excellent way to reduce stress. when you feel wound up, take a walk, run, or jog. It's amazing how different one can feel afterward!
Exercising boosts endorphins which make you feel good. Any form of exercise will do. Just get moving. And move often.
20. Sleep
You already know it, but I'll say it anyway: you need to sleep!
Problem-solving is much harder without sufficient sleep. Life, in general, is much harder without sufficient sleep!
It's difficult to get everything done and sleep enough, but something's going to give.
As someone who ran on very little sleep for a long time, I'll tell you this: the world looks a lot different when you sleep enough.
What would you add to this list? What helps you stress less?