This post may contain affiliate links which won't change your price but will share some commission.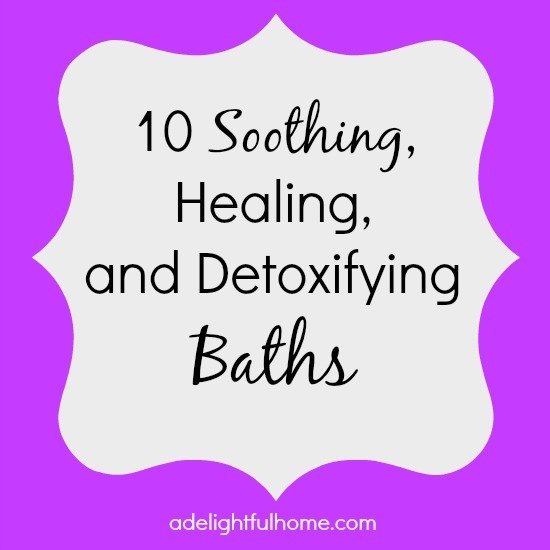 When I think of a bath, I usually think of a time to relax and let the stress of the day drain away.
Baths are a pretty rare thing for this busy mom, and they probably are for you too. But, perhaps we could find time for a few more soaks in the tub once we think about the extra health benefits a bath can bring.
Baths are a great way to detoxify the body and also an excellent method for treating illness.
Today I'd like to share with you ten baths to soothe you body and mind as well as give you a health boost:
 1. Bath tea
Create a bath tea by placing some herbs in a large muslin tea bag (about 1/2 to 1 cup dried herbs) and floating the bag in the tub, or brew a concentrated tea on the stove top and pour into the tub (after straining).
Use one herb or a mixture of herbs. It is also nice to add a tablespoon or two of ground oatmeal to help soften the skin and a little sea salt for further detoxification. This energizing bath bag is a good example of how herbs can be mixed to create a pampering bath tea.
2. Oatmeal Bath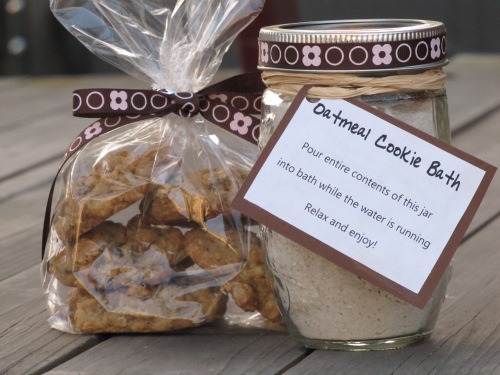 Oatmeal is known to help relive itching and is especially useful when soothing irritated and inflamed skin.
A simple oatmeal bath can be made by grinding 1 cup of oats until they are very fine. Sprinkling the ground oats in the tub while the water is running (try mixing a few teaspoons of the ground oats in warm water before filling the tub to be sure you have the ground finely enough).
You may also place the oats into a large tea bag or tie inside a piece of muslin (as I did with these bath bags).
Or, for something a little more fun, try this Oatmeal Cookie Bath (it's easy, makes great gifts, and smells wonderful)!
Here are few other ideas for using oats as part of a frugal skin care routine.
3. Seaweed
A seaweed bath is also helpful for detoxification. Find instructions for creating a seaweed bath here.
4. Baking Soda
Baking soda is a another method for relieving itchy or irritated skin and detoxifying the body.
To prepare a baking soda bath simply add 1/2 to 1 cup of baking soda to a tub filled with warm water.
Baking soda is excellent mixed with Epsom salt and is also a great addition to bath tea bags.
5. Epsom Salt Bath
Bathing in Epsom salt is a great way to get magnesium. This helps relax the body and also relieve aching muscles. Epsom salts are also helpful for detoxification.
To take an Epsom salt bath, pour 1/2 to 1 cup of Epsom salts into the tub as it fells with warm water.
If desired, add a drop or two of essential oil to the salts and stir together before pouring into the tab. Some Epsom salt already has oils added, such as those from Dr. Teals.
6. Clay Bath
Clay baths are well known as a detoxifying treatment. Simply add 1/4 cup to the bath water and soak, or for a more thorough detoxification, follow these steps from Jill's Home Remedies.
7. Bath salts
Bath salts are a fun way to create a a soothing and sweetly scented bathing experience.
Place 1 teaspoon of coconut oil in a small bowl and add 6 drops of essential oil (lavender is a good choice). Add 1/2 cup of salt (sea salt or Epsom salt are best) and stir to combine. Add 1/2 cup of this mixture to the bath while it is filling with water.
8. Cinnamon bath
In Rosemary Gladstar's Medicinal Herbs, A Beginner's Guide, she recommends a cinnamon bath to warm the body and relieve congestion. Cinnamon is not only warming and decongesting, it is also antispetic and antiviral.
To create a cinnamon bath salt for your soak:
Mix together: 1 1/2 tablespoons ground cinnamon, 1/2 tablespoon ginger root powder (optional), 1/2 cup sea salt.
Pour 1/4 cup into a bath filled with warm water. Stir the water to help distribute and dissolve the mixture.
9. Garlic Bath
Sound like a terrible idea? Well, Lalitha Thomas (in her book, 10 Essential Herbs) suggests it is actually relaxing, rejuvenating, and detoxifying. 
A garlic bath is an easy way to get a lot of garlic into your system, which is especially helpful when dealing with a cold or flu (or stress!). Lalitha Thomas also suggests that a garlic bath can help prevent illness, which may come in handy for moms tending to sick children.
To prepare a garlic bath: Use 1/2 t 1 cup garlic powder in a full tub of hot water.
10. Honey Bath
Honey is great for soothing the skin. Simple add 1/3 to 1/2 cup of honey to warm water and swish to dissolve.
Use honey alone or mix with oats or herbs to create a multi-purpose bath.
Maybe you'd like to give this Oatmeal Honey Bath a try:
Oatmeal Honey Bath
½ cup rolled oats
¼ cup powdered milk or 1 cup full-fat regular milk
2 Tbsp. honey
Place all ingredients in small, muslin bag (or a circle of fabric or cheesecloth). Hang the bag under the faucet as you fill the tub, so running water goes through the oats. Soak for at least 15 minutes.
Have you tried any of these baths?
What type of bath do you enjoy the most?