This post may contain affiliate links which won't change your price but will share some commission.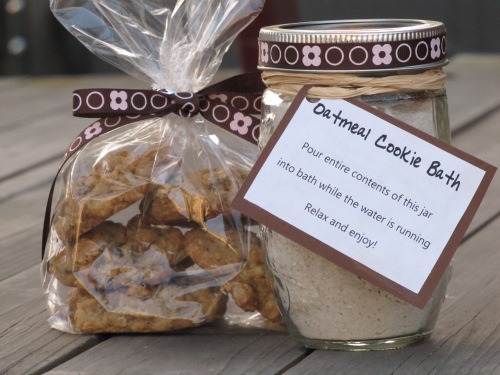 This gift would be perfect for any other gift-giving occasion (as long as the recipient likes cookies!).
It's easy to make and fairly inexpensive.
First, bake some oatmeal cookies. (I made the ones from Smitten Kitchen. Delicious!) Bag them up.
Next, make the oatmeal cookie bath recipe below and place into a glass jar. Be sure to include instructions for using the bath powder!
Oatmeal Cookie Bath

This recipe is adapted from Eco Beauty by Lauren Cox and Janice Cox, page 62. (Eco Beauty is packed with fun, simple recipes for scrubs, bath bombs, and masks. I love it.) The idea for pairing this cookie bath with actual cookies also came from the book.

Ingredients

1 cup rolled oats
1/2 cup baking soda
1/2 teaspoon ground cinnamon
1 tablespoon vanilla extract

Method

Blend all ingredients in a food processor or blender until they become powdery. You are looking for the mixture to become smooth, with  no big pieces left (as in, no whole oats floating around).

Pour into a jar with a tight fitting lid.

To use: pour all the mixture into a warm bath while the water is running. Soak and relax.
Before you think there is nothing more to this bath than smelling like a cookie, I'd like to mention that oats are great for softening the skin!
I also use this recipe in my 100 gifts in an hour plan!
For more homemade gift ideas, see the DIY category.