This post may contain affiliate links which won't change your price but will share some commission.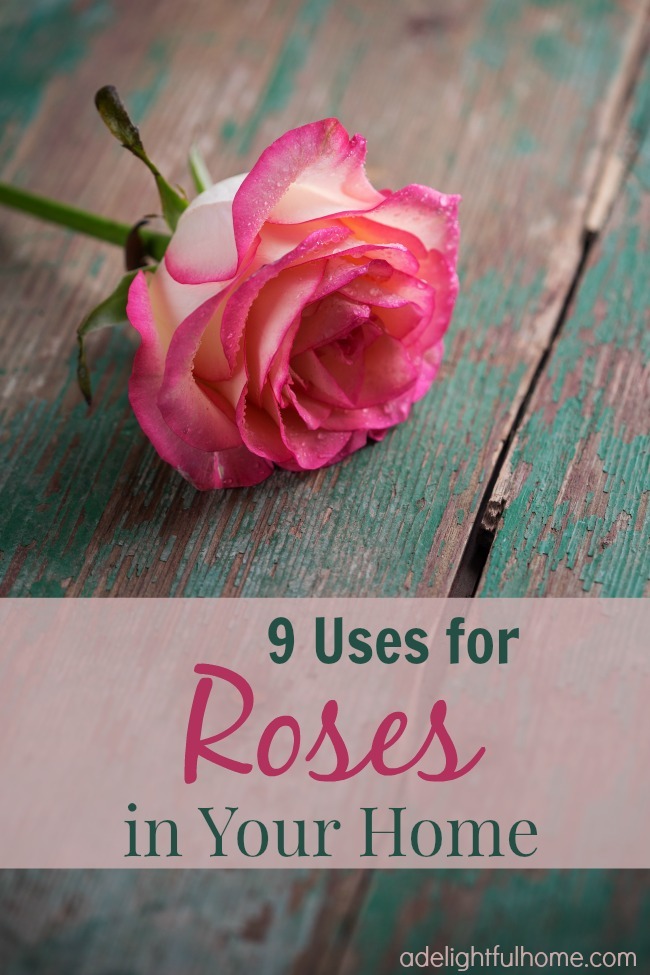 Guest post by Brittney Wren. 
Roses are sweet in many ways. They will brighten up your home while on display and can also be used around your home to improve health, to enrich your life with beautiful crafts, or to host elegant teas or luncheons.
Health Benefits
Roses have some powerful medicinal and therapeutic properties, which can be utilized in combination with other plants.
Detox: Rose petals can have a detoxifying effect when combined with green tea. For glowing skin with reduced acne and a smoother, lighter complexion, combine rose water with green tea leaves, flour, milk powder and turmeric. Apply the mask to your face and let sit for 15 minutes, then rinse with warm water.
Tone and moisturize: Add a tablespoon of rosewater to one cup of distilled water for a gentle toner to soften skin. Alternatively, use rosewater to re-hydrate a sunburned face, or to clear redness from acne-prone skin.
Anti-inflammatory: For a natural anti-inflammatory and antibacterial face mask, simply mash rose petals with water and honey, then apply to face.

Crafts
With their naturally beautiful and soothing scent, it's obvious why roses carry such universal appeal. Bring this appeal into your home permanently by using dried rose petals in decorative crafts around the house. To reap the full benefits of roses, order a high-quality rose bouquet from FTD. Once it's past it's prime, use it for these projects:
Dried flower bouquets: Instead of rushing your flowers to the garbage when they start to wilt, hang them upside-down from cupboard doors or a chalkboard in the kitchen with twine or ribbon and clothespins. Once the flowers have dried completely, leave them hanging or place them back in the vase. The dried buds will add a splash of color and a vintage vibe to inspire visitors.
Scented sachets: Dry rose petals, lavender or other flowers for sachets. Sew little bags out of clean cotton fabric and scraps of lace. Fill the bags about half full and tie shut with a thin ribbon. Use the sachets to fill dresser drawers, or send sweet "thinking-of-you" notes to your mom, sister or best friends.
Votive candle holders: Create beautiful votive candle holders in just a few easy steps. First, press flower petals in waxed paper between the pages of a heavy book. Then, choose a shot glass or other small glass container to decorate. Gently smooth decoupage glue onto the clean surface of the glass, then smooth out the dried petals in a loose design of your choice. Paint over the project with one more layer of glue to set the petals permanently.
Edible Ideas
Want to add a new element of elegance to the parties you host? Try recipes infused with cool, sweet homemade rosewater. If you choose this option, be sure the roses you're using are food-grade, meaning they were grown without the use of pesticides.
Rose whipped cream: Celebrate a Sunday afternoon with the girls in your life by setting a proper English tea with a Persian flair. Serve scones with rose whipped cream instead of the traditional clotted cream.
Rose lassi: Cool down a hot Indian curry recipe with a delicious rose lassi. Simply combine rose water in a blender with yogurt, sugar, cardamom and ice cubes for a smooth treat.
Sugared rose petals: Surprise your kids with a cupcake decorating experience more memorable and grown-up than the classic fondant or piped icing: sugared rose petals. The recipe is simple, and the finished petals will beautify any cupcake.
What are your favorite ways to use roses?
You might also enjoy: Things to Make with Dried Roses
Brittany Wren works in higher education. She's all about backpacking, traveling, poetry and good coffee. On the weekend, you're likely to find her with her nose in a book or working on (a seemingly endless supply of) house projects in her 100-year-old home.