This post may contain affiliate links which won't change your price but will share some commission.
If you had told me many years ago when I was a vegetarian, that one day I'd be making (and using) balm made with beef tallow, I would have said you were crazy!
So why would I even try this?
The main reason: tallow is deeply nourishing to the skin.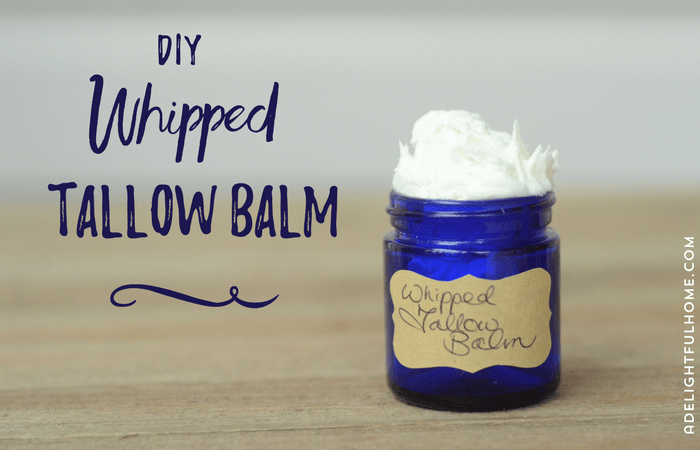 In fact, the composition of beef tallow is 50 to 55 percent saturated fat, much like our cell membranes, making it extremely compatible with our skin biology. (Source).
Beef tallow absorbs easily and is very effective in treating dry skin. It's often recommended for those with eczema and even though to aid in treating Keratosis Pilaris (red bumps or "Chicken Skin"), diaper rash, wrinkles, rashes, itching, and more.
I felt instant relief when applying to an itchy eczema rash!
Besides aiding the above, it's also a wonderful beauty treatment. Since it is so well absorbed and full of good fats, tallow does the work of an expensive jar of anti-aging cream, plumping the skin and helping it maintain integrity and firmness.
WHAT IS TALLOW?
If you've read this far and are thinking, "that sounds great, but what on earth is beef tallow?" click here to read about what it is and how it's made.
Where to find tallow?
Tallow can be made at home via a slow melting process or purchased premade.
I usually buy mine from Fatworks (available on amazon) or US Wellness Meats.
It's important the tallow you use to make tallow balm is from a reputable source. Tallow should be from pasture-raised sheep or cows that are 100% grassfed.
How to Make Whipped Tallow Balm
Before beginning, I should tell you that it is not necessary to whip the tallow balm, however, doing so results in a light, fluffy texture that is easier to apply.
The unwhipped version is not difficult to apply, this is just a little nicer. But, feel free to make the following recipe and skip the whipping step if you'd like.
Here's a picture of whipped and unwhipped versions (one is slightly green because I used Tamanu oil in place of the olive oil):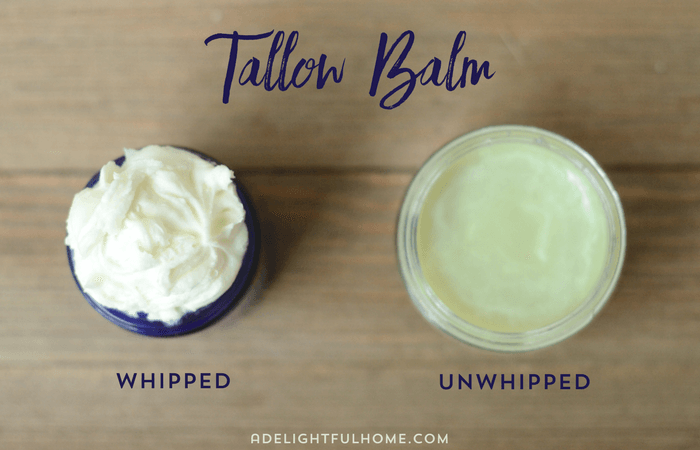 This process is very much like making a whipped body butter although it usually takes less time.
Ingredients
3 ounces tallow (I used this brand)
1.5 tablespoons olive oil or avocado oil (I buy Avocado oil from Mountain Rose Herbs)
15 drop lavender essential oil (I like this brand)
Instructions
Melt tallow over low heat.
Once melted, remove from heat. Add the oil and stir to combine.
Add the essential oil and stir to distribute throughout.
Pour into a heavy bowl to cool.
Once the mixture has cooled, use a handheld beater or stand mixer to whip to a fluffy consistency.
If the mixture has become too hard to whip, warm briefly. You are trying to catch the mixture when it is not too warm or too cold. If you start beating too early it will take forever, but if you wait too long, it may be too hard to beat.
Note on the amount of oil: this recipe can be adjusted to include more or less olive/avocado oil. It is used to help make the balm spreadable, but also has its own skin-nourishing benefits. Using more oil will create a softer balm, less oil will result in a firmer balm.