This post may contain affiliate links which won't change your price but will share some commission.
Ever wondered how to use Sweet Almond oil in homemade skincare? Perhaps you've asked questions such as Is it ok for the face? Can you use sweet almond oil on hair? What is the shelf life of sweet almond oil?
Today we will answer those questions (and more).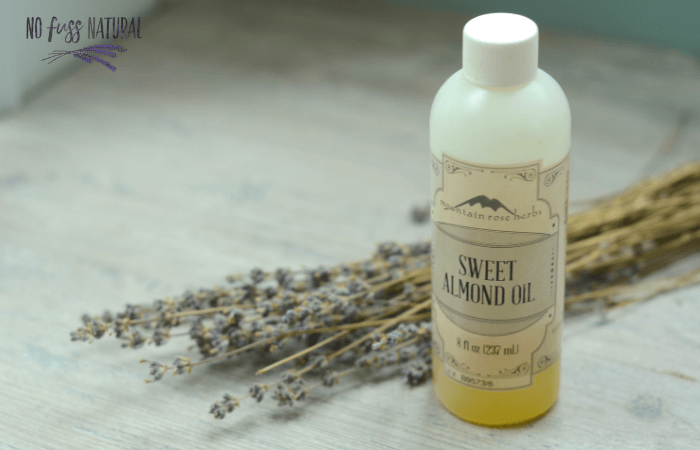 Before we start, I'd want to quickly share that we like to highlight and deep-dive into various natural body care ingredients here at No Fuss Natural from time to time.
Knowing more about what ingredients are available and how to use them allows you to make the most of the ingredients and supplies you have on hand. It also enables you to create targeted products that suit your specific needs. A few other ingredients we've covered so far:
Now, let's talk about Sweet Almond Oil…
What is Sweet Almond Oil?
Sweet Almond oil is pressed from the ripe seeds of the almond tree. The oil is rich in vitamins A and E as well as the fatty acids, proteins, potassium, and zinc.
It is an excellent carrier oil or an ingredient which works well in body care products.
A perfect moisturizer for skin and hair. It is often used in soap recipes as well since it creates a good lather.
Please note that almond oil comes in two variants; bitter and sweet. Bitter almond oil, though is used in some body care products but can not be ingested, it is not edible, because it is poisonous to humans. As such, it should be avoided. (Learn more about the differences here.)
Why Use Sweet Almond Oil in Homemade Skincare Products?
There are a few reasons you might consider using this oil in homemade skincare:
It's one of my favorite oils to use in DIY skincare because it is so versatile. Plus, it's one of the least expensive carrier oils available (it's on sale at Mountain Rose Herbs this month too). It can be used in many different products, from lip care to hair, to body butter and more.
This oil is fairly inexpensive, which means you can use it as a large portion of a skincare recipe or formulation. Consider this a great benefit as the cost of some carrier oils can drive the price of homemade skincare products quite high.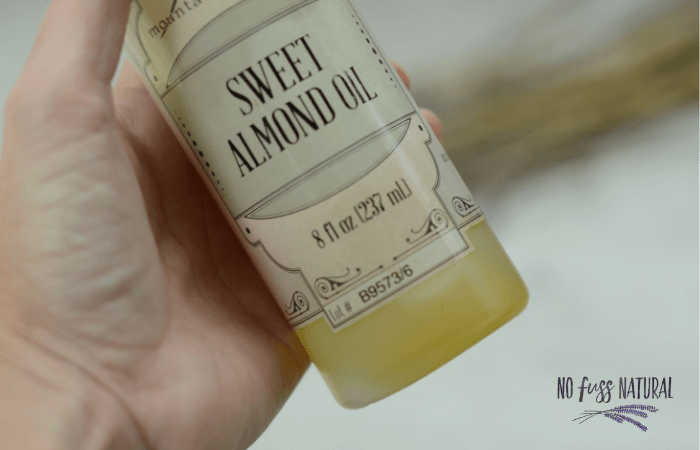 The scent of sweet almond oil is fairly mild. This is helpful as it doesn't overpower other fragrances you're trying to highlight in your homemade products (like essential oils).
This oil is usually a light yellow color. As with the scent, this is helpful when creating natural skincare products because it won't overshadow other colors or shades you might wish to use.
What Skin Type is Suitable for Sweet Almond Oil?
It's suitable for most skin types (although you should definitely avoid it if you have a nut allergy).
What is the Shelf Life of Sweet Almond Oil?
About 12 months (1 year). To prolong shelf life store in a cool, dark place.
How to Use Sweet Almond Oil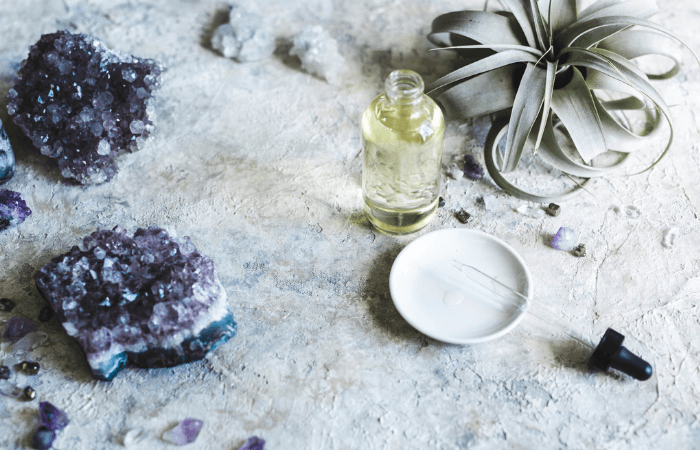 Sweet almond oil works well in MANY cosmetic products. It's great for a variety of topical applications. Here are a few ideas for incorporating it into your homemade skincare:
massage oil
lip scrub
lotion
bath oil
makeup remover
soap
use as a carrier oil to dilute essential oil
Can I use Sweet Almond OIl on My Face?
Generally, the answer is yes. It is suitable for most skin types and can be used as a make up remover, in eye creams, facial serums, and lotions.
Obviously, if you experience any sort of reaction, remove immediately and discontinue use.
Do not use if you have an allergy to tree nuts.
Can I Use Sweet Almond Oil on My Baby?
The answer to this is, it depends. In one sense, this oil is usually well-suited for sensitive skin, so that makes it a good candidate for use on baby skin. However, I often avoid it in the early months due to the risk of allergies. If there is any risk or possibility of a child having a nut allergy, then do not use it.
Can I use Sweet Almond Oil in My Hair?
Yes! It's great for hair.
The fatty acids and conditioning properties help make hair silky smooth. I personally use it to create a DIY Rosemary Hot Oil hair treatment but it can be used cold, without heating.
For an un-heated oil hair treatment, simply rub a small amount of oil between the palms of your hands and gently massage into damp or dry hair.
It also works well as a massage oil for the scalp. Try adding a drop of rosemary essential oil to two teaspoons of carrier oil for a fragrant scalp treatment.
As you can see, there are many ways to use this inexpensive oil. I hope you'll give some of these options a try. If you do, let me know what you think.