This post may contain affiliate links which won't change your price but will share some commission.
DIY Coffee Body Scrub is easy to make and smells amazing! The invigorating scent of coffee coupled with increased circulation when applying this body scrub, will wake up any sleepyhead. This unique scrub is very attractive in a clear jar as the dark coffee grounds really stand out.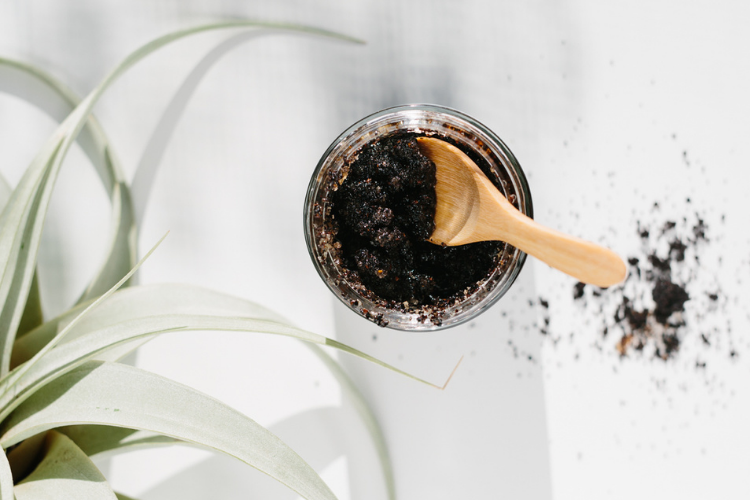 There's more than one way to make a coffee body scrub, so I'm going to share a few of my favorite methods with you. The great thing about all of these is that they use simple ingredients that you'll likely have in your kitchen. The only true "body care" ingredient you'll find in a few of these recipes is cocoa butter. If you don't have any on hand, use one of the recipes below that does not contain it.
What is a Coffee Scrub?
A coffee scrub is a body scrub that uses coffee as part (or all) of the exfoliant. It is generally made for the body and not the face and may be helpful in removing dead skin cells and reviving the skin.
Why Use a Coffee Body Scrub?
There are two main reasons you'll want to make a coffee body scrub:
Coffee body scrub smells amazing!
The scent of coffee pairs well with sugar (which is also used in homemade scrub recipes) and it does a great job of uplifting your mood and invigorating the senses. Coffee also pairs well with other ingredients often used in body scrubs such as cocoa butter and vanilla.

Coffee is a great exfoliant
Like sugar, coffee is an excellent exfoliant and helps remove dead skin cels, leaving the skin feels soft and smooth.
Can Coffee Scrubs Help Lessen Cellulite?
Some report that body scrubs made with coffee can help reduce the appearance of cellulite. This is likely due to the fact that the topical application of caffeine-containing ingredients may aid in the dilation of blood vessels, which can improve blood flow and tighten the skin.
While coffee scrubs won't get rid of cellulite altogether, it doesn't hurt to include it in your weekly body caret routine.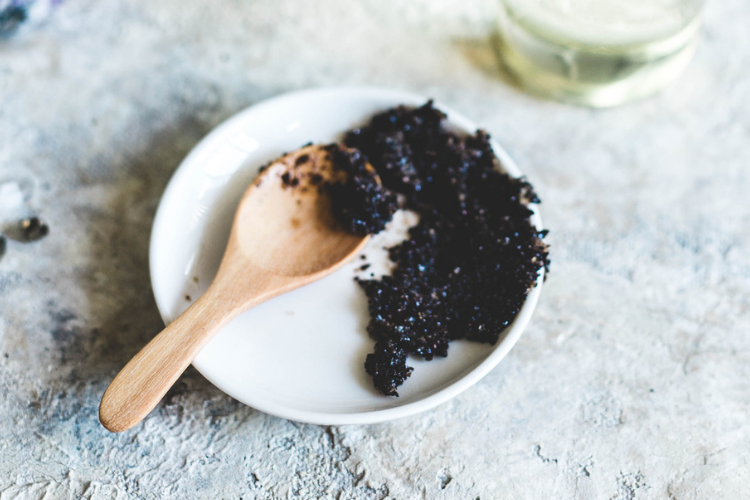 How to Make a Coffee Body Scrub
Make a coffee body scrub the same way you would make any other basic body scrub, just add coffee grounds. In general this means following a few basic steps:
Add exfoliants to a bowl – in this case it would be sugar and coffee.
Stir to combine.
Pour oil over the exfoliants and stir until well mixed.
Troubleshooting
If you are not pleased with the results, adjust accordingly:
If the scrub is too runny and slides right off your hands, add more sugar.
If the scrub is too dry, add more oil (a little at a time).
About the Ingredients
Below you'll find details regarding the ingredients often used in homemade coffee scrubs. Since I'm sharing more than one recipe below, note that not all of these ingredients are used in every recipe.
Coffee
Use ground coffee that is dry and has not been brewed. You could make a quick body scrub with brewed coffee grounds if you were to use it immediately. But grounds that have been brewed will not last long, so don't use them in any scrub recipe you intend to keep around for more than a day or so.
Also be sure to use ground coffee, not instant. Instant coffee won't keep it's texture for very long!
Brown or White Sugar
Sugar is an integral part of most body scrub recipes as it provides great exfoliant actions. Brown and white sugar work well with coffee and produce a nice scrub that is very effective. Sugar is much gentler than salt in body scrubs.
Cocoa butter
Cocoa butte creates a wonderful consistency and texture in homemade body scrubs. The solid nature of this butter is responsible for this.
Besides a thicker consistency, cocoa butter also provides a delightful chocolate scent. This chocolatey aroma pairs well with coffee and is a makes for a pleasant scrubbing experience! That is if you like chocolate!
If you do not care for cocoa butter, kokum butter is a great substitute. Read more about kokum butter here.
Coconut Oil
Some coffee scrub recipes call for coconut oil. This adds a nice thickness to the scrub, but not quite as much as cocoa butter does. The emollient properties of coconut oil also provide excellent moisturizing actions to the skin. I use unrefined coconut oil, which does have a coconut scent. If you prefer less coconut fragrance, use a naturally refined coconut oil.
If you are allergic to coconut oil, or simply want to make a diy coffee body scrub without coconut oil, Babassu oil makes a great substitute. Read about using Babassu oil as a coconut oil substitute in DIY skin care recipes here.
Related: 10 Ways to Use Coconut Oil in Natural Skin Care
Sweet Almond, Grapeseed, or Sunflower Oil
You can choose most any nourishing oil for use in coffee body scrubs, but it is a good idea to select one that does not carry a strong scent. Oils with extremely noticeable aromas, such as olive oil, can overpower the coffee scent and take away from the intended fragrance. Sweet almond oil, grapeseed oil, and sunflower oil are excellent options.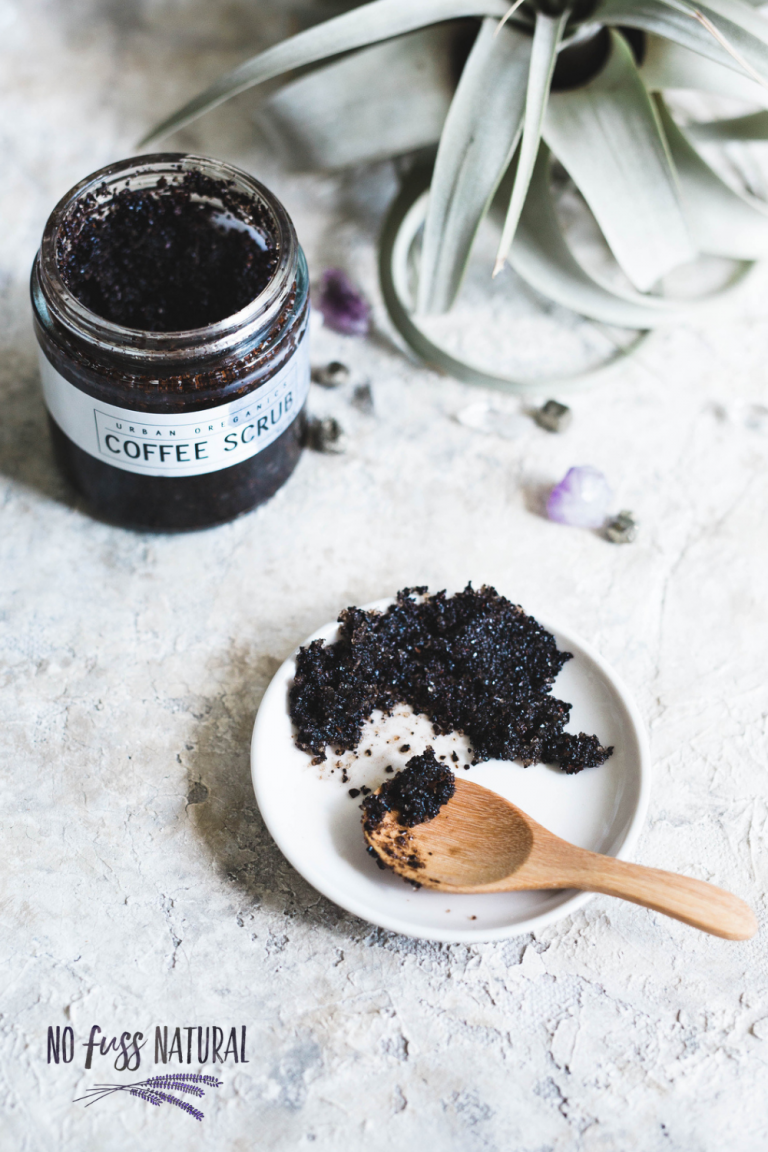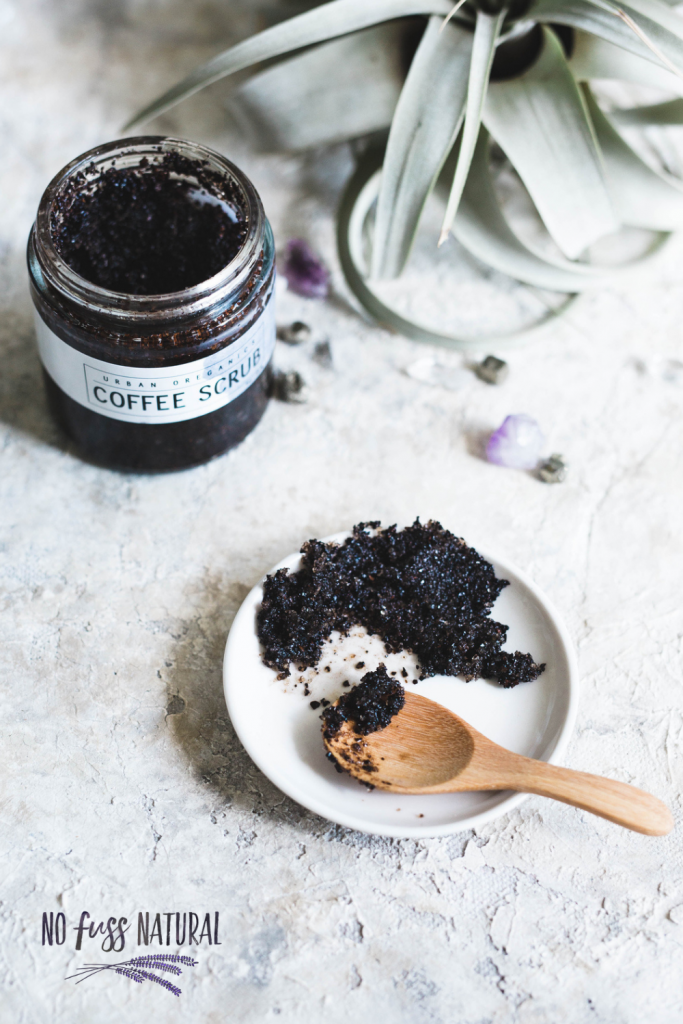 Basic Coffee Body Scrub Recipe
Ingredients
½ cup fresh coffee grounds
½ cup white or brown sugar
⅓ cup coconut oil, melted
⅛ cup sweet almond or grapeseed oil
½ teaspoon vanilla, optional

Directions
Place coffee and sugar in a bowl and stir to combine. Add the melted coconut oil and sweet almond oil, and vanilla, if using. Stir until well combined.
Finally, add the grated cocoa butter and stir to distribute evenly.
Scoop into a jar.
Do not use scrubs on skin that is windburned, sunburned, or broken in any way.
Mocha Body Scrub Recipe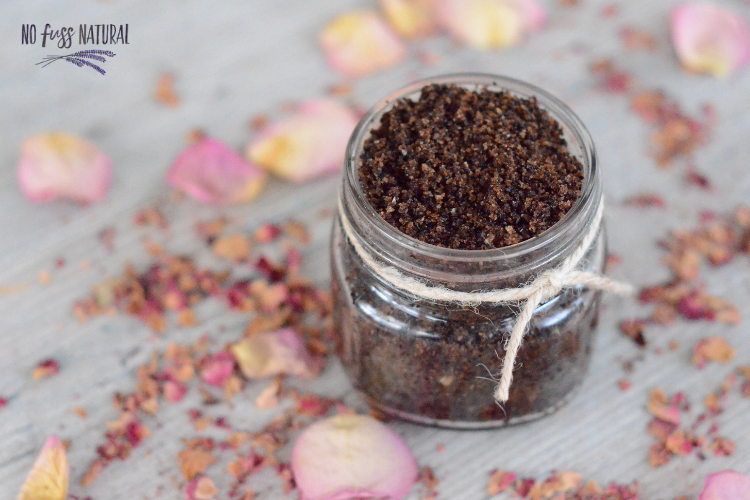 Ingredients
½ cup fresh coffee grounds
½ cup white or brown sugar
⅓ cup coconut oil, melted
⅛ cup sweet almond or grapeseed oil
½ teaspoon vanilla
1 teaspoon grated cocoa butter
½ Tablespoon cocoa powder
Instructions
Place coffee and sugar in a bowl and stir to combine. Add the melted coconut oil and sweet almond oil, vanilla, and cocoa powder. Stir to combine once more.
Finally, add the grated cocoa butter and stir to distribute evenly.
Scoop into a jar.
Do not use scrubs on skin that is windburned, sunburned, or broken in any way.

Brown Sugar and Chocolate Coffee Scrub Recipe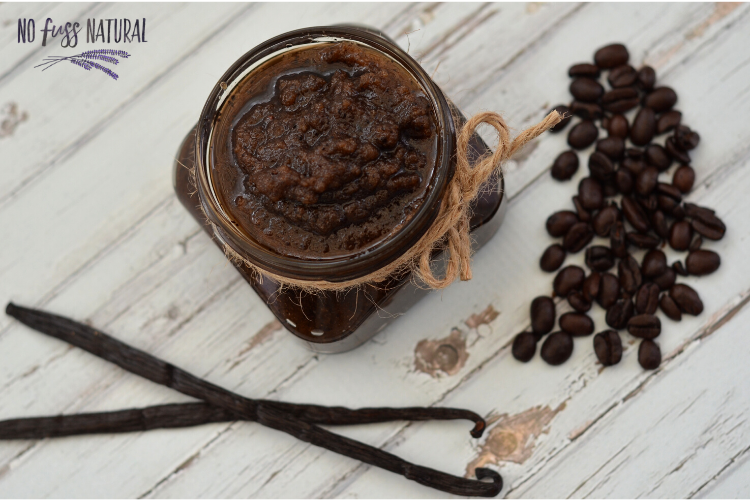 Directions
Melt cocoa butter over low heat and allow to cool briefly before pouring over sugar.
Leave to cool and harden, then stir in the almond oil and coffee grounds.
Mild Coffee Body Scrub Recipe
This coffee scrub recipe only uses a little coffee for that uplifting scent and added texture.
Ingredients
1 cup brown sugar
1⁄3 cup oil (sweet almond or grapeseed)
1 tablespoon coconut oil, melted
2 teaspoons ground coffee
Directions
In a clean bowl mix sugar and oil. Once combined, add the ground coffee and stir to combine.
Spiced Coffee Body Scrub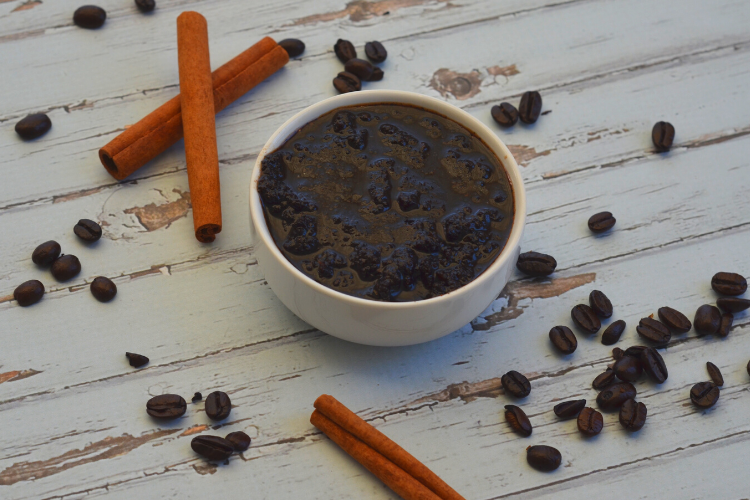 This scrub is sure to wake you up. The coffee aroma is pure delight!
Caution: Because of the inclusion of a large amount of cinnamon, this scrub should not be used by pregnant women or those with sensitive skin. It can be made without the cinnamon if you wish.

Ingredients
1/2 cup brown sugar
1/2 cup ground coffee (dry grounds, not previously used)
1 tablespoon cocoa butter
1/4 cup coconut oil
1/4 cup sweet almond oil
1 teaspoon ground cinnamon
Yield: approximately 1 cup
Directions
Melt coconut oil and cocoa butter over low heat. Once melted, allow to cool briefly. Place sugar coffee grounds and cinnamon in a bowl. Add almond oil and pour cooled cocoa butter/ coconut oil over the top. Stir to combine.
Place into jars and label. Be sure to include precautions mentioned above.
Note: This scrub can be fairly messy to use because of the large amount of coffee ground included. Be sure to leave enough time to wash off thoroughly or reserve for use as a foot scrub.
If you enjoy this spiced coffee scrub, you might also like my Cinnamon Spice Body Scrub recipe.
Coffee & Cocoa Lip Scrub Recipe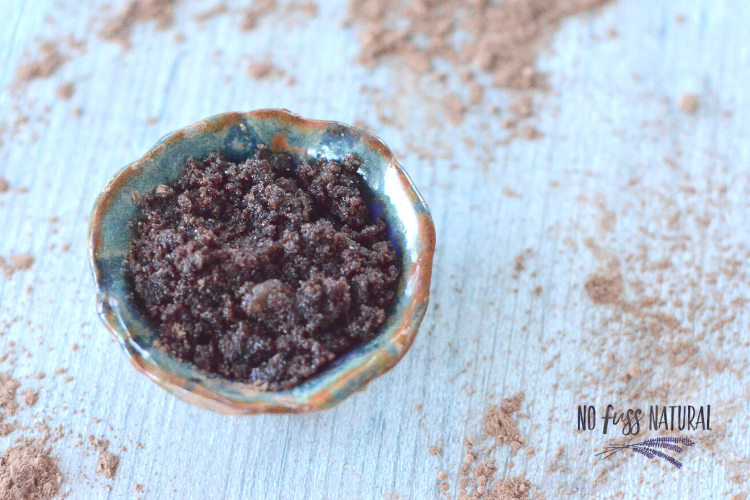 Coffee can also be a handy addition to homemade lip scrub. Here's my favorite recipe:
Ingredients
1/2 teaspoons white or brown sugar
1/2 teaspoon coffee grounds
1/8 teaspoon cacao powder
1/4 teaspoon honey
1/2 teaspoon grapeseed or jojoba oil (can substitute another oil, if needed)
Directions
Mix sugar and cacao powder in a clean bowl and stir to combine. Add the honey and oil and stir again until well blended.
To use
Gently rub scrub on your lips in circular motions. Wash off with warm water and a washcloth. Apply a light coat of coconut oil or all-natural lip balm (like the chocolate-mint lip balm below).
If you'd rather not apply with your fingers, use a clean toothbrush (maybe not one you'd like to brush your teeth with again!)
DIY Coffee Scrub Cubes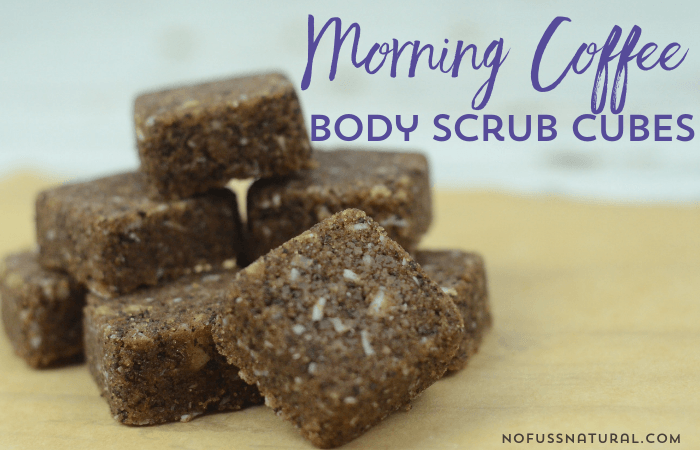 This is a fun and unique way to enjoy (or gift) a coffee scrub.
Want more body scrub recipes?
Check out my ebook, The Body Scrub Bible!