This post may contain affiliate links which won't change your price but will share some commission.
Kokum Butter comes from the fruit of the Garcinia tree, also known as the Kokum tree (grown in the central east region of India).
The butter contains antioxidants and vitamin E, making it ideal for skin care.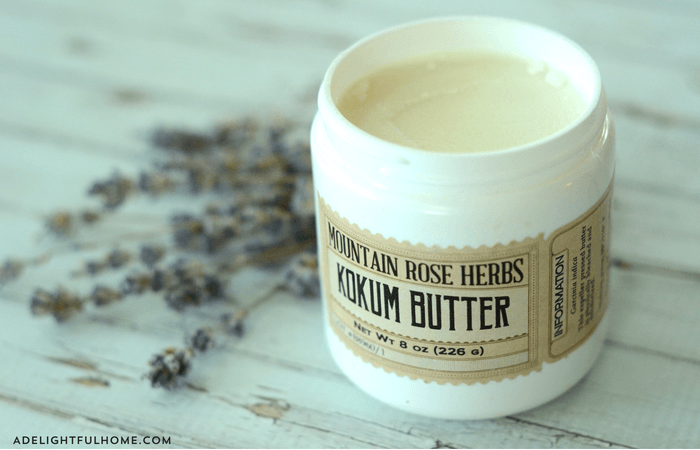 This butter is non-greasy and is absorbed into the skin once it is applied, but works best when mixed with other butters for skin care application.
The oil is expeller pressed and refined.
Kokum is pronounced, Coke-um (which is what I might say if I found my child drinking a coke at breakfast one morning. Although I'd likely add a question mark to the end of it. As in, "Coke? Ummmm? What am I seeing?" 🙂 )
Kokum butter can be added to lip balm, body butter, lotion bars, lotions, soaps, and more.
Because the butter is by nature, dry and flaky, it may appear to have gone bad, but is perfectly fine. In fact, it has quite a long shelf life (18-25 months).
Having a similar make-up to Cocoa butter, Kokum butter works well as a substitute in most recipes.
This is great news if you don't care for the smell of Cocoa butter since Kokum butter has almost no scent at all.
It is also lighter in color than Cocoa butter which may be helpful depending on the desired result of the product you are making.
The firmness of this butter is especially helpful when making vegan products because you can sometimes forgo beeswax when needing to solidify or thicken a salve, balm, lotion, or body butter.
If you'd like to listen to me share a little about this useful butter, watch the Facebook live video below:
Kokum butter is on sale at Mountain Rose Herbs this month, so it's an excellent time to get some an experiment with it in various recipes.
Mountain Rose Herbs always has great monthly sales so be sure to check out what they have to offer.
Click here to share this post on Pinterest.