This post may contain affiliate links which won't change your price but will share some commission.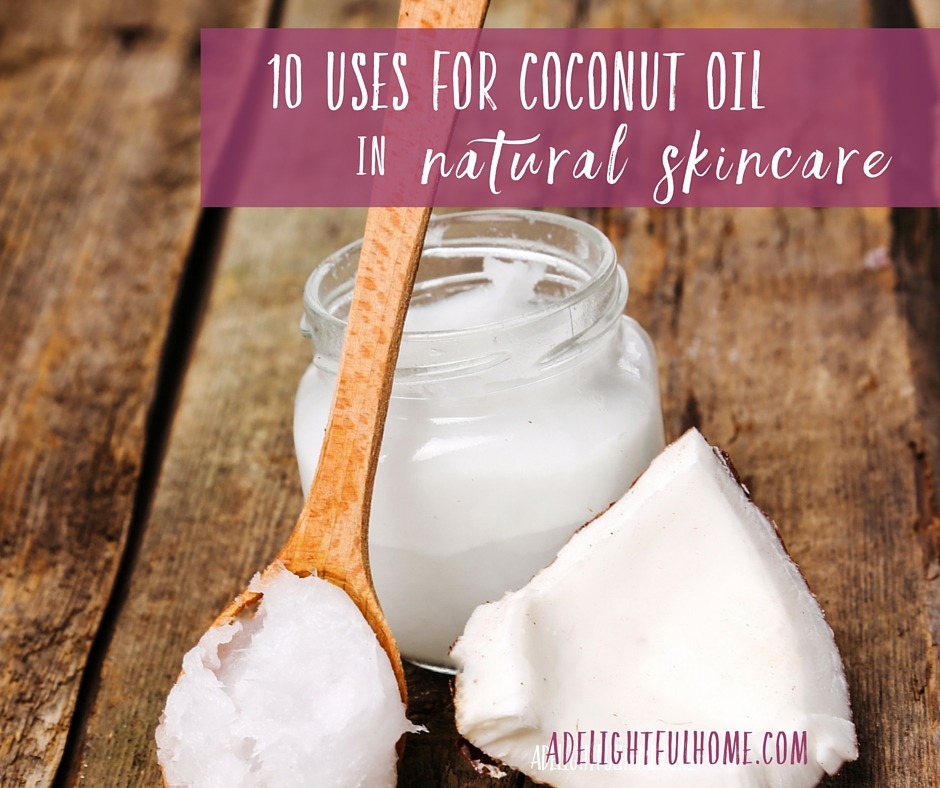 Coconut oil is one of the ingredients I always keep on hand. It's not only a staple in my kitchen (especially for making sweet treats like this), but it's also frequently used in my favorite DIY skincare products. I love (and use) coconut oil so much, I buy it by the the gallon!
I consider coconut oil and essential ingredient! It's one of my top must-haves for DIY natural body care.
When it comes to skincare, coconut oil is an excellent moisturizer. It is also perfectly suited for use in salves, lotion bars, body butters, massage oils, and even aromatherapy baths.
As long as temperatures are below 76 degrees F, coconut oil maintains a thick, sold texture. However, even in this state, it melts rapidly upon contact with the skin. Coconut oil is easily absorbed and does not clog pores.
Here are ten of my favorite ways to use coconut oil in natural body care products:
10 Ways to Use Coconut Oil in DIY Natural Skin Care
Use Coconut Oil as a Facial Moisturizer
I used straight coconut oil as a moisturizer for many years. It worked very well. Simply apply after washing and drying the face.
Of course, coconut oil may not be suitable for everyone, but it is often well tolerated by those with sensitive skin.
If you've wondered if (or why) oil is good for you skin, read this post: Why Oil is Good for Your Skin
Use as an Eye Make-Up Remover
Coconut oil works very well as an eye-makeup remover. Simply add a little to a washcloth an gently wipe over the yes (while eyes are closed!). Follow with warm water.
Obviously, this one where you need to be careful. As with all make up removers, be sure to avoid getting it in your eye.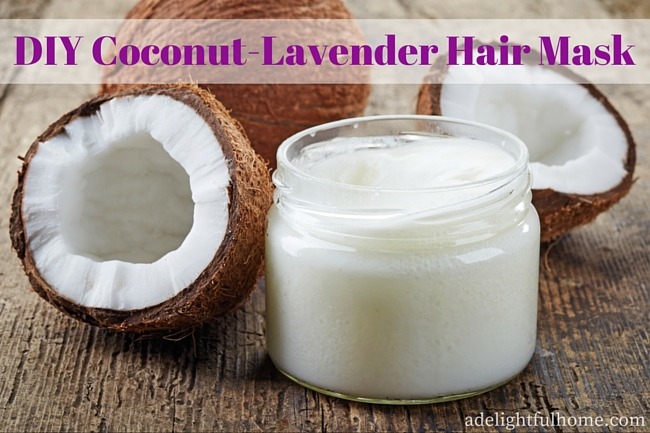 Use Coconut Oil to Make a Nourishing Hair Mask
I tend to lump hair care in with skin care…is that allowed?
Either way, it makes a great treatment for nourishing dry hair.
I love to create a simple hair mask with coconut oil by adding a few drops of essential oil then applying to dry hair. Just let sit for 20 minutes or so, then wash out.
You can find further instructions here: DIY Coconut-Lavender Hair Mask
Want more DIY hair treatment recipes and ideas? Go here to get my natural hair treatment ebook for free.
Soften And Soothe Dry Lips
Make a simple lip scrub by mixing 2 teaspoons of brown sugar with 1 teaspoon of coconut oil.
Gently apply to the lips with your finger or a toothbrush in small circular motions.
Wash off with warm water and follow with lip balm or straight coconut oil.
Find more natural remedies for dry lips here: 6 Natural Remedies for Dry Lips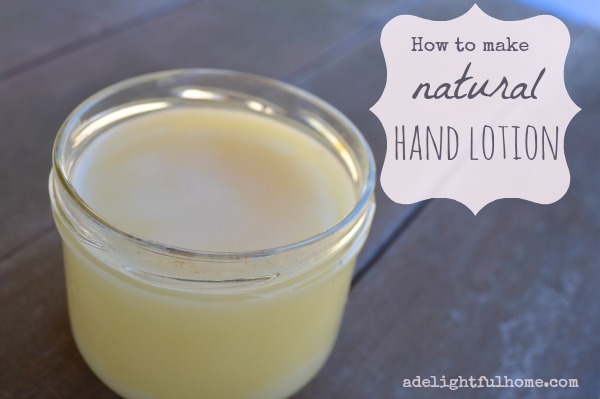 Make a Simple (Natural) Hand Lotion
Creating a simple, natural hand lotion is very easy. It just tastes melting a few ingredients together, stirring, pouring into a jar, then leaving it to cool and harden.
This simple hand lotion recipe is very easy and extremely moisturizing for dry hands.
Add to Body Butter Recipes
Body butter is excellent for moisturizing dry skin. Coconut is a wonderful addition to any DIY body butter recipes as it is not only nourishing and moisturizing, it is also healing.
Check out these posts for recipes:
Whipped Mango Body Butter Tutorial
Add to Sugar Scrub Recipes
I love to add coconut oil to sugar scrub recipes. It helps the scrub thicken and hold together as well as providing extra nourishment and moisture to skin.
You can add to almost any scrub recipe. Just use a little olive, sweet almond, or grapeseed oil to thin it out a bit.
You can see an example in this recipe: DIY Spiced Coffee Scrub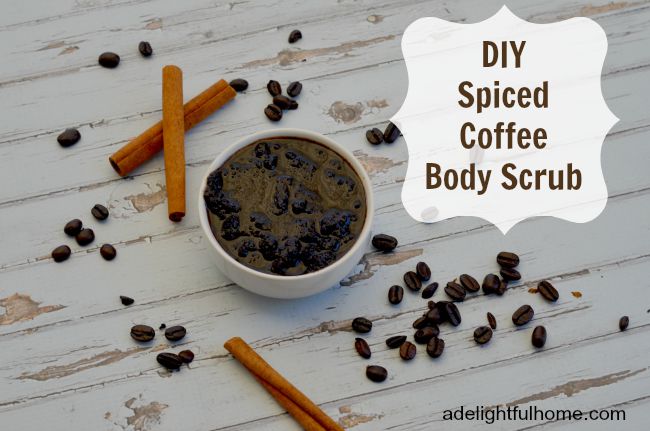 Need more sugar scrub recipes? Check out my eBook: The Body Scrub Bible
Create Soothing Bath Salts
Many bath salt recipes include essential oils. The problem is that most recipes simply add the oils to the salts and that's it. The issue with this is that the essential oils don't evenly disperse through the bath water. And some simple float on the top.
One way to help essential oils disperse throughout the bath and salts) and ensure they are diluted, is to mix with coconut oil before adding to the salt.
This soothing lavender-chamomile bath salts recipe is a good example of how to best prepare bath salts with essential oils.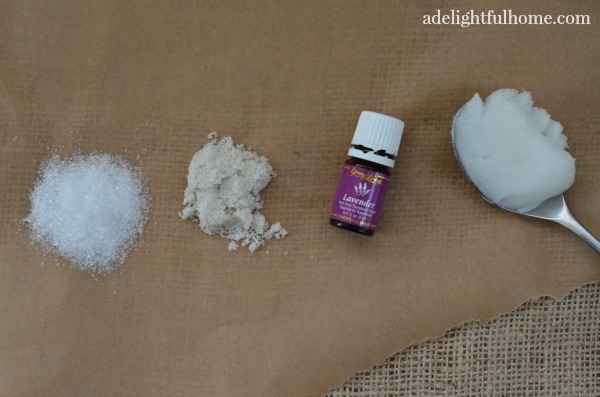 Make Lotion Bars
Lotion bars are very simple to make. In fact, they are so easy I usually recommend them as a starter recipe for anyone new to DIY natural body care.
All you need is equal parts coconut oil, beeswax, and cocoa or shea butter.
Get all the instructions here: How to Make Lotion Bars
Or see how to include lotion bars in a bulk gift-making session: How to Make 100 Gifts in an Hour.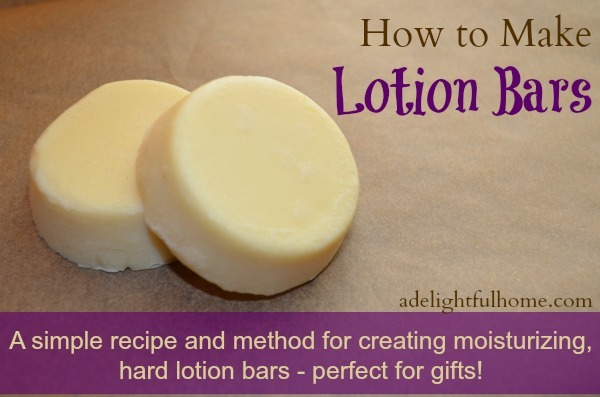 Make Lip Balm
The same recipe that is used to make lotion bars can also make lip balm. It works very well and allows you to make more than one thing at a time.
If you want to try a different recipe for lip balm, this Rose-Vanilla lip balm tutorial shows how to create a softening lip balm that adds shine and gloss to lips.
Where to Buy Coconut Oil
I often get coconut oil from Mountain Rose Herbs. It's one of the cheapest places to get it in bulk.
Since it's gaining in popularity, coconut oil is also available at many grocery stores. However, it's usually not in large enough containers!
Amazon also carries coconut oil from various brands in a variety of sizes.