This post may contain affiliate links which won't change your price but will share some commission.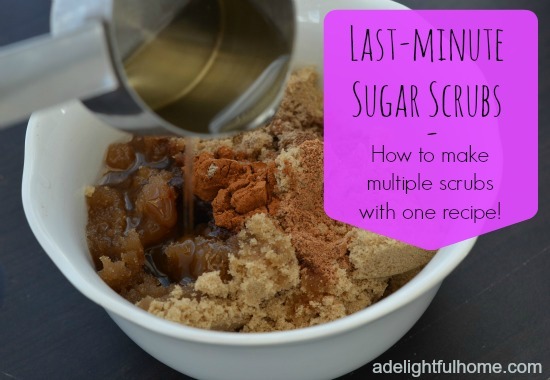 With Christmas just a few days away, you may find yourself running out of time to find gifts for everyone on your list.
If this is you, may I suggest sugar scrubs to the rescue?
Sugar scrubs are quick and easy to make and usually well received.
Today I'm going to give you the formula for making as many scrubs as you need. With this information, you could easily make 20, 50, or even 100 gifts in one afternoon. You could also just make one or two. It's up to you!
Because the ingredients in most sugar scrubs are fairly basic, you may already have everything you need. If not, a quick trip to the grocery store should remedy the situation.
What you will need to make sugar scrubs
Jars or containers – I like to use these 8-ounce wide mouth mason jars (you can buy them from Amazon, Target, and some grocery stores) because they hold about 1-cup of the mixture. Many suitable plastic containers are also available in grocery stores.
If you want to make the scrubs go further, put them in 4-ounce canning jars (these only hold about 1/2 cup).
Brown and/or white sugar – I usually use brown sugar, but white sugar is also great. Or, try a mixture of both. If making scrubs in bulk, Costco often carries large bags of sugar at a reasonable price. (Organic sugar is also available from Amazon).
Oil – a light oil usually works best. Generally, I use grapeseed, sunflower, sweet almond, or light olive oil. Use one oil or mix a few together.
Essential oils or vanilla for fragrance – My favorite scents are sweet orange, lemon, and lavender. Vanilla is also wonderful, and it is especially helpful if that's all you have in the kitchen cabinets!
Making the scrub base
Build a basic sugar scrub base by using a ratio of 1 cup sugar to about 1/2 to 3/4 cup oil.
Start with the lesser amount of oil and add the remaining amount of oil until the scrub is the desired consistency. Sugar scrub should hold together and not slide right off your hand.
Add 5 or so drops of essential oil per cup or 1 teaspoon of vanilla.
Use this formula to make as many scrubs as needed.
For example, if you wanted to make 20 scrubs to go in 1-cup jars, you would mix 20 cups of brown sugar with 10-15 cups of oil. You would need to add 100 drops of essential oil ( or approximately 6 tablespoons of vanilla).
To make Multiple scrubs (or differing scents):
Instead of adding the essential oil can be added to the entire mix to make one type of scrub for everyone, spoon the sugar/oil mixture into jars and add 5 drops of essential oil to each individual jar and gently stir with a wooden skewer to combine (this way you can make a variety of scrubs with one base).
So, there you have it. Sugar scrubs for everyone!
If you'd like more detailed information and lots of recipes, check out my eBook: The Body Scrub Bible. USE CODE: HOLIDAY50 for 50% off!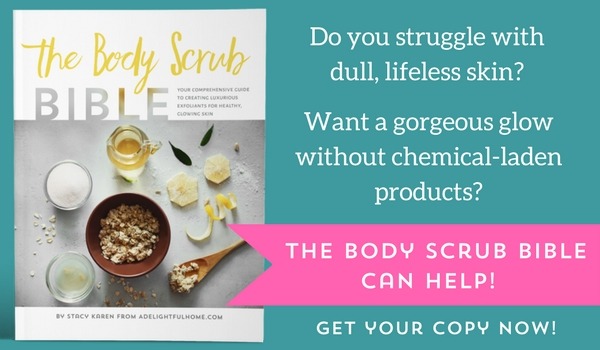 What's your favorite sugar scrub combination?
This post contains affiliate links.
Originally published Dec 22, 2013.