This post may contain affiliate links which won't change your price but will share some commission.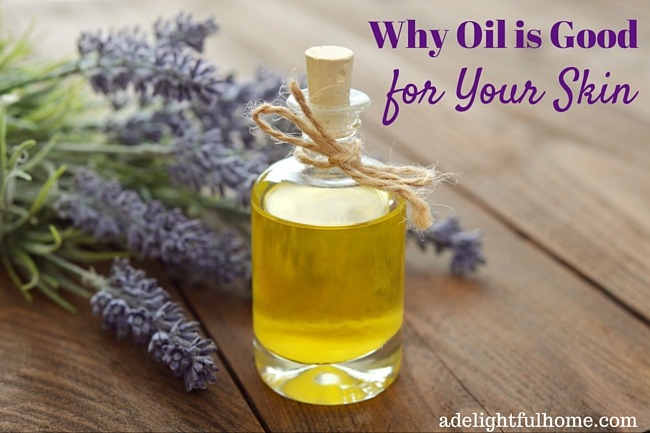 If you run in natural living circles, you may have noticed the popularity of the oil cleansing method in recent years.
You may have also noticed people using oil as a moisturizer for the body and face.
Perhaps you've wondered why oil is effective or if it's even possible to use on oily skin. Today I want to address a few of those questions.
Why Does Oil Work as a Skin Cleanser?
When I was first introduced to the oil cleansing method, I had no idea why oil worked so well to clean the skin. I just knew that those who used this method reported clean, soft, supple, and glowing skin.
Later I found out that basic chemistry explains the reason oil works so well: like dissolves like. 
In the Vintage Remedies Natural Skin Care Course, it was explained to me that this like dissolves like principle "allows oil to dissolve excess oil on the skin and remove dirt and build up." (from Natural Skin Care Development – Ingredients and Techniques. No longer in print.)
If you want to know more about the oil cleansing method, check out: All About the Oil Cleansing Method
How Oil Works as a Moisturizer
In the past, I've used straight coconut oil to remove eye make up and moisturize my skin. It works very well for me, but is not suitable for everyone.
Most oils are nourishing to the skin; they feed it without adding harsh chemicals or artificial ingredients. Oils coat the skin and help heal damage.
Oils can be sued alone, or mixed to combine the benefits of a variety of oils (such as in my eye moisturizing serum).
Some oils that work well to moisturize skin include:
Sunflower oil
Sunflower oil is light, with almost no scent. It is high in essential fatty acids and antioxidants. It has a decent shelf life of up to 15 months. It's a perfect addition to many natural body care products, such as salves, balms, massage oils, and moisturizing serums.
Olive oil
A heavier oil, olive oil often has a strong aroma so should be used as a small part of a recipe. It is an excellent skin softener and works well as part of a facial moisturizer, skin care balm, or vapo rub. It has a shelf life of up to 18 months.
Jojoba oil
Jojoba oil easily penetrates the skin without leaving an oily residue (it is actually chemically similar to human sebum! Which is pretty cool!), and is known for it's ability to balance oil production. Jojoba oil has a long shelf life and is known to be non-allergenic. It is used in many skin care products. The shelf life of Jojoba oil is around 4-5 years.
Rose Hip Seed Oil
Rose hip seed oil comes from rose hips seeds. It has a light aroma and soaks into the skin easily without leaving an oily residue. The high content of essential fatty acids make this oil very effective in healing and rejuvenating mature and damaged skin. Rose hip seed oil has a shelf life of approximately six months.
Tamanu Oil
Tamanu oil is a heavy oil with a strong scent. It is effective in treating damaged (it's even been shown to heal scarring, cuts, abrasions, and rashes). It is high in essential fatty acids and has anti-inflammatory, antimicrobial, and antioxidant properties. Tamanu oil has a shelf life of approximately one year.
All of these oils can be combined in various amounts to create a customized moisturizing serum for the face. 
What about Oily Skin?
I know it doesn't seem to make sense to use oil on oily skin, but often it is very effective. As I said above, like dissolves like, so using oil as a cleanser is really a great option.
When it comes to using oil as a moisturizer, you will need to experiment with various oils or look for serums that contain the right kind of oils (lighter, skin-balancing oils will be most useful).
Jojoba oil is one that you'll want to try since it helps balance oil production.
This is Day 28 in the 31 Days of Natural Beauty Series