This post may contain affiliate links which won't change your price but will share some commission.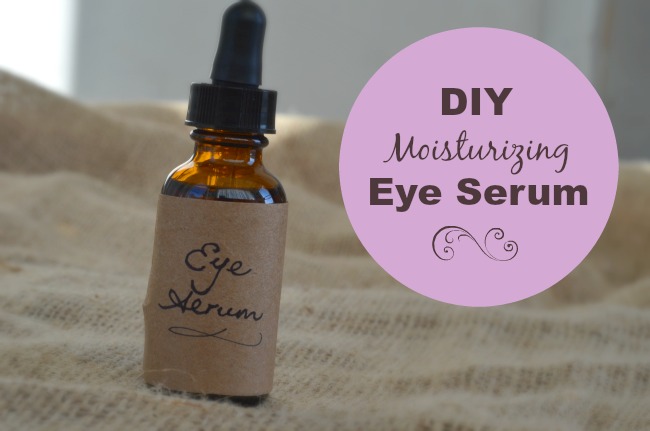 The delicate area around the eye should be treated very carefully. This ares can easily become dry, which allows wrinkles to form.
Of course, we are all getting wrinkles. And we don't aim to stop them completely! But, we don't want wrinkles to arrive before their time, right?
Applying a simple moisturizing serum to the area around the eye can help prevent skin from drying out and wrinkling prematurely.
The following recipe can be made in a matter of minutes and is much less expensive than buying a speciality eye cream or serum.
DIY Moisturizing Eye Serum Ingredients
This DIY moisturizing eye serum contains three oils: jojoba oil, avocado oil, and apricot kernel oil. They are mixed to provide a luxurious moisturizer, but you could actually use just one of these oils alone if the others were not readily available.
Jojoba oil
Jojoba oil easily penetrates the skin without leaving an oily residue. It has a long shelf life and is known to be non-allergenic, It is used in many skin care products.
Avocado oil
Avocado oil is extremely emollient, making it an excellent moisturizer. It contains vitamin A and E, which help promote collagen production and also improve the texture of skin.
Apricot Kernel Oil
Apricot kernel oil is well known for it's moisturizing properties. It is easily absorbed and helpful in tightening and softening the skin.
DIY Moisturizing Eye Serum Instructions
You will need:
2 teaspoons jojoba oil (where to buy)
2 teaspoons avocado oil (where to buy)
2 teaspoons apricot kernel oil (where to buy)
A dropper bottle or other small container for storage (these can be found here or here).
How to Make DIY Moisturizing Eye Serum:
Measure each oil and pour directly into the dropper bottle.
Place lid on bottle and shake to combine.
Add a label.
How to Use DIY Moisturizing Eye Serum
Use the dropper to dispense 1/8 teaspoon of oil into the palm of your hand (about half a dropper, if using the dropper that comes with a 1-ounce bottle).
Dip fingertip into the oil and gently pat (don't rub!) the oil around the skin surrounding the outer eye area.
Reapply once or twice (until the oil in your hand is used).
Warning: do not use directly on eyelid, eyelashes, or too close to the eye. Getting oil in the eye could cause tear ducts to clog!
Dab off excess oil with a soft cloth.
Apply daily, preferably at night time.
Notes:
As you can see, this recipe is made up of equal parts of each oil. This means that it's super easy to create larger (or smaller) amounts, as needed.
Remember to not use directly on eyelid, eyelashes, or too close to the eye. Getting oil in the eye could cause tear ducts to clog!
For extra relief from tired eyes, try keeping this moisturizing eye serum in the fridge.