This post may contain affiliate links which won't change your price but will share some commission.
You've heard of Shea butter, but what about shea nut oil?
Shea nut oil isn't as well known as Shea butter, but it has just as many great benefits and uses in all-natural body care.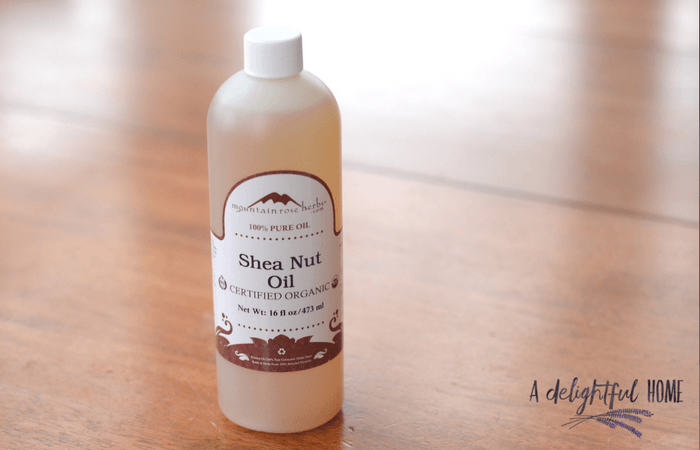 What is Shea Nut Oil?
Like Shea butter, Shea Nut Oil is also extracted from the nut of the shea tree (Karite tree).
While the oil is thicker than other oils it's not as thick as the butter. The shea nut oil is a by-product of the cold pressed butter. It retains fatty acids while the butter retains more of the fat. It remains liquid up to 20° C (68°F).
Shea nut oil also has higher levels of oleic and linoleic acids. Because of this, it is thought to stimulate hair growth better than shea butter does (Shea butter has a reputation for use in hair products).
The lovely golden hue of Shea nut oil adds a beautiful depth of color to homemade serums and butters.
Shea nut oil works well as a hair or nail conditioner or a skin moisturizer. It has both antifungal and antibacterial qualities making it ideal as a carrier oil for cleansing blends.
Uses for Shea Nut Oil
#1 – Hot Oil treatment for dry damaged hair
I have long used Olive oil in my homemade hot oil hair treatments, but Shea nut oil is a great option as well.
See this post for instructions: DIY Hot Oil Hair treatment (just use She Nut oil instead of olive oil)
#2 – Daily moisturizer
Shea nut oil can be applied directly to the skin as a moisturizer. It's especially good for dry elbows and knees but works as an all over body oil.
Use Shea nut oil as a base for scented body oil, such as this simple lavender body oil.
#3 – Carrier Oil for Essential Oil Blends
Since most essential oils need to be diluted before use, it's helpful to have a variety of carrier oils on hand. Olive oil is commonly used, but shea nut oil is a perfect substitute and it doesn't have a strong scent, so the aroma of the essential oil can come through.
#4 – Use in Homemade Soap
Shea nut oil has a naturally high saponification value which makes it perfect for use in homemade soap.
Want to learn to make all-natural soap from scratch? Check out the free Soapmaking Course for Beginners (from The Nerdy Farm Wife).
#5 – Nail Conditioning Treatment
Make a simple nail conditioning treatment by mixing the following ingredients:
15 drops lavender essential oil
10 drops mandarin essential oil
½ ounce shea nut oil
½ ounce jojoba oil
Mix together into a one-ounce dropper bottle. Shake to blend. Massage a few drops into cuticles and nails to soften and strengthen.
#6 – Include in Homemade Body Butter
She nut oil is the perfect addition to homemade body butter. In fact, it works beautifully alongside Shea butter! Want to give it a try? Check out this recipe: DIY Shea Body Butter
#7 – Use in Lotion Bars
Lotion bars are great for moisturizing dry skin. They are also extremely easy to make. Many lotion bars are made with liquid oil, butter, and beeswax. Shea nut oil works well as the liquid wax portion of a lotion bar recipe.
To learn how to make lotion bars, see this post: How to Make Lotion Bars
#8 – Add to Healing Foot Lotion
The nourishing benefits of shea nut oil make it a wonderful addition to this healing foot lotion recipe. (Simply replace the avocado oil or jojoba oil with shea nut oil)
Cautions
It should be noted that because this oil is derived from the nut of a nut tree, it may cause allergic reactions in anyone with nut tree allergies.
Where to Buy Shea Nut Oil
I purchase shea nut oil from Mountain Rose Herbs because it is organic, expeller pressed and unrefined.
I have been buying ingredients for homemade body care products and home remedies from Mountain Rose Herbs for ten years now. Their products are high-quality and I appreciate their commitment to sustainability and great customer service.