This post may contain affiliate links which won't change your price but will share some commission.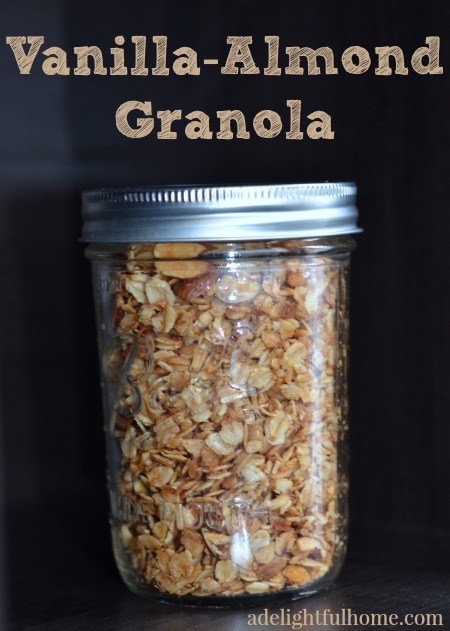 A few days ago I posted an orange-cranberry granola recipe. I love that recipe and find it's a wonderful gift because the flavors are somewhat unexpected.
However, not everyone is adventurous when it comes to eating, so I thought a recipe that is a little more mainstream was in order.
Enter: Vanilla Almond Granola
My family loves this so much I have made it four times in the past 10 days!
Yep.
In fact, they gobble it up at such speed I've had a hard time getting a picture of it!
Here's the recipe:
Vanilla Almond Granola
This Vanilla-Almond Granola recipe is easy to make and delicious on it's own, in yogurt, or as a cereal.
Just yum.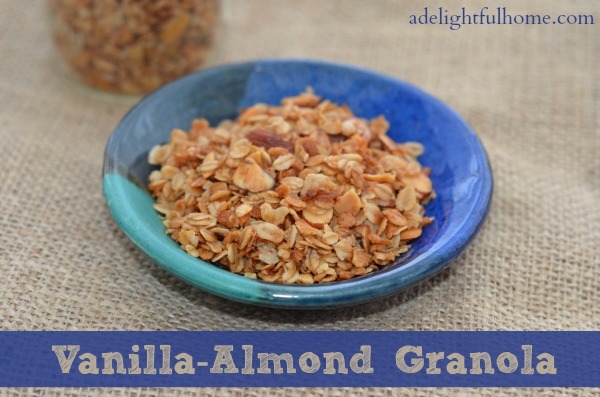 Ingredients
4 1/2 cups oats
1 1/4 cup sliced almonds
1/4 teaspoon salt
1 teaspoon cinnamon
2/3 cup maple syrup
1/2 teaspoon almond extract
1 Tablespoon, plus 2 teaspoons vanilla
3/4 cup coconut oil, melted
Method
Preheat oven to 325 degrees F.
Place all dry ingredients in a bowl and stir to combine.
Pour maple syrup and melted coconut oil over the dry ingredients and stir until all of the oats are coated.
Place granola onto a large, rimmed baking sheet. Spread out so it covers sheet evenly.
Bake for 20 minutes and stir.
Bake for another 35-50 minutes, stirring every 15 minutes or so.
Granola is ready when it is golden brown, dry, and fragrant.
Remove from oven and allow to cool completely before placing a an airtight container.